What Is Sexting and Why Is It a Problem?
For those who ponder the question "what is sexting" exactly, while hesitantly wondering if they want to send that first intimate message to a significant other, it can be what you want it to be, but you must know where to draw the line.
The content is as personal and erotic as each chooses, with the likelihood that as you engage, confidence will develop, and the messages will become a bit more risqué and daring in time. The popularity of the activity is growing by leaps and bounds with adults in the U.S.
As long as each is a willing participant, sexting is a harmless allure between partners hoping to add a bit of spice to their sex life. Still, if either party is not interested in the activity, charges can be brought on the other person from obscenity to harassment.
It's critical to ensure that the individual you're sending these types of messages to is on board with that kind of relationship with you before you send unwanted explicit material sent from your phone.
Related Reading: 

How to Sext – Sexting Tips, Rules, and Examples
What is sexting
Sending or receiving sexually explicit content via a messenger platform on any electronic device to another person deems what is sexting chat.
The practice is not unlawful as long as each participant is a consenting adult and neither abuses that material. If one person is under the age of 18, the act can deem sexual exploitation or child pornography carrying criminal charges.
When a phone beeps with a message, the hope usually is that it's something from a significant other. Seeing sexting messages or sexting pics sends waves of excitement through the body, causing the brain to race with thoughts.
Many people question why the activity is seen as so hot. It's not anything from which an adult who believes in their partner should find shame or embarrassment, quite the contrary.
Studies show that almost 8 out of 10 adults engage in sexting conversations on a consensual basis. Doing so indicates a healthy, grown-up solid relationship with two people experimenting between flirtation and ultimately experiencing gratification.
Many use tantalizing texts to spice up their sex lives, resulting positively. It's digitally seducing a sexual partner plus communicating needs and desires simultaneously in a rewarding capacity compared to those who don't phone sext with their partners. But can there be consequences of sexting?
When sexting becomes an addiction
When determining what is sexting, it can be pretty innocent between consenting partners or adults, flirting and becoming acquainted with each other. It generally involves explicit communication, sexting videos, even shared sexting "porn." The idea for couples is to express needs and desires, so sex lives become healthy and more exciting.
Some people choose to become involved with unfamiliar individuals via sexting chat rooms, social media sexting, sexting sites, or with apps for sexting to promote functions of a sexual nature. Another popular activity is using the webcam to expose nudity or simulate sexual activity.
You can be less inhibited with sexting responses when you're anonymous and carefree, but this can also set you up for sexting consequences or create the potential for you to become addicted to sexting.
You'll know this has become the case when the activity turns into a primary issue in your life. That means it interferes with daily activities or is detrimental to not only your personal life but your professional as well.
When sexting addiction consumes your life – What are the warning signs?
Warning signs of sexting can become a problem when it prevents you from completing work projects or university obligations or finding that you prefer it over attending social gatherings or family events.
You'll find sexting discord if you're involved with someone other than your mate, or you sext several people so that you can continually get that "fix." The addict has no desire to learn who the people are or develop independent relationships with the individuals.
It's the idea of receiving a sexual high. It goes almost hand in hand with sexual addiction in an all-consuming fascination and an inability to control the behavior with a progressive need for more, yet it becomes significantly harmful. What is sexting signs of addiction can include:
Sex becomes a prominent component over everything in life, leading to the exclusion of any other activities.

Sexual excursions become riskier like public intercourse, engaging with prostitutes, visiting sex establishments.

While there is a constant sexual urgency, it's followed by sensations of regret, depression/anxiety, and perhaps shame.

When alone, there is a likelihood for participating in alternate forms of activity when alone like cybersex, porn, and phone sex.

Multiple partners plus engaging in

extramarital affairs

become a typical pattern, as does habitual masturbation.

Sexting help for an addiction generally requires reaching out to specialists with an understanding that the task is a complex undertaking due to the need to refrain from mobile use.
That can be tough in the modern world, creating the potential for relapse. Psychologists offer the ideal care plans for you and, if applicable, your partner.
Sexting and the relationship
Studies indicate that the more comfort and intimacy two people share in a partnership or a dating situation, the greater the likelihood of participating in sexting.
Each would have a more profound sense of things to say when sexting the other since the commitment is more vital and familiar. It's prevalent for adults and can prove advantageous for the average relationship, providing a greater sense of satisfaction in the union.
Most individuals explore fantasies they might not otherwise consider via sexting. There are no feelings of inadequacy or neglect in these instances; everyone has sufficient time and feels cared for, while sex lives become more exciting.
Suppose you're attempting to get to know someone or are at the beginning of a relationship. In that case, you might struggle to question what is sexting and what should you say in a message since you would have some fear of offending the other person before a union has a chance to develop.
In another scenario, potential mates who suffer from relationship anxiety find reasons to sext in an attempt at creating a sense of comfort between themselves and the other person, kind of "breaking the ice."
For more insights on sexting and relationships, watch this video.

Exploring sexting in a deeper context
Suppose you consider what is sexting given the right circumstances between two consenting adults. In that case, it is a healthy, safe way to explore sexual desires, fantasies, and needs to where activities in the bedroom become enhanced.
How big of a problem is sexting? It depends on how you use it, if you become addicted if it's consensual, and the age of those involved.
Why is sexting a problem
Sexting can become a problem for numerous reasons, not merely because of addiction. For someone in a relationship of any duration, sexting should always be consensual, and each person needs to be comfortable. If there is any hesitance or if you don't believe the images you send will be discreet, you should not involve yourself in the activity.
1. Adult risk
The risk for nude pictures to circulate beyond your partner is high, even for those whom you trust implicitly. The reason is that many mates enjoy showing a sense of "pride" concerning the person with whom they have a partnership by sharing their pictures.
In their eyes, showing the images to their friends is innocent. When these shared photos pass from those friends to other people and wind up all over the web, the problem is when these shared photos pass from those friends to other people.
The implications of this can significantly affect a person's social status, not to mention career or college standing. If you have this fear, you should in no way engage in sexting.
2. Teen/adolescent risk
There are substantial sexting legal issues when participating in intimate explicit content with a minor (under the age of 18).
In these situations, sexting can cause a legal crisis because the adult can be criminally charged with exploitation or child pornography. That is possible even when the individuals are 18 and 17, according to sexting laws.
These rules and regulations are stringent to protect youth from being exploited and potential sex crimes. Photos of these young people making rounds on the internet ruin lives resulting in suicides, mental illness, bullying, lost scholarships, and so many other repercussions.
If you have to wonder if sexting is illegal, you may be far too young to participate in the behavior. When someone sends you content or takes inappropriate photos of you, you should contact the sexting hotline and law enforcement.
If you find yourself a victim, don't feel as though you're alone.
Speak with someone you trust implicitly. You would be surprised how many people want to help.
Related Reading:

 Is Sexting Cheating?
Sexting consequences
Consequences related to sexting can either be positive or negative, depending on your personal circumstances. Suppose you are an "of-age" consenting adult person participating in healthy sexting with a dating companion or a committed partner. In that case, the consequences will most often be an enriched sex life.
Someone engaging in social media sexts or apps, chat rooms, sites, or otherwise with people unfamiliar to them either behind a partner's back or as a single person may have the potential for addiction.
In many cases, it can become an exceptionally harmful habit, often involving multiple participants. Breaking the addiction can prove challenging, requiring the help of a psychologist to retrain the use of a mobile device for appropriate purposes.
If you're an adult, aged 18+, engaging with a minor, you can be criminally charged for exploiting a child and child pornography. Parents need to have a conversation with their kids, explaining the severe repercussions of sexts.
Many kids are unaware of the consequences of poor decisions. But even fewer understand they don't need to be silent victims.
Why should you participate in sexting
The reasons for participating in sexting are many for a committed partnership, including the fact that it can help you explore unfulfilled fantasies.
Everyone has intimate daydreams they hope to one day experience with a willing partner. Engaging in sexts allows you to express those ideas and ultimately receive gratification. Enhancing your sex life is a primary benefit of sexts.
When you receive a boost to the ego from a single message, it improves self-esteem and confidence, allowing a stronger bond to develop and eliminating inhibitions that might have existed.
As two healthy, committed individuals, sexual communication in any form should be a celebration, an honor, and most certainly protected.
Related Reading: 

Is Sexting Good for Marriage?
How should you respond if someone asks you to sext
That's a very subjective question that each person will answer differently. No one can tell you how to respond, but people will advise you to be cautious with your decisions.
You should most certainly have a familiarity and trust in the other person, with zero doubts that the individual will protect your content.
Too often, it happens in an "acquaintance" situation when a potential mate will request photos or send content with which you might be uncomfortable, or it could bring a sense of concern at that stage.
It's wise to go with your intuition. The idea of sending intimate content to progress a relationship further or develop a partnership is ill-advised.
Is sexting the same thing as cybersex?
What is sexting, and what is cybersex? Sexting and cybersex are genuinely very similar, except for the devices used for communication and a few limitations when sexting.
Sexting occurs over a mobile device, meaning you need to have a known partner to hook up with over a phone line so you can send messages. You can still send varied content over the messenger, but it's a bit more restrictive than cybersex.
With cybersex, almost any device can be used to go onto the internet searching for partners to participate in sexual communication.
You can use virtually any content, including video, take advantage of the webcam, voice chat, even connected sex toys, plus varied platforms like chat rooms, social media, websites, and so much more.
Final thoughts
Sexting (or even Cybersex) can be exceptionally controversial since most people associate the activity with teens. More adults participate than is realized. And the concept as a whole is not new.
Considering what is sexting today, it's now a digital process that can be sent worldwide with merely a few clicks. Hundreds of years ago, people were using more antiquated measures to send risqué messages to their beloved.
The behavior is genuinely ideal for two consenting adults to maintain a healthy, robust sex life. Communication is generally challenging for couples, but in this way, each gets to set aside any inhibitions and explore desires they typically keep hidden.
Related Reading: 

The Importance Of Communication In Marriage
There is the opportunity to develop stronger bonds and grow, especially in the way of trust. But it's important to realize if you're in a new dating situation or flirting with the idea of dating someone, sexting is not the answer for progressing things.
If you don't have a strong familiarity with a person and a deep trust, you should avoid sharing racy photos or communication that an individual could then exploit. Further, whether you choose to use cybersex or sext, make sure you always have a sense of control.
Once you're unable to manage your behavior or look forward to that next "fix," you've become addicted. Recovery is tough, but it's not impossible.
Never do anything you don't feel good about, whether you're an adult, a senior, but especially a teen. The repercussions can be vast and devastating.
If you find yourself a victim, reach out for help to a hotline, law enforcement, but most importantly, someone you trust implicitly. You do not need to face the challenge alone.
Share this article on
Want to have a happier, healthier marriage?
If you feel disconnected or frustrated about the state of your marriage but want to avoid separation and/or divorce, the marriage.com course meant for married couples is an excellent resource to help you overcome the most challenging aspects of being married.
More On This Topic
You May Also Like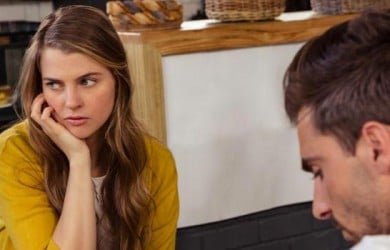 Popular Topics On Married Life