Epistolary Relationship: 15 Reasons to Bring Back Old-School Romance
Epistolary Relationship!
Sounds intimidating, right? Well, that shouldn't be the case.
Old school romance is what many people consider to be healthy. It is mostly selfless, focused more on helping the other partner enjoy life and live to the fullness of their abilities, and simply more wholesome.
Old school dating rules were generally considered pure. Back then, when someone told you they loved you, you could take their statement to the bank because you knew they meant every word they said.
Although the times have changed drastically since then, the concept of epistolary relationships shouldn't be completely tossed aside. In this article, we will examine the benefits of old-fashioned relationship rules.
What is an epistolary relationship?
An Epistolary relationship is one in which the primary means of communication is through letter writing. This form of relationship was the most common in past days when traveling wasn't expected, and phone call was a luxury.
At the time, it only made sense that if you wanted to communicate with your partner, the only thing you could do was to pick up a paper and write them a letter.
Then, you would have to mail the letter to them and await a response. Sometimes, it could take up to a few weeks or months before you could hear back from them. Although the excitement was killing, epistolary relationships were essential in helping people to value the art of true communication.
Why old school love is the best?
Old school love prioritizes treating people with respect and dignity, not just as sex objects to be used and tossed apart immediately after getting into their pants.
Many times, people react to love based on the experiences they had growing up. Seeing as early experiences affect later romantic relationships, it is vital to ensure that your children and wards understand the value of old-school love when they are still young.
Being in love with an old-school romantic is the best because they focus on treating you right. Having a relationship with you is more important to them than getting their rocks off, and starting on this foot allows the relationship to develop deep feelings of trust.
These and more are some of the reasons why old-school couples tend to wax strong even after a long time has passed.
15 reasons to bring back old-school romance
Here are some reasons we should consider rekindling epistolary relationships and old-school love in general.
1. You don't get to stress that they are leaving you unattended
One of the first challenges associated with social media and the modern means of communication is that we tend to judge people based on how quickly they respond to our messages.
Because you are always worried about this, you might double text and come off as a creep.
Besides all the effects of texting on your visual and motor systems, one of the main benefits of epistolary relationships is that you don't get to stress yourself over being ignored. This takes one thing off your mind and allows you to focus on having a healthy relationship.
2. It builds excitement
There's nothing as exciting as the time between when you send that letter and when the response arrives.
Because you don't know when the letter will come and how the response will be, you spend your time daydreaming about all the lovely things your partner could tell you. This, in turn, strengthens the communication in the relationship.
3. It feels more personal
In a world where gadgets have taken over, all gestures of old-school love feel more personal, stronger, and even more romantic.
Imagine how good it would feel to have your partner send you a handwritten appreciation note on your birthday instead of just getting a random text copied straight from the internet.
Loving, right?
Because it feels more personal, it allows you to build a strong relationship with your partner.
4. It helps you think more carefully
When you know that you would have to write to your partner and wait for a while to receive their messages back, you will pay closer attention to what you write about.
You would only talk about the things that matter to you. Being in an epistolary relationship reminds you of your words' power and helps you pay closer attention to what you say.
5. Letter writing reduces stress
All expressive forms of writing help reduce anxiety and stress. One way to get rid of negative emotions is by writing about them in clear terms.
Even better about epistolary relationships is that you don't get to confide in a stranger. However, you bare your heart to the one you love. This, in itself, can mean a world of difference.
6. Letter writing is one way to show effort
The thought process of writing letters and other grand gestures of old love is glaring. If you want your partner to appreciate you more, you may consider trying out old-fashioned courtship rules.
Related Reading: 

A Guide to Romantic Gestures for Him and Her
7. Many people find the concept of personal space alluring
Another challenge associated with modern-day relationships is that lovers want to live inside each other's pockets. However, this wasn't the case in the era of epistolary relationships.
Knowing that you wouldn't talk or see each other daily was the inexplicable allure. Yes, it came with a sense of independence, but it also meant that everyone knew and naturally understood personal boundaries.
8. Use of technology
The limited use of technology allowed people to develop deep feelings for themselves
There were no phones to interrupt intimate moments between lovers. There was no internet to make people feel like they weren't good enough.
Hence, epistolary relationships tended to wax stronger.
9. Saves you the stress of a broken heart
Another reason why we must return to epistolary relationships because they save you the pain of dealing with a broken heart. From the start, you never expect your partner to be perfect, and that's one of the recipes needed for a perfect relationship.
10. People understood the value of keeping things to themselves
In the era of old school dates and epistolary relationships, people didn't have an unhealthy addiction to sharing everything happening in their lives with the public.
Back then, you only had access to specific information if you were an integral part of a person's life. Because people knew how to keep things to themselves, relationships were healthier and more enjoyable.
Related Reading: 

How to Improve Understanding in a Relationship
11. Epistolary relationships focus more on showing love
In today's world, we are more interested in shouting into the ears of our partners that we love them. We do this often without thinking about how to make them see this love, not just hearing about it.
Since this focuses on showing grand gestures of love, it is easier for your partner never to forget that you love them.
Suggested Video: 15 things a man will do only if he loves you.
12. Sex was something special
A recent survey revealed that about 65% of American adults are likely to have sex within the first three dates after they start seeing someone they like. While these numbers cover the entire population of people who would do this (men and women alike), the statistics are interesting.
In epistolary relationships, sex used to be considered special. People could be in life but not jump into the sack at the slightest opportunity.
When they finally decided to have sex, their meeting would be even more remarkable because they have spent time getting to know themselves.
During those times, love weighed and meant much more than casual sex.
13. Families and friends were involved
Another reason why old-time romance was epic was that it wasn't easy to get up and break up. If you were seeing anyone, your parents and family would have to approve of the person.
If they approve of the person and suddenly notice a fight, they would do all they can to mediate the fight and help settle issues.
As a result, epistolary relationships seemed to last longer than the average modern-day relationship.
14. Meeting through mutual friends increased the spark
In today's world, many people mostly rely on social media algorithms and platforms to be connected to their next date.
However, in old-school romance, many people rely on their friends and mutual networks to meet their dates. The advantage of this is that by depending on your friends and mutual connections to meet your next date, there was every possibility of a strong connection.
Friends share values. If your date was a friend of your friend, there were many chances you would also like them. This was part of the reason why relationships seemed stronger then.
Related Reading: 

How Important Is An Emotional Connection In A Relationship?
15. People took their time to understand their partner
Because most things depend on grand gestures of love, people studied their partners like open books to understand them.
They would identify their primary love language®, how to impress them, and use these pieces of information to make them love them even more.
This may not be the case today as people no longer seem to pay as much attention.
How do I create a sentimental digital epistolary relationship?
Do you want to simulate an epistolary relationship? Here's what to do.
1. Make sure your partner is on the same page
You will soon get frustrated if your partner doesn't want the same thing. It is only a matter of time.
2. Lead by example
It is easy to step aside and wish for them to do all the work. However, to jump-start this chain of events, you have to be willing to be the one who leads by example.
What are the things that matter to you in a relationship? What gestures will make you happy when they are done for you? Do them for your partner.
3. Please encourage them to give it a try
Not everyone is a fan of old-school romance. However, when you combine the last point with encouraging your partner to try it out, you should have a great relationship you would be proud of.
Takeaway
Having an epistolary relationship is a worthy goal; no one should make you feel bad for being an old-school romantic. However, ensure that you are on the same page as your partner.
Then again, give it time. Your partner may need a lot of time to adjust if they aren't yet comfortable with this concept.
Don't try to force them.
Share this article on
Want to have a happier, healthier marriage?
If you feel disconnected or frustrated about the state of your marriage but want to avoid separation and/or divorce, the marriage.com course meant for married couples is an excellent resource to help you overcome the most challenging aspects of being married.
You May Also Like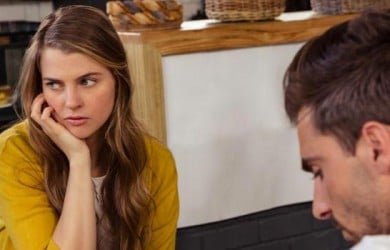 Popular Topics On Married Life