Is It Important for Couples to Go to Bed at the Same Time
Intimacy (physical and emotional) is necessary for every relationship. Couples who want to experience that deep bond and enjoy a healthy relationship understand the value of spending much time together. One of the avenues through which they can achieve this is by falling asleep together.
This knowledge, however, brings up some questions in many minds. Is it important for couples to go to bed at the same time? What are the dangers of not going to bed with your spouse? Is there any negative thing that happens to couples who don't sleep together?
This article will help you lay some of these fears to rest and answer the many questions in your mind.
When you are done, you would know if it is important for couples to go to bed at the same time and also a few things you can do to make this work in your relationship.
Is it healthy for couples to go to bed at different times?
For a long time, this has been the subject of many conversations between couples.
Some people believe that it is necessary for couples to go to bed at the same time. On the other side of the pendulum are those who believe that it doesn't matter and doesn't affect the relationship in any way.
There isn't any medical or scientific proof that going to bed at different times is bad for couples (in a non-clinical setting). On the flip side, going to bed at the same time can be a great avenue for achieving intimacy (as indicated early on in this article).
It can also serve many other purposes, as we would discuss in succeeding sections of this article.
However, the key to maintaining a healthy and happy relationship, even if you go to bed at different times, is to understand your individual needs and do your best to respect each other's preferences.
Regardless, laying in bed together as a couple has a lot of benefits attached to it.
Related Reading: 

Tips to Enjoy a Night's Sleep Without Crossing Your Partner
What percentage of couples go to bed together?
A survey carried out has shown the stats as regards the number of American couples who go to bed together. This study reveals that about 60% of American couples sleep together.
These numbers include all kinds of couples; heterosexual, same-sex, old, and even ailing couples. Also, married older American adults (who go to bed with their partners) report longer sleep duration. These figures somewhat imply that it is important for couples to go to bed together.
If you have found yourself questioning why the next section will shed some light on the importance of going to bed together as a couple.
10 Reasons why going to bed at the same time is important
Is it important for couples to go to bed at the same time?
Here are 10 reasons why couples sleeping together is a great idea and can have many benefits for health and the relationship.
1. This practice teaches you to follow a schedule and stick to time
This point applies mostly to you if you and your partner are busy people who have to follow a laid-down schedule each day (or if you have multiple engagements each day).
It is easy to curl up on the sofa every night and see 'just one more episode of your favorite soap opera' – at the expense of all the goals you have set out to achieve the next day.
If allowed to continue, this habit can creep into your life and take many things away from you. First off, you'll find yourself getting less sleep, being grumpy and unproductive the morning after, and this can affect the quality of the work you do.
However, one reason why it is important for couples to go to bed at the same time is so that the resulting schedule can help eliminate habits that stop you from retiring early enough.
When you sleep early and get enough rest, it is easier to keep a clear head and be at your best the next day.
2. Intimacy
Is it important for couples to go to bed at the same time? This is one of the major reasons why couples who don't sleep together should do their best to remedy this.
Under normal circumstances, going to bed at the same time helps build that deep emotional and physical connection (intimacy) with your partner.
Pillow talk, cuddling, and just being able to gaze into the eyes of someone you love enhances intimacy in ways you may not imagine.
3. Health benefits
Is it important for couples to go to bed at the same time?
Research has shown that there are many health benefits attached to just going to bed together. First of all, sleeping with your partner (not just having sex with them, but just lying next to them and enjoying some cuddles) stimulates the increased release of oxytocin in the body.
Oxytocin (the love hormone) is known for triggering feelings of empathy, reducing anxiety and blood pressure, and generally making you feel happy/satisfied.
This is probably one of the major reasons why your body may long for this kind of contact with the person you love.
4. Resolving differences
If you have had a hectic day, or you have had a fight with your partner, there's every possibility that the residue from the fight you had may want to poke its head into the next day.
However, one reason why it is important for couples to go to bed at the same time is that doing this leaves you no option than to talk things through (more often than not).
If you lie on the same bed with your partner (when you're angry with them), you may feel the nudge to open up to them about how you feel concerning something.
If you have mastered the art of efficient communication, this step can help you mend fences and sort through differences almost immediately.
Related Reading: 

How to Manage the Differences in Your Relationship
5. Your mental health benefits from this as well
Another reason you may want to tweak your 'couple sleeping habits' to make you go to bed together is that spending time together in bed (even when you aren't sleeping) has a positive effect on your mental health.
This practice provides an avenue for you to appreciate your partner better, allows your partner to communicate their love and appreciation for you equally, boosts your sense of self-esteem, and helps you eliminate (or significantly reduce) mental stress/anxiety.
6. It helps you regulate your body temperature during the night
Sometimes, the night can get pretty cold.
This benefit of having a warm, living being in your bed – one who is ready to wrap you up and provide some warmth when the night gets cold – is another major benefit couples who go to bed at the same time (and sleep together throughout the night) experience.
This helps reduce the chances that you may fall sick due to adverse weather (when the night gets excessively chilly). In addition, don't you just love the idea of being able to reach out in the night and feel your fingers brush over your partner's skin?
7. It helps you to achieve a sense of clearheadedness for the next day
One of the things that happen after couples experience the intimacy that comes with going to bed together is that they tend to wake up to a new day on the bright side. Many couples report being more alert, optimistic about the day, and brimming with excitement the morning after.
Then again, this could be the work of all the hormones that have been released the night before; Oxytocin, especially.
8. Falling asleep together improves REM sleep
Research shows that couples who fall asleep together tend to experience better REM sleep than couples who may not have this as a habit.
REM (Rapid Eye Movement) sleep is one of the four sleep stages in which the eyes move rapidly behind closed eyelids. During this stage, brain activity is at its peak, and the brain also works actively to replenish itself.
With respect to this, it is safe to say that it is important for couples to go to bed at the same time because this activity (if maximized) helps the brain replenish itself quickly.
9. It is one sure way to boost your sex life
Once you crawl into bed, one of two things would usually come to mind; sleep or sex. A straightforward way to boost your sexual life as a couple is by making it a habit to go to bed at the same time.
Related Reading: 

Tips to Improve Physical Intimacy In a Marriage
10. It helps you look much younger
This is a result of all the benefits we have discussed before now.
Once you sleep next to your partner, you experience reduced stress/anxiety/blood pressure, your connection/intimacy with them deepens, you (may or may not) have mind-blowing sex, and you experience a release of bouts of oxytocin and other healthy hormones.
When all these work in sync, you will discover that you would begin to have a younger and less-stressed look.
The people in your world may even notice it as well!
Related Reading: 

Tips to Cope With Common Married Couple Sleep Problems
What causes couples to sleep at different times?
In all honesty, we have discussed several reasons why couples need to go to bed simultaneously. However, the world isn't ideal, and we cannot turn blind eyes to the fact that this isn't always possible.
Here are a few reasons why couples sleep at different times.
1. Personal preferences
Some people are just wired to go to bed much later in the night, while others would instead turn in at the crack of dusk. Imagine you are a late-nighter while your partner loves to go to bed as early as 7:00 pm.
Under these conditions, your only option may be to adjust to your partner's needs or reach a compromise.
2.Work schedule
Some jobs just won't let the dream of going to bed with your partner every day be feasible.
If you work a job that demands so much of your attention, one that you have to return very late every day, your partner may have to come to terms with the fact that you may not always be available to go to bed with them.
3. Sleep habits
Some sleep habits make this exercise difficult, if not impossible.
For example, if your partner is a restless sleeper or a deep snorer, you may have a difficult time and not want to spend every night in their arms.
Related Reading: 

Most Common Couples' Sleeping Positions
How to start sleeping at the same time again
1. Define the reason
The first step to getting your act together and preventing you from going to bed with your spouse is to figure out 'why.' Ask yourself why you must retire to bed simultaneously and draft your answers clearly in writing.
2. Take another look at the benefits
We discussed 10 of them. Understanding the benefits of going to bed simultaneously with your partner will help you make an informed decision and stick it through.
How to fix all your sleep problems with science – watch this video.

3. Talk to your partner about it
Communication is an integral part of getting many things done in your relationship. Now that you have figured out why you want to go to bed simultaneously, it is time to open up to them.
4. Set bedtimes and wake times
Sometimes, you may not be able to stick to any plan until you have made one. Set a time you should be in bed and a time when you should be out of it. Doing this will help you gain clarity on when is an acceptable sleep time for you.
5. Look over your schedules
Most of the things you do (like setting a sleep time and wake time) will not be helpful to you if they clash with other vital activities on your to-do list. Know when you are supposed to be done with every daily activity, then plan your night to suit these times.
6. Use soothing music
There's something about music that makes it relaxing. The right kind of music will help you fall asleep quickly. While drafting out a plan to get yourself and your partner into bed simultaneously, be sure to add some music to the mix.
7. Cooling pads and heated blankets would do you a world of good
Sometimes, the weather may be too extreme to let you relax enough to slip into sleep. The best thing you can do during these times would be to use these devices to make up for the harsh weather.
Too hot? A cooling pad will come in handy.
Too cold? Heated blankets are sure to save the day.
8. Low motion transfer beds
These work wonders, especially when you have to share a bed with a partner known to be a restless sleeper. These mattresses isolate motion and make sure that movement from your partner doesn't keep you up at night.
9. Get prepared to make some compromise
At some point, you may have to make some form of compromise. It may include having to wait up at night for your partner or tweaking your schedule a bit to suit their sleep time.
However, compromise is necessary if you plan to overcome these differences in sleep patterns.
Also Try: 

Do You Know How To Compromise In Your Relationship
10. Talk to an expert
At some point, you may need expert help. If going to bed alone starts becoming a bone of contention in your relationship, you may need to consult someone else.
Do not be afraid to let them come in; counselors, psychologists, and maybe even doctors.
Related Reading: 

What Does Your Sleeping Position Say About Your Relationship
Conclusion
Is it important for couples to go to bed at the same time?
If you've read through this article till now, one thing you should be able to tell is that it is. Quality sleep can improve your relationship in ways you never imagined.
However, making this work is entirely up to you. In all honesty, sometimes, this may not completely be possible with your marriage. That's totally fine.
The key to making the most of lying in bed together is understanding the importance of going to bed together and creating a plan that works for both of you.
With your partner in the equation, of course!
Share this article on
Want to have a happier, healthier marriage?
If you feel disconnected or frustrated about the state of your marriage but want to avoid separation and/or divorce, the marriage.com course meant for married couples is an excellent resource to help you overcome the most challenging aspects of being married.
Learn More On This Topic
You May Also Like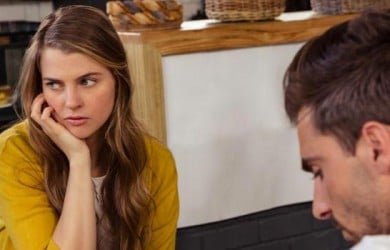 Popular Topics On Married Life