6 Tips to Cope With Common Married Couple Sleep Problems
Whether you're newly married or have been together 20 years, sharing a mattress with your partner can be complicated. From the temperature of the room to the firmness of the mattress—you may each have different comfort preferences.
Additionally, if you or your spouse snore or have a sleep disorder, this can also cause frequent nighttime disruptions for you both and trouble sleeping with your partner.
However, sleep disruptions shouldn't mean you immediately opt for separate bedrooms—sharing a bed with your partner can provide emotional comfort, security, and a sense of connection.
If you are left wondering, "why wont my wife sleep with me", or are dreading a sleep divorce, from your husband, stay with us, as we discuss sleep issues all couples deal with.
Read on as we offer actionable advice on coping with couples' different sleep needs and bed sharing problems.
With a few practical adjustments, you can make co-sleeping more peaceful for both you and your spouse while overcoming the impact of common married couple sleep problems.
6 married couple sleep problems and practical solutions for couples
1. Noise
Noise is one of the biggest culprits when it comes to sleep interruptions and couple sleep dilemmas—that's why snoring is a constant issue for many couples.
Not only is snoring disruptive, but it can also be a sign of sleep apnea.
This sleep disorder causes breathing to start and stop during the night—resulting in sleepers waking up gasping for air.
What can you do about such married couple sleep problems:
If you or your spouse snore, one of the best ways to open the airways and make breathing more comfortable is by alleviating the head.
A lift of about 20 to 30 degrees will reduce pressure on the trachea, so air and saliva flow freely—resulting in less snoring and fewer disruptions due to sleep apnea.
One way to achieve this lift is with an adjustable base.
These advanced bed frames let you lift the top portion of the mattress, and allow you to decrease snoring without having to wake your partner.
An elevated head can also improve digestion, blood circulation, and nasal congestion. Many adjustable bases also offer leg articulation, which can increase lumbar support and reduce back pain.
If you don't have an adjustable bed, you can achieve the same effect with a wedge pillow.
These pillows have a triangle shape and are tapered on an incline to keep sleepers slightly lifted during sleep.
Also watch:
2. Mattress
The surface you and your spouse rest on each night plays a significant role in your comfort and sleep quality.
If you're resting on a broken down mattress with indentations, you and your partner may roll towards the middle of the bed during sleep—causing you to crowd each other and sleep in uncomfortable positions.
Older innerspring mattresses may also have broken or bent coils that can stick up and cause painful pressure points near the hips and shoulders. A newer, more advanced memory foam or hybrid mattress will contour to joints and muscles—providing you both with pressure-free support.
When it comes to mattress firmness, you and your spouse will likely have different preferences when sharing the bed.
Your preferred sleep position typically determines what you find most comfortable.
If you're a side sleeper, you may be more comfortable on a medium to soft mattress—this allows your hips and shoulders to stay cushioned without sinking too far down and throwing the spine out of alignment.
If you're a back or stomach sleeper, you may find a firm to medium-firm mattress more suitable to maintain healthy sleeping positions.
What can you do about such married couple sleep problems:
If you and your partner prefer different sleep positions, a medium mattress is a perfect compromise.
This firmness is soft enough for side sleepers, but also firm enough to prevent the heaviest parts of the body (the hips and chest) from sinking when sleeping on your back or stomach.
Many mattress companies also offer a split king option. A split king is two twin xl size (38 inches by 80 inches) mattresses put together to create one king size mattress (76 inches by 80 inches).
This option allows you to select a different firmness for each side of the bed—creating the perfect sleep space for you both.
3. Temperature
The temperature of your bedroom may be another topic for debate when it comes time for bed. If you like the room on the cooler side, you're in luck—experts suggest keeping your bedroom between 67 and 70 degrees Fahrenheit is most conducive to sleep.
This temperature is designed to prevent overheating during sleep, which can cause frequent waking.
Our core body temperature naturally drops during sleep, so any increase in temperature, no matter how slight, could cause you to wake up. In general, hot sleeping results in lighter, more fitful sleep.
What can you do about such married couple sleep problems:
Working with your spouse, select a temperature between 67 to 70 degrees (no higher than 75 degrees) for your bedroom. Temperatures in this range will create a more balanced sleep space—then you can each make additional adjustments based on your preferences.
If you sleep hot, opt for lightweight, breathable bedclothes.
If you sleep cooler, warmer pajamas and blankets may provide some comfort.
4. Bedding
Couples often debate on the number of blankets used on the bed—this is typically due to different temperature preferences. Hot sleepers tend to prefer fewer, more lightweight covers, while cold sleepers like to feel cozy and warm.
What can you do about such married couple sleep problems:
In general, it is best to opt for sheets made of soft, breathable fabrics such as cotton or linen. You can place a comforter or duvet on the bed and add additional blankets to the foot of the bed. These extra blankets can be added if one of you gets cold during the night.
If you suffer from allergies, hypoallergenic bedding may also help to alleviate nasal congestion and snoring.
5. Light
Our internal sleep-wake cycle—the time of day we feel more alert versus tired—is influenced by sunlight. When the sun sets in the evening and light decreases, melatonin (the sleep hormone) increases, and we naturally become sleepy.
In turn, light exposure inhibits melatonin and causes alertness.
Therefore, even the smallest exposure to light just before bed or during sleep can interrupt melatonin production and cause wakefulness.
What can you do about such married couple sleep problems:
To ensure light doesn't disturb either you or your partner, keep your bedroom as dark as possible. You can do this by using blackout curtains or blinds and achieve practical sleeping problems solutions.
Also, be sure light from electronic screens such as smartphones and laptops are removed or covered before bed.
Even the small light from your alarm clock could disrupt your spouse's sleep, so be sure to keep these devices on a dim-light setting.
If you prefer to read in bed, be mindful of the light from your lamp or book light if your partner is trying to sleep.
6. Different schedules
You and your spouse may have different schedules—one of you may be a night owl while the other may prefer to retire early. This difference can often cause couples to disrupt each other's sleep when coming to bed. Additionally, one of you may have to get up before the other, causing excessive noise and light that could disturb the other.
What can you do about such married couple sleep problems:
If your spouse's schedule is disrupting your rest, the best thing to do is communicate with one another. When you both prioritize sleep, you can work together to find a solution around sleeping habits of couples that works for you both.
If you can establish a set bedtime for you both, this is a great way to develop your internal clock and also alleviate sleep interruptions for your partner. Studies show when we go to bed at the same time each night, we are more likely to fall asleep quickly and sleep soundly.
Above all, when you both communicate and prioritize sleep, you will likely find a solution to most sleep issues.
The tips on these common married couple sleep problems above can help you create the ideal sleep space for you both and ensure deep, uninterrupted sleep.
Share this article on
Want to have a happier, healthier marriage?
If you feel disconnected or frustrated about the state of your marriage but want to avoid separation and/or divorce, the marriage.com course meant for married couples is an excellent resource to help you overcome the most challenging aspects of being married.
Learn More On This Topic
You May Also Like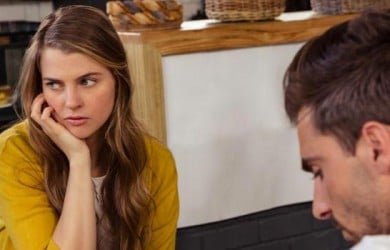 Popular Topics On Married Life