Reasons Why It's Okay to Go to Bed Angry After a Fight
As much as you and your partner both dislike conflicts, they are a part of life and having conflicts at the most inconvenient time is completely normal. Fighting about money when friends are about to come over or fighting about dressing up when you are already late for church is a simple way of life.
There are also times when you fight and have an argument right before you go back to bed. We have all heard this piece of relationship advice before and have avoided it; Don't go to bed angry.
The idea behind this advice makes perfect sense; why dismiss the issue and leave it on tomorrow when you can solve it today.
It is not healthy to let things and arguments be unsettled. You should not ignore your problems by falling asleep and pretend everything is fine in the morning. Doing this only leads to a lot of grudges and build up resentments.
However, sometimes it can be beneficial to pause out your argument and instead fall asleep. The reason behind this is mentioned below so keep on reading.
Why it is okay to sleep when angry
1. Wait for a better brain
When you are tired after a long day at work, your brain does not function properly and at its peak.
With a half-functioning brain, you cannot have a productive argument and make your partner understand your point of view.
With a tired brain, you are extremely emotional and are unable to be objective. Continuing your argument under these conditions can make the argument get more messy and worse.
It is important if you get some sleep and then discuss the problems and issues the next day. This way you will be more rational and will be able to see things more clearly.
2. Sleep heals
Sleeping on it can help put many things in a better perspective and allow you to be more clear-headed than you were the night before. After sleeping on an argument, you may find yourself feeling different about the problem and conflict you were having.
If you insist on arguing all night long, you and your partner may end up saying things to one another that you may regret in the morning. Sleep, however, can help in thinking things through. It is also possible that you may wake up the next day and understand the problem, understand your partner's feeling and have a great solution.
An issue that felt impossible to solve the night before may seem very small in the morning.
3. Working against the clock adds stress
Knowing that your partner has an important meeting the next day or a very long day at the office can increase the stress of the conflict. When you realize that vital sleep is slipping further and further away, it might stress you out even more and will make it more difficult for you to solve the argument.
Any solution that you decide on may be a temporary one so you can go to bed. Staying up until the fight is done and dusted will cause increased levels of exhaustion the next day and lead to more resentment build-up.
So try and break the cycle and go to sleep.
4. Anger dissipates as time passes
There is no doubt that emotions change over time. We have all heard the phrase "in the heat of the moment." Letting this heat control your emotion can cause you to make a very rash decision that you may regret the whole day and sometimes even your whole life.
It is important that you let your emotions simmer down all through the night and this can help you get a much different outcome.
You and your partner will also find it funny that a situation that was making you both boil with anger will not bother you at all the next day. You may feel strongly about it, but the anger present will be very less, and the outcome will be much better.
When you are unable to solve the conflict and resolve an argument at the moment due to certain circumstances or stalemate then try to remember that you both are on the same team.
Remind yourself that you both want the best for one another and the relationship. This thought will help in putting the argument in a new light and will give it a new perspective.
In a committed relationship, you must remember that you are in it for the long run. You can forgive the next day what you cannot today. You can also argue tomorrow if you are unable to do it today. And you can love more and even better tomorrow even if it is difficult in the present.
Share this article on
Want to have a happier, healthier marriage?
If you feel disconnected or frustrated about the state of your marriage but want to avoid separation and/or divorce, the marriage.com course meant for married couples is an excellent resource to help you overcome the most challenging aspects of being married.
More On This Topic
You May Also Like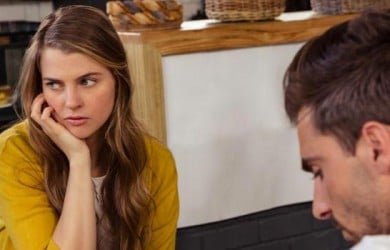 Popular Topics On Married Life