The Only 6 Post Breakup Advice You Need
It is natural to put an end to a relationship that's causing you pain, anger, and stress. In fact, in the busy and modern lifestyle that we live, breakups are fairly common. Yet, it is an extremely serious episode in one's life, having a devastating impact on any one partner or both.
The good thing is that it's not entirely impossible to let go of the past. Most people have different remedies for mending a broken heart; therefore, when you seek advice from your loved ones, they tend to share their wisdom and best practices, all of which may not work in your case.
Here are six practical and winning tips when dealing with a breakup to keep your mind off the hurtful feelings, making it easier for you get past the separation.
1. First things first – Avoid begging for reconciliation
Although it is tough to let bygones be bygones, try to detach from the past and give yourself some time off the relationship. It is natural for breakups to create a vacuum, persuading both or one of the partners to reconcile. More often than not, attempts of reconciliation normally occur because of the lingering love feelings.
If you have had a toxic relationship with your ex, it is better to end it and be alone for a while. Find a wise friend or a family member to help you walk through your feelings of loneliness. Regardless of the reason for your breakup, once the decision of separation is made, trust yourself and live by it. It is better to be in no relationship than to cling to a painful past.
Even if you or your ex-partner claims to change the negative aspects of your relationship, remember that change is a lengthy process that takes time and efforts.
Moreover, if your ex-partner rejects you for the second time, you will feel all the more humiliated and depressed. Therefore, it is best to create some intentional vacuum in your love life and let yourself mourn till you feel light.
2. Don't pretend you are fine
Breakups can make you feel like your entire world is falling apart. Of course, moving on and putting him/her behind you will take time! You cannot get up one fine morning and say, 'oh! I am so over that him/her.'
Deal with the situation by acknowledging it and allowing yourself to grieve. Accept that your relationship with this person is over and everything happens for a reason. In this broken-hearted phase, it is natural to experience mixed emotions, namely anger, disappointment, pain, fear, and regret. It's ok to give way to your inner feelings and cry as tears bring a cathartic sense of liberty and make you feel light.
Furthermore, the best way to put a breakup behind you is to forgive your ex. This doesn't mean you approve of what he/she has done, but that you are not going to let the situation affect your emotional state of mind. Forgiving him/her will help you move on gracefully and get over the intensity of the relationship.
3. Focus on your health
Many times painful incidents such as breakups are a blessing in disguise as they help you take time out for yourself. Develop a healthy routine by eating nourishing and stress-busting foods, helping you boost your mood and get over the breakup. It is all right to indulge a little, yet try to keep your junk food intake under control as food items rich in fat, sugar, and salt contribute to high levels of a stress hormone called cortisol.
Besides a nutritious diet, cardio and elliptical workouts can get your endorphins pumping, providing a healthy distraction from your mental stress. If you do not wish to visit a gym, get active by going for an early-morning walk or a jog. The act of getting out of your room and engaging yourself in a healthy routine will elevate your mood, shutting down the negative emotions.
4. Get involved in a hobby
Being single again does not have to be depressing and boring. All the extra lone time on your plate gives you an opportunity to follow your existing passion or engage in a new hobby. When you feel low or overly stressed, hobbies provide a huge source of eustress, a beneficial form of stress, which is needed for feeling motivated in life.
Diving into a hobby is a great way to engage your mind, overcome the post-split blues, and stay creative. Think about the things you have always wanted to do but never had the time. Engage in art, learn a new language, take a dance or a music class, join a book club, enroll into a martial art class, travel the world, upgrade your social media page, or register for a photography masterclass.
The great thing about ending a relationship is that you get to start afresh. After a breakup, a hobby is worth making time for as it offers numerous emotional, mental, and physical benefits, enabling you to reinvent yourself.
5. Surround yourself with positive people
When getting over a breakup, you may often feel that you are the only one experiencing such tough times in life, allowing negative emotions such as self-pity and hopelessness to seep in.
Family and friends can help you feel good about yourself and bring out the best in you. This is a good time to bond with your loved ones as they can bring back the optimism in your life and cheer you up with the memories you shared in the past. Go out with your friends for a movie or invite your family members over for a get-together.
Spending time with those who matter will bring a positive change in your life, helping you enjoy your new single life.
6. Indulge in pet therapy
Being a pet parent can have a profound impact on your overall wellbeing post a breakup. Research has confirmed that having a pet by your side can prove to be an effective antidote to health conditions such as stress, anxiety, and depression.
Regardless of how your day was, it is practically impossible not to smile and feel reassured when your pet sits next to you or hugs you when you are low. Pets provide unconditional love and companionship, yet ask for very little in return. Moreover, taking care of a pet is a satisfying experience, enabling you to get over your negative feeling and maintain a positive outlook.
The entire process of moving on after calling it quits with someone you invested your time and emotions in, can be extremely taxing. Moreover, in the ocean of breakup advice received from your near and dear ones, it can be tough to decide on which one is best suited for your situation. Use the tips shared in this post to get over this tough phase in your life. These tips are the only advice you will need to get past a break-up.
Share this article on
Want to have a happier, healthier marriage?
If you feel disconnected or frustrated about the state of your marriage but want to avoid separation and/or divorce, the marriage.com course meant for married couples is an excellent resource to help you overcome the most challenging aspects of being married.
More On This Topic
You May Also Like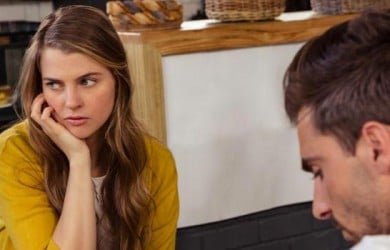 Popular Topics On Married Life