How to Deal With a Breakup: 15 Ways to Cope Up
Relationship breakups happen to most of us, having to separate from someone you once loved is no doubt a stressful and extremely emotional experience. Isolation, confusion, fear and all kinds of painful emotions come running in with the breakup of your relationship.
This remains the case even if it was a bad relationship or a good one because you have definitely spent and invested so much time and effort into this relationship and now seeing it all go in vain, you can't help but grieve over its demise.
Why are breakups so painful?
According to research, the hurt caused by a breakup is similar to the hurt caused during a physical pain. To elaborate the fact, it is stressed that the part of the brain activated during the breakup is the same as the part that is activated when some physical pain is caused.
Breakup causes changes in brain chemistry and people tend to seek logical explanations of why a relationship ends. However, the situation does not always lend a solution.
Also, a breakup is a loss and when one has invested so much in the person physically and emotionally, it almost seems like a loss of investment.
Related Reading: 

Reasons Why Relationships Fail (and How to Fix Them)
Common feelings or emotions post-breakup
Breakups can impact someone drastically. A person goes through various emotions after the relationship breakup. However, all these feelings and behaviors are completely normal and certain feelings are unavoidable. People take time to recover from a breakup.
Let's have a look at these feelings a person goes through post-breakup:
Questioning self-worth

Anxiety

Depression

Headache

Chest pain

Confusion in thoughts

Mood swings

Numbness
Related Reading: 

How to Get Over Breakup Depression: Symptoms & Treatment
15 ways to cope with a breakup
So, how to deal with a breakup? How to cope when a relationship ends?
Despite these feelings, it is important to get over them and not let them get to you. To help you in this healing process and handling a breakup, listed down below are the top 8 ways of how to deal with a breakup and bring joy back into your life.
1. Acceptance
First of all, it is essential that you accept the fact that your relationship is now over as an answer to how to deal with a breakup. There is simply no point in living in denial and disbelief that 'this cannot be happening to you' but honestly, it has, and there is nothing you can do now to change it.
The faster you accept this truth, the quicker you will be able to move on.
2. Do not pressure yourself
Throughout this time, be easy on yourself. Do not blame or guilt-trip yourself and instead believe that it must've happened for your own good.
It is okay to feel low and depressed after a relationship breakup, and you are allowed to consume as much time as you want in order to heal.
Use this time to clear out your mind and keep all other tasks aside.
3. Stay healthy and positive
Although it is normal to take a break from daily life after a harsh breakup, what matters is that you do not let it get the best of you. Focus on yourself, eat healthily, and exercise regularly.
Being fit promotes the feeling of well-being, and you will be able to adapt to this new single life much quicker.
To move on from a relationship, keep toxic thoughts out of your head. Avoid pitying yourself or regretting whatever happened, instead focus on the good things and remind yourself that better times will come.
4. Find friends and family to talk to and share feelings
Socialising is one of the answers to how to deal with a breakup.
During this tough time, it is of great help to keep loving friends and family around. Having people who love and care for us make us feel affirmed and cherished.
Reach out to them if you ever feel like talking and getting rid of all the negative thoughts boiling in your head.
Doing so will bring about relief and allow you to focus on good things still in life.

5. Stay away from alcohol and drugs
Falling prey to alcohol and drug abuse is the worst thing you can do to yourself. These seem like a quick and easy getaway from this rough patch of life, but they do nothing but damage you further.
6. Pick new hobbies and try new experiences
Consider this time as an opportunity for you to explore new interests.
Maybe previously, your ex was holding you back from doing what you loved, but now you are free. Try out new things, pick up new hobbies, and find new passions. Go on trips or hikes, whichever you like, and enjoy your time, making new memories as a perfect way of how to deal with a breakup.
7. Think of a future for yourself
While trying to find peace with this breakup, it is also necessary that you stay hopeful. Plan out a future for yourself that now does not involve your ex.
So, how to deal with a breakup?
Start dreaming again and begin taking the small steps to work your way towards your goal.
Look forward to what the future awaits you instead of fearing how you will manage with this new, changed life.
Related Reading: Healing Relationships After Breaking Up And Making Up
8. Convince yourself that you will find joy once again
Throughout this time, it is of extreme importance for you to stay positive. You should know that you are solely responsible for your happiness and you are the only one who can get it for yourself.
You know who you are and you certainly know what you want so don't stop or give up. Continue working your way to what pleases you and find your happiness as a way of how to deal with a breakup.
9. Accept the grief
Grief is a part of the breakup process and to feel the grief is completely normal. So, don't avoid the feeling or think it is negative. Accept it as a part of your healing process. Accepting it as normal will help you sail through the problem smoothly.
10. Don't rush the process
Breakups are hard to overcome and it will require some time for you to get over them. So, don't think you will wake up one day all fit and fine. Give yourself some time and take it one step at the moment. Rushing the process of healing will only give you anxiety and double up the pain.
11. Don't stalk them on social media
Stalking them on social media will give you pain and remind you of your past relationship.
Especially, if you find them moving on, it will hurt your feelings. So, it's better to opt for a digital detox and stop stalking them on social media or asking your mutual friends how your ex is coping up as a tip for how to deal with a breakup.
12. Get busy
You need to be deliberately busy in order to avoid your mind trailing back to the thoughts of the breakup. Get engrossed in your work and career. Frankly, there are other aspects of your life that are equally important.
13. Remain socially active
One of the tips for how to deal with a breakup is to say yes to all social functions.
Attend every occasion. Surround yourself with people. With as many interactions with people, you will have your mind off the difficulties. And of course, a lot of your dear ones will do their best to make you smile.
14. Choose to journal
As much as journaling will help you express yourself, nothing else will. It is your free space to bring all your emotions to the forefront without the fear of being judged. So, maintain a diary and let your emotions flow as a way of how to deal with a breakup.
15. Get help
In case you are having a hard time dealing with your emotions or dealing with a breakup, you must take help from a therapist or a counselor who will help you assess your emotions and let you figure out how you can move forward.
Related Reading: 

How Seeing a Therapist Can Improve Your Life
Taking care of yourself after a breakup
Are there any healthy ways to cope up with the breakup?
Well, a breakup leads us to several negative emotions like depression, stress, or anxiety after a breakup.
The best way to cope with a breakup is to give yourself some attention. With productive things to do after break up like self-care, you can make the process of breakup recovery smooth.
It is important to choose some effective self-care techniques in order to cope up with the breakup. Different techniques might suit different people. So, find out what works best for you.
Appreciate yourself by recognizing the little things you do well. Be your own cheerleader.

Take care of your physical health as much as your mental health. Have good food and exercise well.

Pay attention to your needs. Assess what you want and don't be hard on yourself.

Take a break from big things or projects. It's okay to pause for a while or take things slow.

Explore new things. It could be new interests or traveling to a new place on your own.
Related Reading: 

How Does a Guy Behave After a Breakup
What not to do while coping with a breakup?
To move on from a breakup, make sure you avoid doing certain things after the breakup.
If you are seeking things not to do while coping with the breakup, here are a few things to keep in mind as a solution to how to deal with a breakup
Don'ts:
Stalk them on social media

Go for a

rebound relationship

Obsess over the breakup

Announce the breakup

Stay alone for long

Talk ill about your ex

Find solace in intoxication

Share your plight with everyone

Overshare the information

Lose hope
Learning important lessons from a breakup
As much as being in a relationship teaches us many important things, a breakup can teach us some vital life lessons too.
Here are some of the things breakup teaches us:
Always trust your gut feeling
Sometimes, we trust someone so much that we neglect our inner voice. It is important to trust your gut feeling and follow what it says.
Also watch:
Your worth is not decided by your relationship
At times, your partner might let you down or you feel you are of less worth or importance than them. Know that life is a balance of various aspects and relationships are the deciding factor of your self-worth.
Don't depend too much on anyone
You cannot count on anyone as much as you can count on yourself. So, after a breakup, everyone learns an important lesson of not depending too much on anyone.
Choose love over the comfort of staying together
It is essential to assess the relationship from time to time and understand if you both really love each other or are just too comfortable to walk out of the toxic relationship. One should not stay in the relationship just because they are comfortable.
Always be with someone who shares the same mindset and outlook
You must choose a partner who shares your mindset and understands your dreams, goals, ideas. It becomes hard for people to come together and respect each other when their way of thinking differs.
Related Reading: 

Steps for Building Trust After a Bad Relationship
Breakup isn't the end of the world
Breakups certainly cause heartache, but that does not mean your life ends there. You can always start fresh and design new plans for yourself. The post-breakup period will only hurt as much as you will allow it to.
You need to put your past behind and get up once again with a new strength. Target your negative energy into productive mediums to gain benefits and keep damage within a limit. Make use of these great ways of how to deal with a breakup to move past it to find new joys and satisfaction.
Share this article on
Want to have a happier, healthier marriage?
If you feel disconnected or frustrated about the state of your marriage but want to avoid separation and/or divorce, the marriage.com course meant for married couples is an excellent resource to help you overcome the most challenging aspects of being married.
You May Also Like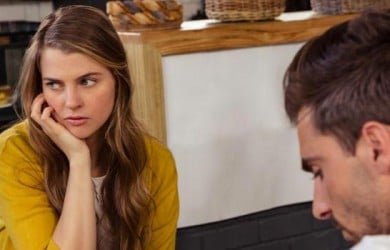 Popular Topics On Married Life