What Is a Relationship Timeline and Should You Follow It?
No two relationships are exactly alike. But all healthy and strong relationships go through certain phases. That's where a relationship timeline comes into play. Yes, a relationship timeline does exist.
It outlines the stages of relationships development people normally go through on their way to growing a love that lasts. You might be in a romantic relationship with your partner for a long time or may have been on just a few magical dates.
No matter how long you have been together, it's normal to ask yourself where the relationship is headed. Is the relationship progression on track or deviating from the norm? What is the average length of a relationship before marriage?
What should a normal relationship timeline look like? Should you follow it? Don't let these questions plague your mind. In this article, we'll explore what an average dating timeline looks like and if you should follow it or not! Let's get right into it.
Related Reading: 

The True Meaning of Being in a Relationship
How a typical relationship timeline looks like
Every relationship is different in its way. But there's one thing they have in common: they happen and develop in stages. A healthy relationship takes time and effort to grow. Some people stay in the same stage for longer than others, while others move too fast in their relationship.
There's no such thing as a 'normal' relationship timeline. Whatever works for you should be your 'normal.' That being said, let's look into a typical dating timeline with stages of a relationship by month. It will give you an idea of what an average relationship length looks like.
1. The first date
Normally this is where it all begins. If you guys haven't been friends or acquaintances before you decided to date, this is when you officially start a relationship. Based on how the first date goes, most people decide if they want to continue seeing each other.
2.The first kiss
You might be wondering when you should kiss your PLI or Potential Love Interest in a relationship timeline for the first time. Well, the right time differs from person to person. Ideally, you should go on at least one date before you kiss them for the first time.
There's nothing wrong with kissing someone on the first date (obviously at the end of the date) because you feel an instant and irresistible connection to them. But, if you want to wait and see how the second and third date goes before kissing your date, that's perfectly fine too.
Also Try: 

What is Your Kissing Profile?
3. Getting to know each other
If your first date has gone well and you've been on a second date, it's time to learn more about each other. Be open to talk about your priorities, values, and sexual desires. It's important to figure out if your core values and priorities match before diving into the deep end.
4. Having sex
A good general rule can be to wait until 5-8 dates. In a survey of 2000 Americans, it turned out that an average person would wait till the 8th date before turning up the heat in the bedroom. Different people perceive sex differently due to different cultural and religious values.
It also depends on how comfortable you feel around your partner. There's no rule against taking things slow or waiting till marriage due to religious reasons. But, for many people, sex is the ultimate expression of romance and intimacy.
They like to explore early on in the relationship if the sexual compatibility is there with their partner. So, this is an important phase in a relationship timeline.
Related Reading: 

The Importance of Sexual Compatibility in a Relationship
5. Sleeping over
Sleeping over at each other's places can happen after the first time you have sex or after a few times. It depends on a variety of factors. It might take time because you or your partner might not be ready to give up your privacy yet, have to get up early, or want to take things slow.
So, where do you put sleeping over in your relationship timeline then? You may try it after you've had sex at least once and have been on a few dates, which may take up to a month or two.
6. Dating exclusively
If you've gone on a few dates already, had sex, and spent the night together, it's time to ask yourself if you want a long-term relationship with this person or it's just a fling. If you've been having a great time together and feel compatible, it's time to discuss the idea of dating each other exclusively.
This may take up to 2-3 months.
Related Reading: 

Things to Know Before Getting Into a Long-Term Relationship
7.Meeting the friends
Once you both decide to see each other exclusively, it's time to meet each other's friends. They say a man is known by the company he keeps. Well, it's true for both parties. However, it's a good idea not to meet them right after you start dating (because you don't want to be swayed by their opinions).
Let's say it took you a month or two to be exclusive to each other. After that, meet your friends and see if your partner can make your friends part of your shared life as a couple. You can learn a lot about them by meeting their friends as well.
8. Spending weekends and traveling together
Before you start talking about kids and finances and get too serious, this stage is crucial to your dating progression. Since you aren't living together yet, getting away for the weekend or traveling together is a good way to see their true personality.
You get to spend a lot more time together during traveling than you normally do. It allows you to see for yourself how compatible you two are and how your partner handles disagreements and stress.
However, it might be good to date someone for at least six months before taking a trip together.
Related Reading: 

Do You Make Good Travel Companions?
9. The honeymoon phase wears off
We all wish we could stay in this stage forever. But, after a few months of dating, the honeymoon phase tends to wear off. Your relationship starts to fall into a routine. Disagreements and conflicts start to rear their ugly heads.
This is when the rose-colored glasses come off, and things start to get real. Some disagreements inevitably lead to fights, and the way couples resolve conflicts makes or breaks the relationship at this point.
Related Reading: 

Tips to Keep the Flame of Passion Burning Post Honeymoon Phase
10 Being in an 'official' relationship
There is no guideline as to when to make a relationship official. It doesn't depend on how many dates you've been on. Also, dating exclusively doesn't necessarily mean you're officially in a relationship. It merely means that you two aren't romantically pursuing other people.
Being exclusive comes before deciding if you want to call this person your boyfriend/girlfriend in your dating to relationship timeline. So, how do you know for sure if you're just dating exclusively or in a relationship that's moving forward?
You may try to have 'the talk' to be certain of the status of your relationship if you've been seeing each other for more than six months and your relationship is going strong.
Do you think you will be in a relationship soon? Watch out for the signs mentioned in this video.

11. Meeting the family
Now that you two are in an official relationship, it may be time to meet each other's family. Meeting the parents and siblings is a big step up the commitment ladder. That's why it's imperative to wait till you're serious about the relationship before bringing your love interest home.
12. Having serious discussions
At this point, things are getting pretty serious, and you start to consider a future with your significant other. It may be high time you discuss finances, marriage, and kids to get a clear idea of whether or not both partners are on the same page.
To understand more about the stages of dating, check out this book by John Gray, a relationships counselor and author, who highlights the stages of dating, and how to build a strong relationship.
13. Moving in together
While some couples may prefer keeping their places before getting married, others may decide to move in together before marriage. Moving in is a significant milestone in a relationship stages timeline and may happen after a year.
For some people, this is it. They live together without ever planning to tie the knot.
Also Try: 

Moving in Together Quiz
14. Engagement
The average dating time before engagement differs from couple to couple. If things go well and a couple feels happy and comfortable living together, the next step in their love timeline may be popping the question.
So, if marriage is in question for a couple, the average dating time before the proposal may vary anywhere from a year and a half to 2 years.
15. Getting married
If you've been engaged for a while and have been planning a wedding together, this is the next and final stage in your relationship milestones timeline. You may stay engaged for six months to 1 year before making it to the altar.
Related Reading: 

Questions to Ask in a New Relationship
Should you follow a relationship timeline?
You must be wondering if you should follow a relationship timeline to the T! Every relationship is unique and grows at a different pace. So, what if you still haven't spent the night after a month or moved in with your boyfriend/girlfriend after a year?
Does that mean something is wrong with your relationship? Or worse, is something wrong with you? NOT AT ALL! As long as both you and your partner feel comfortable with where you're at, your relationship is right on schedule.
Do what feels suitable for you and your partner. If you're comfortable staying on a stage a little longer than usual, do it. If you feel ready to jump to the next one, talk to your partner and see if they feel the same too.
Just make sure not to get trapped in a relationship rut and keep moving forward at your own pace.
Related Reading: 

What Is Your Ideal Relationship Quiz
Conclusion
Your relationship should be more about building intimacy and connection with your love interest rather than counting the number of dates you've been on before moving on to the next stage of your relationship.
As long as both you and your partner openly communicate about the future of your relationship and stay on the same page, you don't need to worry about what other people's dating timeline looks like.
Share this article on
Want to have a happier, healthier marriage?
If you feel disconnected or frustrated about the state of your marriage but want to avoid separation and/or divorce, the marriage.com course meant for married couples is an excellent resource to help you overcome the most challenging aspects of being married.
Learn More On This Topic
You May Also Like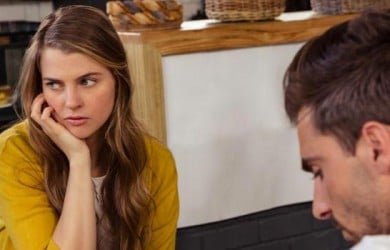 Popular Topics On Married Life