New Relationship Advice: 15 Tips for new couples
You feel the butterflies in your stomach once again, you can't sleep, and you smile when you are thinking of your new relationship.
The beginning of relationships is always like this. It is what makes it so addictive and memorable. However, you also feel a little nervous because you don't want to make mistakes that could compromise your new love.
You want to enjoy every moment and make memories, but you're also afraid? This is the reason why we all need to know new relationship advice from experts, right?
Get to know new dating tips and new relationship topics that will always help you get to know each other better.
New relationship advice: 15 tips for new couples
So you have started a new relationship. Lucky you!
You have got a clean slate, a chance to do it right this time. You are full of hopes and passion, and your brain is flooded with the pleasure hormones of dopamine and serotonin brought on by new love.
Your greatest desire is to turn this new relationship into a long-term one. What are some new relationship tips and advice that you can use to make this happen? Read on!
As a new couple, you have a whole new world awaiting your discovery.
1. Take it slow
Rome wasn't built in a day, and your relationship needn't be, either. The best relationship advice for new couples is to take things slow.
Take your time unwrapping this gift. The surest way to kill a budding relationship is to try and force its growth in an unnatural fashion.
It is understandable that you are excited about the prospect of making this relationship work. But it is early on, so let things develop organically, following their own natural rhythm.
2. Keep your own friends and interests
If you devote all your waking hours to being with this new person, things will quickly become boring, and the relationship will die.
Trust us: time spent apart will be like fanning a fire from a small spark to a full flame. You want to have oxygen between you.
So keep your girls' night out and continue to spend time with friends and family.
You don't need to integrate your new relationship into your original friends set immediately. You'll know when it is the right time.
Relationship expert Wendy Atterberry calls this the 50-30-20 rule: "The 50-30-20 rule is the division of your leisure time: No more than 50 percent with your significant other, 30 percent with friends and family, and 20 percent me time."
3. Don't sleep together too soon
This is one of the things to keep in mind when starting a new relationship. Don't sleep together too soon. It's understandable that this might be a challenge, especially when you're burning with intimacy, and you want to check your sexual compatibility, but wait.
While it is important to have sexual compatibility in a new relationship, it is equally important to build emotional intimacy prior to getting naked together. With a strong emotional bond formed, the sex will be all the better!
4. Set proper expectations
When you're adjusting on how to be in a relationship for the first time, it's inevitable to set expectations.
It's important for yourself and your partner to know what you expect from the relationship, what your needs are, and what you don't want from your relationships.
This prevents anyone of you from settling for what you don't deserve. You can talk about some of them and then compromise. By setting proper expectations, it will also be easier to adjust in starting a new relationship.
Related Reading: 

5 Glaring Facts About Expectations in a Relationship
5. Don't compare
One of the most important new relationship advice is to never compare. How would you feel if you found out that your partner was comparing you with their ex? You won't, right?
Okay, sometimes it happens, but you have to remind yourself that who you are with now is a different person. You're living in the present and it would be unfair to your current partner if you're still being haunted by your past.
6. Be open to learning from each other
Since you're just starting your relationship, you're still testing the waters. You need to learn how to acknowledge and appreciate each other in your relationship.
You may start seeing your differences, but instead of counting that as a turnoff, it's better to learn from it. Learn from each other's values, beliefs, and experiences. That's one early relationship advice that you can use to strengthen your relationship.
7. Start your relationship with good communication
This is one of the best relationship advice for new couples – start practicing good and open communication. It's one of the foundations of a long-lasting relationship and for new couples, it's better to start early to make it a habit.
If there is something that you don't like about your partner, talk with each other. Never talk about each other with other people. That's a big no-no. Only you and your partner can work on your relationship, so talk and fix things together.
8. Accept that there will be shortcomings
Here's another early relationship tip for everyone who's in a new relationship. If you find yourself disappointed with your partner's shortcomings, remember that you also have them.
Accept each other's shortcomings, and don't let them be the reason you fall out of love. Don't talk about your partner's shortcomings to other people. They won't and can't help you.
Instead, it's better to talk about it with the person involved and try to compromise or fix it. After all, your partner won't know their shortcomings if you don't tell them, and vice versa.
9. Learn something from your fights
As your relationship progresses, you'll start having fights. You will no longer feel like blushing from infatuation but with anger.
In these situations, our advice on new relationships is after you fix your issues, learn something from them. Remember, no matter the reason for your fights. There's always a lesson to remember.
10. Just be yourself
Do you want to know how to progress a relationship? You just have to be yourself. If you keep on trying to impress your partner, you'll feel tired soon.
Don't become someone you're not. Don't try to fake your actions, your lifestyle, and even your attitude just to be the perfect partner.
Isn't it better if your partner accepts and loves you for who you are? Aside from that, it's liberating to be able to be yourself in a relationship.
Related Reading: 

5 Tips for Making Time for Yourself After Marriage
11. Don't give up your hobbies
Remember this new relationship advice, aside from being yourself, remember to never stop doing what you like just because you're in a relationship. Sure, you will have more things to do, but don't give up your alone time.
It will be beneficial if both of you will still have your own alone time, enjoying what you used to enjoy, and just having that time where you can meditate, reflect, and relax.
12. Be friends
Start a new relationship, but also be each other's friend. Friendship is a good and strong foundation that you will treasure in your relationship.
You can't always be lovers, sometimes, you will get angry and disappointed, but your friendship should always be there. It will help both of you get through tough times and will also be great new relationship advice for those who are falling in love.
13. Remember the little things
Here are some tips for dating someone new. Always listen and remember the little things.
For some, birthdays, favorite cologne, and favorite books aren't important, but if they are important for your new love, then it would be best if you could remember them.
Those small things matter and your partner will greatly appreciate your efforts to remember them. You can also use this knowledge when you're planning sweet surprises.
14. Don't get possessive
Important tips for new relationships– don't get possessive. It will surely destroy not only your love but also your trust in each other. Remember that too much is not good.
It's okay to be clingy, and sometimes, feel some sort of jealousy, but not too much that it would make your partner feel like they're suffocating. If this gets out of hand, it's no longer love. It's an obsession.
When you are occupied with intrusive thoughts, remember that you don't own this person. What you are doing can even drive your newfound love away.
Related Reading: 

10 Signs of a Possessive Husband
15. Respect each other
Here's another new relationship advice for new couples out there. Always respect each other. This will be a firm foundation for your budding romance and will be beneficial for a harmonious relationship.
Even in relationship counseling, the licensed therapist would often make sure that couples know the importance of the different foundations of a strong relationship, such as love, trust, and respect.
Important dos and don'ts in a new relationship
When you're in love, it's important to create a solid foundation for your new relationship. These are the things to do in a new relationship and make habits to maintain a successful relationship.
It's true that love won't be enough.
There should be respect, fidelity, and knowing what you could and couldn't do in your relationship. This is also the reason people say that working on a relationship also requires time.
You love each other, and you work on your relationship, and over time, you'll reap the benefits of having a well-balanced partnership that will lead to your happily ever after.
People seeking new relationship advice would often want to know the secret to lasting relationships. Check out and put into heart these 20 important do's and don'ts in a new relationship.
Searching for topics of conversation?
Usually this isn't a problem in a new relationship. But if you find yourself becoming tongue-tied around your new love, here are some things to talk about in a new relationship.
1. Expectation setting
When you feel comfortable enough, have a conversation about what you expect from the relationship. Fidelity? Long-term goals, such as marriage and children? How do you anticipate dividing dating expenses?
Fun questions that will help you get to know each other better:
If you could get on a plane right now, where would you go?

If you didn't do what you are currently doing professionally, what would be your dream job?

If you suddenly won the lottery, how would you spend the money?

Would you ever take a job in a foreign country? Where?

What books are on your nightstand right now?

Favorite binge-watching series

How would your friends describe you?

What is one thing you could tell me about yourself that would surprise me?
And, if you are looking for fun things to do together as a couple as you begin this new relationship, here are some suggestions.
Work out together

Try an exotic restaurant together (Ethiopian, Moroccan, Balinese)

Go to a theme park and do the thrill rides together

Karaoke night

Attend a standup comedy show

Go to a pottery painting workshop and make your own mugs

Participate in a political demonstration for a cause you both care about

Send each other funny GIFS
How to make your new relationship work?
You know you both have feelings for each other and have told each other so. You both want to see this relationship work.
Here are some tips to help nudge the magic along:
1. Choose wisely
Most people will agree that the best relationships are made up of people from similar socio-economic classes, with similar educational backgrounds, and who share similar values.
2. Be yourselves
You don't need to "win" him over by pretending to be anything other than who you are.
The deepest relationships are formed when each person shows up true to themselves.
No need to act as if you are a world-class athlete when the most active part of your weekend is getting up to search for the remote. Eventually, you'll be found out.
3. Don't forget your friends
No relationship can flourish in a vacuum.
Sure, you want to spend time with your new love interest, but take time to hang out with your BFFs. It will give the relationship the breathing space it needs, and help keep you balanced as well.
4. Don't give up your hobbies and passions
These are part of what makes you an interesting person.
Related Reading: 

How to Make Time for Your Personal Hobbies When Married
5. Don't stress over it
If this new relationship is meant to be, it will happen. Don't compare this new relationship with any that you've had before.
6. Be clear with boundary setting
If you aren't ready for sex when he is, tell him so, and explain why. Communicate from a place of kindness and honesty, and don't push things too quickly.
Starting a new relationship is a wonderful time in your life.
You have moved past old grudges, and this new relationship is giving you hope that love will be part of your life again. So, what to do in a new relationship? Remember to hold fast to your own identity and take time away from this new relationship to self-nurture.
The more you remain true to yourself and your self-care, the more you can bring to the new relationship. Your new partner will be all the more awestruck by it.
It would be hard to move on from your previous relationship if you have trauma in an attachment relationship.
Jon G. Allen, Ph.D., addresses the various impacts of trauma and how you can move on.
3 things that make relationships better
Are there any secrets to lasting love? As first relationship advice, we'd rather call them habits rather than secrets.
Here are three key ingredients to keep in mind.
1. Communication
Having open and honest communication is essential for any healthy relationship. Both should feel comfortable about sharing their feelings, dreams, thoughts, and even their fears with their partners.
Also, communication gives way for lovers to solve any problem they might face.
Related Reading: 

10 Reasons Why Communication in Marriage Is Important
2. Quality time
Even if you're already married, even with how much you're in love, you still need to nurture your relationship by spending quality time together. It's important to build and maintain a strong emotional connection with each other.
3. Respect and empathy
Lastly, partners always treat each other with respect and empathy. This means you know how to value each other's thoughts, values, and feelings. It's also being supportive, kind, and understanding to your partner.
Related Reading: 

How to Build Empathy in Relationships
What is the first step to a good relationship?
If you are looking for first relationship tips, then focus on a firm foundation. Mutual respect, trust, loyalty, and understanding are just some aspects to focus on.
It is also vital for partners to establish clear communication from the start. Learn how setting boundaries and expectations early on can help avoid misunderstandings or conflicts down the line.
Developing a positive and healthy dynamic from the start of your relationship can help build a solid foundation for a strong and fulfilling relationship.
Takeaway
Being in love is a wonderful experience, but also very scary as you want to ensure a lasting and beautiful relationship.
Our new relationship advice is to enjoy your present moment, and while you're doing that, work on the foundation of your relationship.
These foundations might look hard, but as you get to know them, you'd understand that most of them come naturally. Don't worry too much. Keep it balanced, fall in love, and enjoy life.
Share this article on
Want to have a happier, healthier marriage?
If you feel disconnected or frustrated about the state of your marriage but want to avoid separation and/or divorce, the marriage.com course meant for married couples is an excellent resource to help you overcome the most challenging aspects of being married.
You May Also Like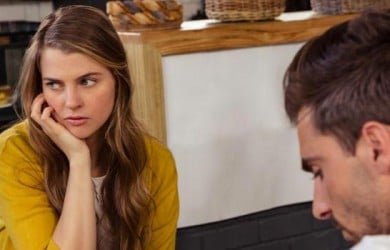 Popular Topics On Married Life