Why Timing in Relationships Is Important?
Many factors are essential for the success and endurance of relationships. Timing in relationships is one of them that can make or break relationships.
Timing largely affects who we end up with. Although the timing is a paramount factor, it is not the only one necessary for a relationship to flourish.
We can't ignore the importance of compatibility, willingness to compromise, and ways of approaching differences that exist between the couple.
Adequate timing isn't everything, but without it, relationships can be in jeopardy or not develop at all. Before we dive into the importance of timing in relationships and the effects it has on them, let's try to define it.
What does timing in relationships mean
Timing in relationships can be viewed as a personal feeling of whether or not now is an adequate time to be intimate and involved with someone.
Every one of us decides on the adequacy of the timing, more or less, consciously. We judge if it is right based on different factors that are unique to us.
Some people don't date for a while after getting out of a relationship or avoid serious commitments when they need to focus on their career and know they won't be emotionally available.
When we talk about timing in relationships, we are referring to people who can and have been at some point in a relationship.
If you find you are avoiding intimacy in general, this might not be a timing problem, rather an emotional availability one. In that case, timing will always seem off unless the root cause is addressed.
10 Different aspects of timing
Timing and relationships are connected in various ways. Whether it is good or bad timing in a relationship depends on many factors.
If multiple, or often even one, of the factors listed, don't align, the prospective relationship is unlikely to last regardless of the infatuation or personality compatibility.
1. Maturity
Maturity isn't about age, although they can be closely related. We refer to maturity as our openness and willingness to look at things through our partner's eyes.
We understand that they may see the world differently and make different choices and decisions compared to us.
If one person is willing to put themselves in another's shoes and the other is not, resentment and frustration can eventually build up.
2. Life goals
What are the dreams and pursuits that you are currently going after? How compatible are they with having a relationship or with the goals your current partner has?
If you can't make them harmonious, it can be a deal-breaker.
Our aspirations take a big chunk of our energy. It could be that a person is not ready to invest that emotional vitality in the relationship if they feel it could jeopardize their career ascending.
They know they will be stretched too thin, and their goals may suffer for it. It doesn't mean the person is not proper for them. They are simply not willing to take the risk because they feel it could endanger some important goal of theirs.
3. Prior relationship experience
Good timing in relationships is closely tied to how we processed our past and hurt from previous relationships.
The past influences the future through our anticipations. Therefore, if we haven't worked through what happened and in a way, still emotionally involved elsewhere, timing in relationships can be off, and the new relationship may not progress.
4. The vision of the future
Are both partners after the same thing? Do they want kids, a house in the country or the city, are they ready to settle in one place or planning a nomadic life of traveling the world?
Our vision of the future changes as we age and mature. If we meet a potential partner in a time when those visions are highly dissimilar, compromising may take a big toll on either side.
5. Openness to personal growth
In different stages of our life, we find we are more or less open to change. It can be that timing in relationships is off because one partner is willing to learn and further develop, and the other is at a point in their life where they are tired of change.
The importance, willingness, and capacity to adapt and evolve is one of the critical factors that are tied to good timing in relationships.
6. Experience
Some people need to know they gathered enough experience before they go into a serious commitment. What enough means differs for sure.
For example, a person that went from one serious relationship to the next and didn't get a chance to be single and explore how it feels might not be ready to commit even if they were to meet a great partner.
The timing for a serious commitment will be off as they seek novel experiences.
7. Age
Age is closely tied to the rest of the factors, so it deserves mention. Age itself can be just a number and not affect some relationships, yet it can be a deal-breaker for some.
We can think of it as the amount of time we had to experience certain things.
Therefore, two people of varying ages can have significantly diverse experiences, life goals, and levels of maturity (although not necessary as it depends on how one used their time and opportunities). The age and contributing differences can be contributing to bad timing in relationships.
8. Emotional availability
Surely, you have said at some point, "I am not ready to be with someone right now." You may have said it due to a number of reasons.
Perhaps you still needed to heal from the past or wanted to focus on other things. In any case, your readiness to be emotionally involved varies over time and affects your desire to be in relationships.
9. Love vs. infatuation
It is indeed difficult to distinguish between love and infatuation. Their signs are almost the same at the inception.
If we speak technically, as per Dr. Helen Fisher, the three tracks of lust, attraction and attachment are three different brain circuits altogether. But, even if we do not understand the technical aspects of it, maturity does help us to understand these concepts better.
As we grow, move on from relationship to relationship, and gather more experiences, we can distinguish better love from infatuation.
As we mature and create our own criteria for distinguishing love from infatuation, we learn with whom we should enter a committed relationship. Thus, maturity is one of the key aspects that significantly affect timing in relationships!
10. Readiness
Research has confirmed the importance of timing in relationships showing that it influences commitment by boosting or undermining it. That is, a higher degree of readiness is connected to increased commitment to the relationship.
Further, readiness is also connected to relationship maintenance and exhibits its influence on relationship endurance.
Additionally, readiness was associated with more self-disclosure, less neglect and exit strategies, and less desire to wait for things to simply get better.
Why is timing in relationships so important?
Based on everything said, we can suppose that relationship timing matters. Our anticipations guide our behavior.
Therefore if people feel they can or can't give a relationship a chance, they will act accordingly. How we see and think about timing will guide our decision and our actions.
The truth remains:
"Whether you think you can or you can't, you are right."
People who feel ready to invest in a relationship will be more willing to dedicate time and effort in making it work, work on self-improvements, and be more satisfied with it since it was their own choice and volition.
Nevertheless, if you ask, "is timing everything," the answer is no!
When the timing is right, it doesn't equal long-term happiness. People need to be willing to work on themselves and the relationship to make it satisfying and enduring.
When we allow and work on them, our differences complement each other and create a feeling of additional interest and novelty.
They can further our growth as individuals and a couple. So, timing is not everything, but it is essential.
Does giving time in a relationship work?
When we talk about timing in relationships, we are referring to many aspects and circumstances relating to it. Due to its complex nature, it is tricky to pinpoint all the ways it affects relationships.
Some people may find the 'right person' at the wrong time. Can we then say they are the right person?
Perhaps the compatibility in some aspects is high, but some of the aforementioned timing factors may not be. Therefore, they may seem like the right person, although they are not.
In fact, if the timing in a relationship is not right, we can't know for sure if they are the right person. Why?
Because having a relationship with someone itself is the thing that determines whether someone is right for us or not.
In some instances giving each other time and space will work, and after a while, a couple may try to get together. It might work, and they will celebrate many anniversaries!
In other cases, when they meet again, they will have changed so substantially that they won't seem as compatible as before.
Whether giving time in a relationship will work or not depends on the reasons time was needed in the first place. Also, it will depend on how harmonious the partners are when they try again.
If they can't work out the differences after they took the time apart, the relationship won't stand a chance.
Additionally, even if they enter a relationship, timing in relationships can catch up in another way. The couple may think they work well for some time.
However, unless they address the root cause of their differences, which they might name "bad timing," they won't work well together in the long run.
The truth about timing in relationships
There is no perfect timing, but there is such a thing as good or bad timing in relationships. What does that mean?
There won't ever be a perfect time to initiate a relationship. You might feel there is one more thing you need to accomplish before you commit or one last trip you need to go to.
Waiting to be completely ready is an unrealistic expectation that won't do you any good.
That being said, although there isn't a perfect time, it doesn't mean there aren't better or worse moments in your life to initiate a relationship.
The stability of a relationship depends on many components, among others readiness to be in one and proper balance of mental and emotional conditions of both parties.
Therefore, the question of "Am I ready for a relationship?" is an important and useful one, as long as it is not used to maintain intimacy avoidance. If so, factors other than timing are at play, and time will never be right until you deal with them.
Additionally, who we end up with doesn't depend only on who we meet and when. It also depends on who we are personally, how agreeable that is with our partner, and can those discrepancies be worked out.
Timing is impactful because we are more or less ready to work on ourselves and invest in self-development at various stages of our life.
If we meet the "right person" in a time when we are not prepared to advance and progress, long term commitment and fulfillment will elude us because all relationships require compromise and change.
Also Watch:

Takeaway
You can feel that time is either on your side or against you. You may say that the timing is wrong, but the truth is- something else could be at play!
Whenever we are turning to time as a reason, we are, in fact, saying that one of the factors related to it is the cause.
Maturity, life goals, the vision of the future, experience, or any of the other factors can lead to timing being bad for you. If you can isolate the problem, you can deal with it.
Timing (and its relevant aspects) is essential for the success of a relationship but is not the only area to consider. Even when the timing is right, you still need to take into account how compatible you are with your prospective partner.
Otherwise, you may fall victim to wanting the relationship so much you miss on checking if this person is the one to commit to.
If timing is wrong, the person is too. Go out and live your life. The person might be right in a different time. If not, there might be someone who is.
Share this article on
Want to have a happier, healthier marriage?
If you feel disconnected or frustrated about the state of your marriage but want to avoid separation and/or divorce, the marriage.com course meant for married couples is an excellent resource to help you overcome the most challenging aspects of being married.
More On This Topic
You May Also Like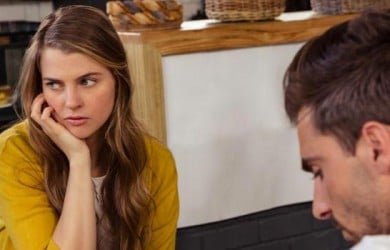 Popular Topics On Married Life