11 Types of Bad Relationships You Need to Get Out of Right Now
At the beginning of a relationship, you may not know how it will turn out as it progresses. It is important to understand that a relationship can change into something that you want to stay away from in a number of different ways.
Here's a look at 11 types of bad relationships that you may be in and why you should get out of them as soon as you can!
11 Types of bad relationships you need to get out of right now
Several types of bad relationships are possible, and you need to make sure that you get away from a bad relationship when you can. Keep reading for some of the most common types.
1. When your opinion isn't important
One kind of relationship that you should consider leaving is one where your opinion isn't valued or valid. You may find yourself saying things and feel like you aren't being heard.
If your partner doesn't value your opinion and doesn't put yours into consideration when they are making decisions, this can be a red flag.
In some cases, if your partner doesn't listen to what you think about certain situations, you may feel like you're unsupported in a relationship. This can sometimes lead to mental health issues.
2. When they are unfaithful
If your partner is unfaithful to you, there is a good chance that this is the type of relationship you need to get out of. Infidelity could mean that your partner doesn't care about you anymore, or they may think that they can do better.
Whatever reason they decide to cheat, this is not something that you have to put up with. When a couple isn't invested the same amount into a relationship, this can be problematic in a few ways, including feeling attachment anxiety.
Related Reading: 

15 Most Common Causes of Infidelity in Relationships
3. When money is the most vital thing
Are you with your partner just for the money, or are they with you for your money? If the answer is yes, this is another one of the many types of bad relationships that you should stay away from.
There is more to a relationship than money, and if this is the only reason the two of you are together, you may be missing out on the love and support you crave.
Related Reading: 

How Does Money Affect Relationships

?
4. When your partner doesn't trust you
Something else that indicates terrible things in a relationship is when your partner doesn't trust you.
In some cases, you may have given them a reason in the past not to trust you, but in some instances, they may not trust you, and you have never done anything to make them feel that way.
If your partner is always suspicious or doesn't trust you in most circumstances, there's no reason to think that this will change. You may want to cut your losses and move on.
Related Reading: 

15 Ways on How to Build Trust in a Relationship
5. When they are abusive
One of the worst types of bad relationships is abusive relationships. If you are experiencing abuse in yours, you need to know when to get out of a bad relationship.
The answer is as soon as possible. It doesn't matter if your partner is physically or mentally abusive, as both of these types of abuse are dangerous and can leave lasting trauma.
Research suggests that you need to prepare your mind to end an abusive relationship for the best results. There is help out there for you if you need it, and it is just a phone call away.
You can contact 1-800-799-SAFE, the National Domestic Violence Hotline, for more information on how to get out of an abusive relationship.
Also Try: Are You In An Abusive Relationship?
6. When you can't tell others about your relationship
When you find yourself in a relationship that has to be a secret, this is something that can be concerning.
There are only a few circumstances where you can maintain a relationship with someone you can't talk to your friends and family about.
If you can't be seen in public with someone or you have to sneak around to see each other, you may want to take a step back and decide what you want to do.
Can you sneak around forever, or will it become tiresome and hard to do? Think about if this relationship will be able to last.
Related Reading: 

7 Complicated Relationship Types That You Should Always Avoid
7. When it isn't going anywhere
Something else you need to think about when you are evaluating your relationship is if it is going anywhere.
If it feels like your mate has promised you that you would get engaged or married soon and has never made a move, this is not a good sign.
On the other hand, when you know that you and your partner want different things, this may also be a reason to consider getting out of a bad relationship.
Related Reading: 

20 Signs He Doesn't Want to Marry You
8. When you aren't happy
There is no good reason to stay in a relationship that you are unhappy with. You owe it to yourself to be happy and date someone that will make you happy.
It would be best to get out of an unhappy relationship when you notice that you aren't excited about it and see what else may be out there for you.
Related Reading: 

5 Signs Your Wife Is Unhappy and How to Fix Your Relationship
9. When all you do is party together
There needs to be more to a relationship than just partying together. While a couple can surely party together and go out and enjoy life, this doesn't mean that you should be doing it all the time.
As you grow and become more mature and independent, you will likely want to spend your time doing several other things besides partying. If your partner doesn't get that, you may need to leave a bad relationship of this type behind.
10. When they don't take no for an answer
Another of the major types of bad relationships is one where your partner doesn't take no for an answer.
In some cases, this can be abuse, but in other cases, it may just mean they are not listening when you don't want to do something.
For example, if you say you don't want to do something, and your mate does it anyway or tries to force you to do it, this is not something that you should continue to endure.
Related Reading: 

15 Reasons Why Your Spouse Doesn't Listen to You
11. When it's toxic
Relationships can be toxic in a number of different ways. Your partner may talk bad about you, make you feel bad about yourself, or pick fights with you for no reason.
When you feel like your relationship is toxic for any reason, you should get out of it when it is possible to do so.
You should feel loved and respected in your relationships, and if you aren't, you should find someone to love and respect you.
Related Reading: 

How to Stop Being Toxic in a Relationship
Knowing When To Leave
Anytime you are in a relationship where your mental health or life is at risk, you may need to be able to leave as soon as you can. There could be many reasons why you haven't yet and other reasons why you continue to stay.
However, you need to know that you should get out quickly when you notice that you might not be in a safe situation.
This list can help people that aren't in these types of bad relationships as well. These signs may be able to help you avoid these kinds of relationships or notice them in your loved ones. If someone you love is in a bad relationship, do what you can to support them and talk about what is going on.
They may not want to open up, but telling them what you have witnessed and how you feel shouldn't hurt. Just remember to do it gently, so they won't think you are judging them.
If you want to know more about when you should give up on a relationship, check out this video:

Conclusion
You may want to avoid or leave various types of bad relationships once you find yourself in one, and this article has discussed 11 common types.
If you are ever in any of these relationships, you should know that these are types that you must consider getting out of hastily.
With some types, your health and self-esteem may be in danger, and with other types, you may not be getting the type of love and support you need.
Healthy relationships are present when two people have mutual respect. When this is lacking in yours, think about your options and what you want to do.
Getting out of these types of bad relationships can be better than wasting your time on a relationship that makes you unhappy, isn't going anywhere, or where you are not being listened to or respected.
Think about all of these things when you are pondering what type of relationship you are in. Take your time and think about all your options before making the best decision for you.
Share this article on
Want to have a happier, healthier marriage?
If you feel disconnected or frustrated about the state of your marriage but want to avoid separation and/or divorce, the marriage.com course meant for married couples is an excellent resource to help you overcome the most challenging aspects of being married.
More On This Topic
You May Also Like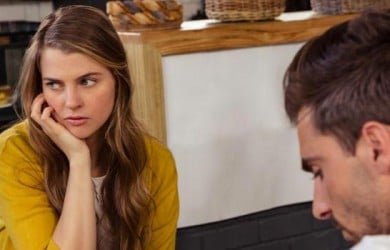 Popular Topics On Married Life