Rebound Relationships – The Must Know Good Bad and Ugly
What is a rebound relationship?
You have recently ended a serious, long-term relationship, and you plunge headfirst into another romantic relationship, without waiting for emotional happening to happen – these are all rebound relationship signs.
In a rebound relationship, a rebounder mostly prefers hook-ups without any kind of emotional connection, refers to their ex-partner in a bitter, negative way, and refrains from commitment in any form.
Rebound relationships success
When a relationship happens too fast, too soon, often people ask, how long do rebound relationships last?
Most dismiss the long-term viability or seriousness of rebound relationships.
Strictly speaking, in terms of the rebound relationship success rate, most of them fail to survive longer than few days or first few months, as it is often dumping of resentment and baggage from the previous relationships onto the new one, before the full healing of the emotions from the last relationship.
Is this a rebound or short relationship until "the one" comes along?
That is the question people should consider before dating a person who is recently divorced, widowed, or single from a long term or serious relationship.
So, can a rebound relationship work?
In case of rebound relationships after divorce or death of a spouse, a steamy rebound relationship can be a much-needed reminder that you've still got it.
That you are desirable, however, if you enter rebound relationships with expectations of getting back at your ex or to fill the void of what feels missing after your previous partner left, then don't do it.
If you ask a person if they are on the rebound, they will tell you they are not because they may not know it.
You are responsible for assessing the situation before entering into it. Because like it or not, most of the time, answer to the question, does a rebound relationship last is negative.
Each rebound relationship is different based on the needs of the rebounder.
Some people want wild exciting romance, some want to take it slow with no commitment, and some want to get married right away.
Rebound relationship time frame
Generally, the average length of rebound relationships is determined by these factors:
Emotional availability and stability of the person who is on the rebound.
The realization of the person in a relationship with someone "on the rebound" that they are being used, leading them to step away.
The individual on the rebound does not want to carry on with the distraction in the form of a rebound relationship and decides to start the emotional healing, healthy way.
It is wise to take a minute to understand the newfound single status, because if you do not, you may get hurt and be on the rebound yourself.
How do you know if you are in a rebound relationship
You are in a rebound relationship if the person compares you and all activities to the lost love.
For example, "My husband loved this restaurant. We came here often."
There is nothing wrong with the statement but it shows she is thinking of her late or separated husband.
When she should be thinking about you.
As an adult, she knows that she is on a date for romance. She should be emotionally mature enough to curtail her conversation to be appropriate to the current situation. She should have offered to go to some other restaurant.
There is no faster way to kill an emotionally intimate moment than bringing up someone you were in love with.
They are on the rebound.
Get their number and promise to call in about six months.
Unless you don't really care because they are hot.
Be careful about dating them because you can't measure up to the imagination. The truth be told their partner maybe was going to divorce them before they died. Don't write them off because widowers or divorcees usually remarry within a year because they are comfortable being in a relationship.
Divorced people are fun to date but are classic rebounders.
They are out to prove that there is nothing wrong with them and go overboard to impress.
If you are interested, play along but don't take them seriously for a while, no matter what they say. This one you will have to play by ear.
Ask a lot of questions and get to meet their friends so you get both sides of the story, discreetly and respectfully of course.
Divorce people go through all types of emotions, especially if kids are involved. One moment they want to play the field another time they are tired of the ups and downs and want to get married.
To be fair to yourself, take it slow and read the signs. For example, you meet a nice man and on the first date, he wants you to meet his friends, family, kids, and dog to prove to them he has another love.
Be careful because this could be a tactic for the ex too. It can get messy. He's on the rebound.
Recently single people like to play by rules to feel safe and acceptable. They are on the rebound.
If there aren't any rules, then they will tell you what they are based on things they want to avoid in the future. If you date a recently single person, it is best to have a set of dating rules to help them get back into the swing of things and feel comfortable dating again.
Get used to explaining and have lots of patience.
Make sure the recently singled is not still "friends" with the ex. If they are still friends with the ex and they do not have children together, then your friend could be on the rebound. Otherwise, it may just be worth it.
2. What are the benefits of a rebound relationship?
The old saying "To get over love is to get another one." That's the well-known truth about rebound relationships.
So, do rebound relationships work?
Dating will raise a person's self-esteem and build confidence motivating the person to fall in love again.
Not to mention the fact that if a person is careful they can have fun by opening their options to people who are different from them.
Dating people for a short period of time who are different from you can open your life to new friendships, ideas, and cultures.
People usually date people with different personalities just to have a new experience:
Different nationalities, large age differences of older and younger or different social status–opposites attract.
Altogether, rebound relationships are short relationships entered into after the end of a long term committed relationship or marriage.
Rebound relationships are not labeled rebound relationships because the rebounder does not know that they are on the rebound.
There are some benefits of a rebound relationship:
Raised self-esteem by meeting new people
Practice to get into the swing of things
Just the rebuilt ability to have some fun
One night stands have always existed for several reasons and do not constitute as a rebound relationship.
How to avoid a rebound relationship
As much as a rebound relationship brings benefits, they can de-escalate the recovery process and impair the ability to start a healthy relationship.
Also, watch this informative video on signs your are in a rebound relationship:
So, for those who decide to steer clear from rebound relationships, but don't know how to avoid the pitfalls of a rebound relationship, here's some useful advice.
Channelize your energy on fully recovering from your previous relationship.
As a thumb rule, don't immediately jump into the dating pool soon after a marriage or a relationship has ended.
Don't make your ex-partner the focal points of your thoughts.
Engage in self-care, practice self-compassion and develop self-love.
Learn to enjoy your own company and cultivate a liking for your alone time doing things you enjoy.
Allocate time to exercise as it will uplift your mood and elevate your overall well-being.
Also, it would be helpful to seek timely professional expertise to gain insight into the reasons why your relationship ended and recover from the loneliness, shame, regret, and grief that accompanies a tough breakup.
Share this article on
Want to have a happier, healthier marriage?
If you feel disconnected or frustrated about the state of your marriage but want to avoid separation and/or divorce, the marriage.com course meant for married couples is an excellent resource to help you overcome the most challenging aspects of being married.
You May Also Like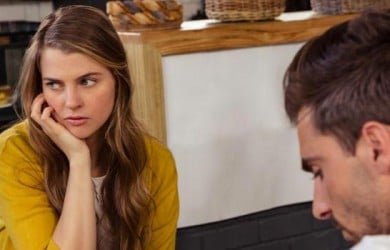 Popular Topics On Married Life