Why Are Toxic Relationships Addictive & What Are The Signs You're In One?
Toxic relationships can be hard to spot and even harder to let go of. Many people describe being in a toxic relationship as being addicted to drugs — that's how problematic and controlling it can be. Many people are addicted to toxic relationships because of various factors like codependency, insecurity, or trauma bonds.
If you're not sure or aware of whether you're addicted to toxic relationships, then there are some questions you can ask yourself, which are discussed below. But, breaking an addiction to a toxic person can be a lot harder than it may seem.
What is a toxic relationship?
Before talking about why toxic relationships are addictive, let's figure out what toxic relationships are. Toxic relationships can be any form of relationship- a parent-child relationship, brother-sister relationship, or the most common kind, romantic relationships.
When these relationships are based on a system of abuse, insecurity, neglect, and self-preservation, they turn into toxic relationships, where the abusive partner only cares about themselves.
Toxic relationships can be extremely harmful and dangerous and can lead to depression, anxiety, eating disorders, trust issues, and other mental health problems. These are also marked by addictive relationship cycles, which can be hard to break.
Why are toxic relationships addictive?
Everybody knows toxic relationships are bad. Then why is it so difficult to spot them, and why are toxic relationships so addictive? Many times people tend to internalize what their partners tell them. If your partner treats you like a child, you tend to think of yourself as incapable, so you're dependent on your partner to take care of you.
Another example is if your partner tells you their love language gets too physical sometimes, but that only means they love you. This way, they mask their toxic behavior, and you get addicted to toxic relationships because you tend to think that this is what love is.
Because toxic partners tend to disguise their abuse and keep you controlled, it can be difficult even to realize you're in an abusive relationship. This video gives some insight into what abuse in a toxic relationship can look like:
Signs you are in a toxic relationship
It can be hard to tell if you're addicted to a toxic relationship, even if you think you're in one. If you're unsure of whether you're in a rough relationship, here are some addictive relationship signs as well as signs you are in a toxic relationship:
1. You feel controlled by your partner
A common sign you are in a toxic relationship is when you feel like your partner controls your every move. You might've internalized asking for permission and checking in with your partner every time you do something.
Asking for permission, even for the smallest of things, and feeling obligated to do so is one of the many addictive relationship signs. You're addicted to feeling like you need to be looked after or told what to do. This type of addiction to external toxic relationship traits can harm your self-worth.
Related Reading: 

How to Get Out of a Controlling Relationship
2. Your partner verbally or physically abuses you
If you constantly get into screaming matches with your partner where you're left on the floor crying, and you continue to stay with him regardless, you might be addicted to drama in the relationship. This toxic love addiction makes you think your relationship has passion, but it is abusive.
If your partner physically abuses you, like hitting you in the face or hurting you during sex, then brushing it off as his love language is wrong. If you think it's a small price to pay to be with him, that's a big sign you're addicted to a bad relationship, and you need to get out.
Related Reading: 

Best Ways to Protect Yourself From an Abusive Partner
3. You feel uncomfortable around your partner
If you feel like you can't open up to your partner or you're scared to do so, that could be a sign you are in a toxic relationship. Another reason you might feel uncomfortable is if he's trying to make you behave like a person you're not — he's trying to change you.
If you think changing your personality is a good thing just so you can be with your partner is a good thing, then you're only fooling yourself, and you're addicted to toxic relationships.
Psychologists often talk about how if he's trying to change who you are as a person even when you don't want to, then it's time to think about breaking an addiction to a toxic person.
4. Your partner doesn't trust you
If you have to always keep your partner in the loop about what you're doing or who you're with, and he throws tantrums when you miss a call, it shows that he doesn't trust you.
If you think this shows how much he cares about you, you're deluding yourself, and it probably means you're addicted to toxic relationships.
Trusting your partner is a sign of a healthy relationship. Be aware of jealousy—it has the power to take over your relationship. If you're always attracting jealous partners, then it's time to figure out the best way to avoid toxic relationships. And if you're in one right now, it's time to call it off.
Related Reading: 

How to Resolve Trust Issues in a Relationship – Expert Advice
5. Your partner treats you like a child
Toxic partners tend to infantilize their partners. They make you feel helpless and tell you that they will look after you. Scenario:
Your partner convinces you that nothing you do is good enough and that you should listen to them and do things their way. And you agree with them and start doing whatever they tell you.
Does this sound familiar? If yes, then it probably means you're being controlled, and it could mean you could grow to get addicted to toxic relationships. Infantilizing you is the best way someone can make you feel powerless.
A balance of power is necessary for a healthy relationship. Any unbalanced relationship tends to be toxic.
Of course, these are only a few of many signs that could hint toward a toxic relationship. This extensive article gives you a list of 40 signs of what a toxic relationship looks like. Reading through this can help you better understand what such relationships look like and recognize any familiar patterns in your relationship.
Why is it so difficult to break free from a toxic relationship?
Addictive relationship cycles can be challenging to overcome. Being in a toxic relationship gives you a false sense of security and comfort, distorting your idea of what love and care look like.
Getting out of this mindset, realizing that you're addicted to toxic relationships, and finally breaking it off are all steps that take a lot of emotional effort.
Most therapists say that breaking off a relationship, especially if it's a toxic one, is hard because you might be afraid of being alone and that you're scared of confrontation. However, staying addicted to toxic relationships can damage your self-worth and mental health.
How do you get out of an addictive toxic relationship?
Here are some basic, straightforward ways to start your process of healing and get out of a toxic relationship:
1. Being self-aware
Being mindful of your relationship and your rapport with your partner is essential. Being self-aware can help you realize you're in the wrong place before you get too addicted to a toxic relationship and can help you get out of it faster.
If you've noticed that you're always in such toxic relationships, taking some time for yourself can help you break the toxic love addiction cycle and guide you towards healthier relationships.
2. A clean break
Once you've realized that you're in a toxic relationship, prolonging your breakup will only do more harm than good. Don't try to "fix" your partner or make them a "better person."
You're only getting more deeply addicted to a toxic person. A clean, swift breakup and getting them out of your life is the best way to start healing.
3. Counseling
Being in a toxic relationship can cause a lot of pain and trauma. This trauma is not something you can get over by relaxing at a spa. Seeing a counselor or a therapist is very beneficial to stop your addiction to toxic relationships and to help you break this cycle.
Conclusion
Figuring out whether or not you're in a bad relationship and being addicted to toxic relationships can be difficult. It's a lot to unpack emotionally and can be pretty draining.
However, there is good news – research shows that almost 64% of experts agree that the best way to get over a toxic relationship is to substitute it with positive, healthy behaviors.
So healing from such trauma is very much possible. So once you're out of such an addictive, toxic relationship, your future can look very bright indeed!
Share this article on
Want to have a happier, healthier marriage?
If you feel disconnected or frustrated about the state of your marriage but want to avoid separation and/or divorce, the marriage.com course meant for married couples is an excellent resource to help you overcome the most challenging aspects of being married.
More On This Topic
You May Also Like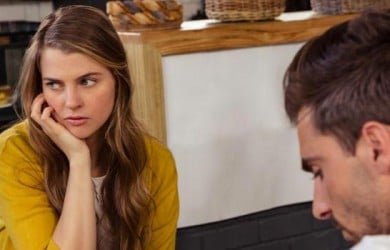 Popular Topics On Married Life