Having a Secret Relationship – Is It Even Worth It?
Being in a relationship is just beautiful and in fact it can bring joy to one's life but what if your relationship situation is a little bit more complicated than the usual ones that we know? Have you ever imagined yourself having a secret relationship? If so, do you think it's exciting and fun or do you think of it as hurtful and wrong?
People keep their relationship a secret for different kinds of reasons – valid or not, this is something that people don't often talk about, so let's go ahead and dig deeper in to the world of love and secrets.
Reasons for keeping a relationship secret
When you finally get into a relationship, isn't it too exciting? You just want to post it on your social media accounts and let everyone know that you finally met "the one" but what if you can't? What if you get yourself into a relationship where you need to keep it a secret to almost everyone – what would this make you feel?
There can be a number of reasons for keeping a relationship secret – think of yourselves as the modern Romero and Juliet. Here are some of the most common reasons why your "our relationship" becomes "our secret relationship".
1. Falling in love with your boss
If you find yourself falling in love with your boss or your immediate supervisor and both of you know the consequences of this love affair – then you ought to expect your relationship to be secret from everyone else – especially through social media.
2. Falling in love with the ex of someone close to you
What if you find yourself falling for the ex-spouse or ex-boyfriend of your best friend, sister or even someone close to you? Even if we are liberated, there are still some situations that some people wouldn't understand. Dating the ex-husband of your best friend is something that most people would react negatively to, so a secret relationship is often expected.
3. Falling in love with a married person
A secret relationship also happens when you find yourself falling in love with someone who is married. Sad but true – there are so many cases like this. Being in a relationship where the person you love is already married is not just a sin but is against the law. So, if you'll ask "is a secret relationship wrong?" then the answer is yes for this one.
4. Having issues in revealing your sexuality
Another reason that people have secret relationship is because of social standing and beliefs. Sadly, LGBTQ members still have this problem and some would just choose to have a secret relationship than face the judgmental mindset of people.
5. Falling in love with someone against your parent's wish
Another thing is when you have promised your parents that you'll find a good job and have a good future but you end up falling in love instead – most young adults would rather keep a relationship secret than disappoint their parents.
Private vs Secret Relationship
We've heard about private vs secret relationship differences but how well do we know it? Well, this one is fairly simple.
Couples who would rather keep their relationship private will have no problem being seen or letting other people know that they are a couple while a secret relationship means it's meant to be a secret for all the people.
A couple may want and choose to keep their relationship private and avoid being a star in your social media accounts, a couple who will keep their relationship a secret might not even be allowed to be seen together even by their families.
How to keep a relationship secret – Can you do it?
Keeping a relationship secret is no joke. It's hard and can sometimes be hurtful. For some, it may look exciting at first but over time, the secrecy becomes boredom. The lies and reasons become a habit and you might even want to question if this is a real relationship.
Many would of course want to have an idea of how to keep a relationship secret, and here are just some of the things to remember.
When you are with some friends, family or co-worker, make sure there is no affection or intimacy between the two of you especially if this secret relationship is all about work.

Be casual with your conversations and don't let emotions get in the way of showing how you really feel.

No photos and no posts. Stay away from your usual social media routine. No matter how much you want to let the world know – keep it to yourself.

Don't go out together. This is really just one sad part especially when you feel that you don't have the freedom like any other couple. You can't make bookings in a nice restaurant; you can't go on events together and you can't even spend some alone time together or be seen in a car together. Tough? Definitely!

A secret relationship also means not being able to show your emotions. What if someone flirts with your partner but since you can't let everybody else know, you need to control yourself from bursting into anger – tough one!
Things to keep in mind if you're having a secret relationship
If ever you find yourself where your girlfriend or boyfriend wants to keep relationship a secret then maybe it's time to ponder. First, analyze the situation if it's valid or not, if it's a sin or if the situation is just a little bit complicated. Weigh in your options – if you think you can work things out so everyone can know that you are in love then do it.
Another thing to keep in mind when having a secret relationship is to think hard about the consequences, reasons and even the validation of this choice.
As one of the secret relationship quotes say,
"If a relationship is a secret, you should not be in it".
Ask yourself, why are keeping it a secret? Are the reasons valid? If so, wouldn't some adjustments or work around solve it? Think and analyze your situation. Have a voice and let your partner know what you think. There is nothing wrong with a secret relationship but we don't want it to be the kind of relationship that we will have for years to come.
Share this article on
Want to have a happier, healthier marriage?
If you feel disconnected or frustrated about the state of your marriage but want to avoid separation and/or divorce, the marriage.com course meant for married couples is an excellent resource to help you overcome the most challenging aspects of being married.
More On This Topic
You May Also Like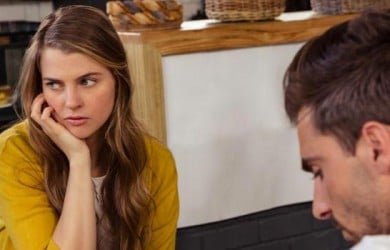 Popular Topics On Married Life