15 Deadly Signs of an Immature Man: How to Notice These Signs?
Maturity doesn't automatically come with age but experience and hardships. Maturity is simply the state of being emotionally and mentally well developed. A mature person reacts to circumstances with age-appropriate behavior.
Emotional maturity is having an appropriate level of emotional control and expression.
It can be frustrating dating an immature man as his actions will reflect that of a man-child. Now, this doesn't entail men sitting on the couch all day playing video games or eating junk for dinner.
So, what then is an emotionally immature man, and what are the signs of an immature man?
How can you tell if someone is immature?
An emotionally immature man will find it difficult to express or communicate their emotions. As a result, they will express their emotions without restraint and care about the consequences of their actions.
An emotionally immature man may overreact in certain situations and will fail to consider your perspective on the situation.
They are referred to as a man-child because although they are grown, they act like children and find it difficult to care for themselves.
Is being immature a personality disorder?
Yes, it is! An immature personality disorder is an ICD-10 diagnosis that affects the person's ability to restrain impulses. People with immature personality disorder lack emotional development and can't handle stressful situations or take responsibility for their actions.
How do immature men act?
What does an emotionally immature man look like? Do you want to identify the signs of an immature man?
Then it's simple; if they don't engage in age-appropriate behavior, chances are they are immature. Their personality reflects childish behaviors, and they can't suppress or control their emotions.
An immature man's character can be likened to a child, and emotional maturity can manifest in various ways.
Matured adults pay attention to the effect of their actions on other people, plan for the future and accept criticism.
Immature men will rather blame others for their actions, and they rarely think about their future.
The question of how do immature men act is pretty common. You can spot a childish man from a mile away if you know what to look for. The following are signs of an immature man.
They tend to be selfish, focusing only on their emotions, not that of their partners

They don't enjoy taking part in difficult conversations

They often use humor to cover up serious conversations

They have trouble expressing their emotions

They often blame others when things don't work out

They become hostile when things don't go their way
15 deadly signs of an immature man
There are various signs of an emotionally immature man. However, some traits can be found in most immature men irrespective of age.
Here are the 15 deadly signs of an immature man
1. He doesn't plan for the future
One of the signs of an immature man is his lack of ambition.
An immature guy has no plans for the future and might find it difficult to hold down a job. They are uninterested in having a game plan for their relationship or contributing financially to their relationship.
Adults strategize on how they can achieve future ambitions, but immature men don't think far into their future.
2. Fear of commitment
Convincing an immature guy to commit to you is like convincing a child that visiting the dentist is fun. It's virtually impossible.
You can't talk about the future with an immature guy as they only live in the present. They might even get upset if you bring up marriage, kids, and even pets.
Related Reading: 

How to Identify and Deal With a Man With Commitment Issues

 
3. Frivolous spending
Developing a good spending habit takes discipline, something an immature guy lacks.
An immature man buys expensive and non-essential things without a thought. As a result, he can spend thousands of dollars he doesn't have on something he doesn't need. Being an adult is being financially responsible, curtailing your spending, and thinking of the future.
Frivolous spending is one of the signs of an immature man.
4. He attacks you during an argument
It's hard to have a meaningful and deep conversation with an immature man during an argument. They always depend on petty insults directed at you to win an argument.
When an immature person is losing an argument, instead of them challenging your points or conceding they were at fault, they would rather attack you personally.
For instance, imagine arguing with an immature guy about why a certain food is better than another. While you prove your points with facts, he instead attacks your character by saying only a lunatic will like that food.
5. He never apologizes
One of the signs of an immature man in a relationship is that he doesn't admit when he is wrong. He won't hold himself accountable for his actions or admit his wrongdoings.
Examples of excuses they might give include
It's not my fault I forgot; you failed to remind me

I couldn't get around to working on the project; my assistant failed to put it on my schedule

Pete wanted to have drinks; not my fault I missed dinner
Immature guys will rather cast the blame on others than apologize.
Related Reading: 

5 Ways on How to Make Him Realize He Made a Mistake
6. Cannot boast of a meaningful relationship
Since immature guys aren't capable of commitment, they might find it difficult to hold down a relationship.
When you ask him about his past long-term relationships, he may brush it off with a laugh.
7. He is self-centered
Most emotionally immature guys are always focused on themselves and may show narcissistic tendencies, as Sane states. They believe the world revolves around them and won't try to understand the opinions of others.
As a result, they only insert themselves in favorable situations and avoid negative situations or hard conversations.
A man that isn't interested in your feelings, aspirations, or interests may be immature emotionally. They will want the spotlight and attention to remain on them.
One of the signs of an immature guy is that he is always fixated on himself. His self-confidence reduces if he notices the room is not fixated on him and gets distressed at the realization. As a result, he can intimidate and oppress others to get their attention back on him.
Related Reading: 

12 Red-Flag Signs of a Selfish Partner
8. No impulse control
An immature person won't have a handle on his emotions and can't control his behavior.
Immature men can be rude and won't notice the effects their actions will have on those around them. They can be likened to a child in that aspect, but that is not an excuse as they should know better.
This is just one of the signs of an immature man, and with professional help and therapy, they can learn to control their impulses.
Related Reading: 

What Is Impulsive Behavior: Causes, Types, Signs & How It Hurts the Relationship
9. He is a bully
As per the research, bullying is often linked with kids but can be perpetrated by anybody regardless of age. After all, age doesn't mean maturity.
Immature men have low emotional intelligence and often bully others. They enjoy the power of lording over other people as this adds to their ego. They show signs of deep-rooted insecurity by lashing out at other people.
Immature men feel better and find fulfillment when they bully others. However, mature men face their insecurities instead of putting others down to feel good.
If your man always attacks and bullies you, then you might be dating an immature man.
10. He is a poor listener
Immature men are often not interested in what you have to say. They think they are always right or what you have to say is unimportant. His poor listening skills range from interrupting and forcing his opinions on you.
So, if you want to know if your man is immature, ask yourself if you feel heard or appreciated when you talk to him.
You can hardly get a word in with an immature man during a conversation, and they might get offended if you suggest another way of handling a situation.
Related Reading: 

What to Do if You Are Not Feeling Heard in a Relationship

 
11. He is unsupportive
An immature partner will hardly support or encourage you. However, he is always itching to criticize or put you down. As a result, he is often emotionally unavailable when you need his support.
He is always ready to point out your flaws but chooses to ignore your achievements. An immature person enjoys putting others down to feel good about themselves. Seeing another person thrive or succeed affects their self-confidence.
Related Reading: 

7 Things to Do When You Have an Unsupportive Partner
12. He is a pathological liar
An immature person will rather lie than own up to the truth and apologize for the role they played.
Another reason why they lie is that the truth is plain and basic. They would rather come up with an elaborate lie to put themselves at the center of attention and build up a false image. They will likely twist the truth to make themselves feel cool.
On the other hand, a mature guy is satisfied with the plain old truth. He is more interested in achieving his goal and making a name for himself than lying and making up stories.
Related Reading: 

How to Deal With a Pathological Liar in a Relationship- 15 Ways
13. You feel alone in the relationship
When dating an immature man, there is an emotional intimacy gap in the relationship. As a result, you find it difficult to connect and share your problems with him.
Getting him to acknowledge your needs in the relationship is pointless as he won't be able to connect with you.
14. You can't engage in deep conversations with him
An immature man will avoid tough conversations about the relationship. They are overwhelmed by their feeling and will prefer to ignore them. They usually laugh over a conversation or always claim they are too tired to talk.
They won't go deep when talking about their feelings.
15. He is indecisive
An immature man is indecisive, and you will most likely find yourself making all the decisions in the relationship. He goes back and forth before making a decision if he ever does.
An immature man will try to avoid responsibilities and leave it up to you to make the decisions.
Are you interested in knowing the difference between maturity and immaturity? Then this video is perfect for you:
How do you handle an emotionally immature man?
Can your man's character be linked to most of the abovementioned signs? If so, not all hope is lost. Breaking up with an immature man is not the only solution.
With the right information on how to handle an immature man and patience, you can end up turning your relationship around. The following are ways to handle an immature man:
You must let him take responsibility for his actions. Don't roll over and overlook his actions; if you do this, you're taking away his opportunity to change.
Letting him face the consequences of his actions will deter him from making the same mistakes again. Also, when he makes a mistake, don't take the blame for his actions or agree with him when he blames someone else.
Instead, be direct, empathetic, and honest. Let him know he can't blame others for his actions.
Knowing how to communicate with an emotionally immature man can help keep the relationship healthy.
When your man is on the wrong side, let him know. He might be unaware of his immature actions and will be ready to change once it is brought to his attention. Don't beat around the bush or downplay his actions.
Let him be fully aware of the impact of his actions on you and the relationship.
The goal is not to push him away but to effect a change in him. A way this can be done is by setting healthy boundaries. This is a great way of dealing with an emotionally immature man.
Don't come up with excuses for your partner or agree with them when they do. Instead, be assertive and let them know you won't condone certain acts like being disrespected.
Most importantly, don't be all words and no actions. Follow through on your words, and don't tolerate his immature acts.
Seek the help of a therapists
A therapist can help him reach a level of self-awareness and help him develop as a person. However, this can only be attainable if your partner is ready to put in the work.
A professional can help him sort through his feelings and develop a healthy coping strategy.
Final thought
An immature man will find it difficult to express his feelings and come off as rude or selfish. This article seeks to point out the signs of an immature man to help you identify them.
However, this doesn't mean they can't change and grow to be better human beings. After all, the only constant in life is change!
You can't force somebody to change. Walking away from an immature man doesn't reflect poorly on you and you can only stand by them if they decide to change.
Share this article on
Want to have a happier, healthier marriage?
If you feel disconnected or frustrated about the state of your marriage but want to avoid separation and/or divorce, the marriage.com course meant for married couples is an excellent resource to help you overcome the most challenging aspects of being married.
More On This Topic
You May Also Like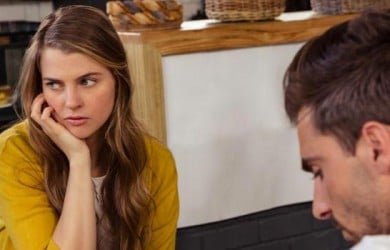 Popular Topics On Married Life