15 Signs of An Immature Woman and How to Deal With Them
Have you ever been in a relationship with an immature woman? If you aren't sure, you may want to know common signs of an immature woman, so you will be able to pinpoint certain behaviors and tendencies.
Keep reading for more information about emotional insecurity and how to spot it.
What is emotional immaturity?
Emotional immaturity refers to the way a person may act. If they are immature, they will not be able to respond appropriately in certain situations.
For instance, if you are in a disagreement with a person that is immature, they may behave like a child, yell and scream, or ignore you, instead of having a conversation with you.
For more information on adult immaturity, check out this video:
5 causes of emotional immaturity in a woman
There are a few causes that are possible when it comes to an emotionally immature woman. However, there is no specific cause of immaturity.
1. Past trauma
It is possible that past trauma a woman has endured has caused her to become emotionally immature. This could be because she never had a proper example of how an adult was supposed to act. Instead, she will have to learn these things as an adult, if she is willing to.
Related Reading: 

How Childhood Trauma Affects Relationships?

 
2. Childhood abuse
Much like trauma, childhood abuse could also lead to emotional insecurity. This may also be because there were no adult role models to learn from, which could have affected the attachment style of an individual.
In other words, as a young child, a girl may have noticed that she couldn't count on her parents and still doesn't fully trust others, no matter what type of relationship she is in.
Related Reading: 

What are the Signs of Child Abuse?
3. Past relationships
If a person has signs of an immature woman and they have been in relationships that ended badly, were abusive, or where they were hurt in some way, this could cause someone to act immature in specific situations. They may feel like they have to be defensive in all romantic relationships.
4. Mental illness
A person may be exhibiting immaturity because they are experiencing a mental illness of some type. This could be a number of different concerns, but it should be noted that narcissistic personality disorder is a mental health condition that may lead to someone being emotionally immature in a number of different ways.
5. Excess stress
It can be difficult to determine how an individual will act when they are under much stress. They may act in an immature manner and feel as if they are not acting inappropriately.
If this is the case, it may be helpful to talk to them about their stress and figure out ways to lessen it.
15 signs of emotional immaturity in a woman
If you are wondering, what are the signs of emotional immaturity, here are 15 signs to watch out for. These can also answer the question, how to know if a woman is emotionally immature.
1. She can't handle conflict
An immature woman will be unable to handle conflict of any kind. If you are in an argument, she may give you the silent treatment or simply leave. She will have no desire to work out a problem or come to any type of agreement with you.
2. She needs to have her way
It will become obvious that she will not compromise on any issue. She will insist that things go her way, regardless of what that looks like. Perhaps you would like to come to a fair arrangement when it comes to chores or some other minor point. This may be out of the question.
Related Reading: 

10 Reasons to Compromise in a Relationship
3. She needs to be noticed
Another of the signs of an immature woman that you may see is that she must be noticed. She will want everyone that sees her to say something nice to her or praise her in some way.
This could be in the form of how she looks, how her kids act, or anything that she feels is a positive reflection on her.
Related Reading: 

Attention Seeking Behavior in Relationship : Examples & How to Stop
4. She thinks everyone owes her
Something else that you may notice is that she feels like everyone owes her a favor or should do what she says. This doesn't just apply to people that she knows either, she may expect strangers to provide her with special treatment or attention over others.
5. She feels like she's always being criticized
Another of the most common immature woman signs is that she may always feel like others are criticizing her. She might be convinced that everyone is jealous of her, so they are saying bad things about her that aren't true.
6. She cannot accept criticism
At the same time, if you do have anything to say about her, whether it is polite or not, she will not want to hear it and may not be able to accept it.
She will feel like there is nothing she has done wrong and that she doesn't need to work on her behavior.
7. She may act in a volatile manner
If you have ever had an argument with someone that was quite serious, you may understand volatile behavior. One of the possible emotional immaturity signs occurs when a person is unable to have a simple discussion with someone or a difference of opinion.
They may start to scream, throw things, and expect to get their way. Moreover, they might have a tantrum if they don't get their way.
8. She enjoys drama
You might note that she loves drama. This could refer to what she likes to watch on television, how she likes to act, or even how she interacts with others. Essentially, she may seek out trouble when this is possible, just so drama will follow.
She may also be confrontational about situations where this is not the norm.
9. She lives a life that isn't structured
One of the deadly signs of an immature woman is when she lives an unstructured life. She may be all over the place when it comes to maintaining her household, including not eating or sleeping at the same time each night.
She may not have any type of routine or schedule to how she lives her life and is unable to change her behavior to follow one.
10. She doesn't think she makes mistakes
An immature woman will be convinced that she doesn't make any mistakes. She will be convinced that she didn't do anything wrong and if you indicate that she did, she may become upset or feel like you are trying to criticize her.
Keep in mind that she may have no trouble noting other people's mistakes, only hers.
11. She talks about everyone else
In fact, she may talk about people all the time, including the flaws she sees within them. You may notice that she gossips with her friends about everyone she knows but won't say anything negative about herself. This could be because she doesn't see any fault in herself too.
This is one of the most obvious signs of an immature woman.
12. She doesn't have compassion
It can be difficult for her to have any compassion for others, especially when she chooses to focus on her life and what she wants. This can even apply to her family members, partner, or kids, in some cases.
You will be unlikely to count on her as a shoulder to lean on when you are experiencing hard times in your life. She will want to talk about all the things she has been through instead.
13. She may gaslight you
When you come to her with concerns about her behavior, she may try to gaslight you regarding them. This is something that can be dangerous for your mental health, since it may leave you feeling like you imagined that someone was acting a certain way.
If your partner is gaslighting you, this is not something that you have to put up with.
Related Reading: 

7 Stages of Gaslighting in a Relationship & How to Cope
14. She won't apologize
Even if you are able to get an immature woman to admit that they have made a mistake or handled something in an inappropriate manner, you will probably never receive an apology.
This could be because she doesn't feel like she needs to apologize or because she doesn't really think that she did something wrong.
15. She doesn't tend to her needs
It can be difficult for someone who shows signs of an immature woman to tend to her own needs. She may need help with chores, paying her bills, and other aspects of her life that many adults are able to handle when they live on their own.
10 things to do if a woman is emotionally immature in relationships
If you are in a relationship with a woman that is emotionally immature, you should know that there are things that you can do to combat this. Here's a look at 10 possible solutions.
1. Talk about her behavior
Speaking with your partner about how she has been behaving may seem like a daunting task, but it may be necessary in order for you to be able to change the situation. You can politely tell her what you have experienced and how it makes you feel.
While there is no guarantee that she will change this behavior because you brought it up, it is possible that you will feel better because you said something and got it off your chest.
2. Discuss boundaries
The next step is to start to discuss boundaries with your partner. These include the things that you are willing to endure and things that are deal breakers for you. For instance, there may be some things your partner does that don't bother you and others that do.
You should explain how you expect her to act towards you and why you feel this way. Make sure you take all the time you need to determine what your boundaries and expectations are since there is no rush.
Related Reading: 

6 Types of Boundaries in Relationships & How to Maintain Them
3. Discuss consequences
Furthermore, you must figure out what consequences there will be if she doesn't change any of her behaviors. These should be laid out along with the boundaries you talk to her about.
Perhaps you have asked her to try to compromise with you when you have a disagreement on things, and she refuses to.
A possible consequence to this will be that you decide that you want to keep your space for a while whenever this happens. You may go stay with someone you know or have your own space in your home where no one else is allowed.
4. Have clear communication
When you live with or date someone with clear signs of an immature woman, you should do your best to communicate effectively. Be as clear as possible about how you feel about her and what you would like to happen within your relationship.
If she starts to change her behavior and address these signs, it is still important to have clear and open communication as well. Do your best to make sure that this occurs when it is possible to do so.
5. Take it day to day
During the process of dealing with an immature woman, you may become overwhelmed. However, if you take it day to day, this can ease your anxiety.
Do your best to try to keep yourself busy and make sure that you are doing things that you like, instead of just worrying yourself about what your partner is doing or how she is acting.
It is important to understand that this process can take a while, regardless of whether or not you stay together, or she changes how she is acting.
6. Take care of yourself
You also need to remember that you have to take care of yourself and your needs. Have a routine that helps you address your physical and mental health. Sleep the proper number of hours each night, which can help improve your health, eat nutritious foods, exercise regularly, and don't isolate yourself.
If you are doing these things, they can go a long way in helping you through the process of dealing with an immature woman.
Related Reading: 

The 5 Pillars of Self-Care
7. Notice changes she makes
Anytime your partner is working towards changing how she acts after she has shown signs of an immature woman, you should tell her when you notice that she is trying.
The steps may be slow and could take some time, but if she is putting in the effort, it may show that she is willing and able to change.
Let her know that you are proud of her and offer her support if she needs it.
8. Lean on your support system
It can be quite beneficial to lean on your support system when you are going through challenging events in your life. Your support system should be made up of people that care about you and love you, and those that you trust.
When you aren't feeling your best, you can talk to them about the situation and they may be able to offer you a kind word, advice, or their point of view on what you are going through. You can also ask them if they have been in similar situations and what they did.
This can be invaluable advice and help you gain perspective on what is happening in your life.
9. Talk to a therapist
You may also choose to work with a therapist when you need further advice about dealing with an immature woman. They may be able to offer you information about what she is going through and how you can help.
Besides that, they can likely talk to you about the best ways to take care of yourself and how to decide if you want to stay in the relationship.
Related Reading: 

How to Find the Best Therapist- Expert Roundup
10. Encourage her to talk to a therapist
You may also want to encourage your partner to talk to a therapist. Even if she doesn't feel like she needs to go because of her immature traits, you can discuss going to couples counseling to attempt to improve your relationship and communication.
It is possible that she may be willing to go and that it may benefit your relationship.
Some relevant questions!
It can be challenging to date an immature person and one can have multiple questions wandering around their mind when in a relationship with one. Here are few questions to make the picture clearer for you.
What traits are considered immature?
There are a few traits that some people may feel are immature. These include things like being selfish, thinking everything revolves around them, not being able to compromise, being unable to handle criticism, and feeling like they don't make any mistakes.
If you notice someone with these traits, it may let you know that they are immature.
Can an emotionally immature woman change?
Yes, an emotionally immature woman can change. However, the process of change requires a willingness to learn, self-reflection, and a commitment to personal growth. Seeking therapy, practicing mindfulness, and building healthy relationships can all contribute to emotional maturity and growth.
Immaturity can be dealt with!
Many signs of an immature woman are discussed above. If your partner exhibits many of these signs, you may need to think about how you can deal with the situation. There are a few things you can do, including establishing boundaries, talking to a therapist, and keeping your support system close.
You will also need to determine if you want to continue in your current relationship, even if your partner is unwilling to change or accept that her behavior is immature. This is something that you can discuss with a therapist as well, if you are having trouble making a decision.
Share this article on
Want to have a happier, healthier marriage?
If you feel disconnected or frustrated about the state of your marriage but want to avoid separation and/or divorce, the marriage.com course meant for married couples is an excellent resource to help you overcome the most challenging aspects of being married.
More On This Topic
You May Also Like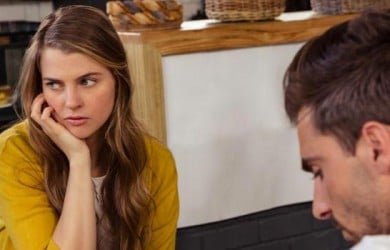 Popular Topics On Married Life