10 Signs You're Dating a Functional Alcoholic & How to Cope
You might have noticed that your partner drinks a lot. More than most people drink.
Do they seem to require alcohol for every date? Whether you are just cooking at home, spending a day at the beach, or meeting friends for board game night—they might always have a drink in their hand.
Have you ever spent time with your partner when they haven't got some alcoholic beverage at the ready?
Despite their drinking, they might hold down a job, go through their day like anyone else, and seem responsible and reliable. However, do you suspect that they are what is known as a functional alcoholic?
Here's a look at how to know if you are dating a functional alcoholic and what you can do about it.
What is a functional alcoholic?
A functional alcoholic definition is a person who appears to be living a normal life but has an alcohol addiction.
If you are wondering, what is a functioning alcoholic, this is the same. It indicates that an individual has an issue with alcohol, but they can still function and do the things they need to do.
They hold steady jobs and ties with friends, family, and the community. Yet they are dependent and some would say, addicted to alcohol.
When you are dating a functional alcoholic, you don't see them rip-roaring drunk or falling over from over-indulging, but they cannot go through their days without having alcohol in their system. There are around 15 million people in the United States that may have an issue with alcohol.
Don't ask them if they are addicted to alcohol.
Part of the functional alcoholic's discourse is denial. So, asking them if they think they have a problem with alcohol is pointless.
Here are some signs for you to look for when evaluating if you are dating a functional alcoholic:
They have to have at least three drinks a day.

They might ask you to cover for them when they drink so much they suffer the after-effects. This may be asking you to call their work to say they are sick and can't come in.

They might ask to borrow money from you because they've blown their budget on alcohol. They may forget commitments to you or others because of their drinking.

While they love a great social life, alcoholics do their serious drinking alone to hide the amount they drink daily.

Functional alcoholics are often moody and on edge due to having to hide the need to drink or the after-effects of having drunk.

When you comment or ask them to cut back on their drinking, they will accuse you of trying to control them or say that you are the one with the problem, that it's "just a beer or two, no big deal."
Alcoholism is a progressive addiction
You may think that "my boyfriend is an alcoholic" or "I'm married to a high-functioning alcoholic," and there haven't been any repercussions that you have had to face so far.
When dating a functional alcoholic, you may love your partner so much that you may want to practice closing your eyes to the issue in front of you.
This can be easy to do because perhaps their drinking has not yet reached the point where they have critical consequences that affect their lives.
You tell yourself they still have a job, or a home, haven't been pulled over for any DUIs, and your relationship is pretty good.
You should know that as this disease progresses, your partner will likely face a downward spiral, which may include job loss, growing debt, health effects, and a deterioration of all of their relationships.
A relationship with an alcoholic can never remain problem free forever, no matter how your partner may be right now.
For more information on alcoholism, you can watch this video:
10 signs you're dating an alcoholic & what you can do
While the tips above may ring true for you, here are some signs that you are dating an alcoholic and what you can do about it.
1. You see them drinking often
When you see your partner drinking more often than not, this could indicate that they have an issue when it comes to alcohol. They may constantly have a glass in their hands from when they get home until they go to sleep.
To make things easier on yourself, don't try to count their drinks or change their mind about drinking them. This will likely end in arguments.
2. They don't remember things
Do you notice that your partner doesn't remember that they were supposed to meet you for dinner or forget when you told them something important? This is a problem you may experience when married to a functioning alcoholic.
If you want them to meet you for an important dinner or something else, it may be better if you drive them yourself or skip certain social gatherings altogether.
3. They make you feel unsafe
There may be times when you feel unsafe around your partner, and you aren't sure why. They may be saying things you don't like or acting in a manner that seems dangerous.
For instance, if they are asking you to ride in their car with them after they have been drinking, this is something that you should refrain from doing.
Instead, you should insist that you don't go anywhere or be the designated driver if you have to go out for something. While this can tax you over time, it may be necessary, in some cases, to prevent your partner from driving while intoxicated.
Also Try

: 

Is Your Partner Making You Feel Unsafe Quiz
4. They are different when sober
You might start noticing that your partner is different when sober. If they cannot get their drink, they may say outrageous things or be very irritated and moody. They may take out these feelings on you, which is not okay.
If you ever see mood swings from your mate, staying away from them may be better than letting them work out this problem by themselves. This can prevent you from having to deal with verbal abuse or worse.
5. They often don't seem drunk
Some individuals may drink a lot of alcohol and not seem drunk. This does not mean that they aren't. When you consider the functional alcoholic meaning, this indicates that a person can go through their whole day without people noticing they are drunk.
Again, this doesn't mean that they are not intoxicated and that it isn't a disorder they must overcome. It is something that can be harmful to the whole family.
6. They are lacking when it comes to responsibilities
Often, someone with a drinking disorder may not be able to continue to go about their day.
Even as a functioning alcoholic, it may become difficult to function at some point. When this happens, they may lose their job, be unable to keep up with their hygiene and do a host of other things.
There is not much you can do if this happens in your relationship. You can't do the work for them or make them better. If you have any, you must pay attention to yourself and your kids.
Related Reading

: 

How Do I Make My Partner Realize Their Responsibilities

?
7. They say mean things to you
Have you ever heard your partner say mean things about you? This can happen when they are sober or when they are drunk. Either way, it doesn't mean that these things are true or even that they feel that way about you.
Alcohol can lower inhibitions, so people may say and do things you wouldn't think they could. Take everything they say with a grain of salt for your well-being.
8. Their parents are alcoholics
Alcoholism can run in families, so if your partner has a parent or parents that are alcoholics, this may be an indication that they are too. If this is the case, all you can do is be supportive and see the signs if they are present.
Of course, having parents that are alcoholics does not mean that their children will necessarily develop a drinking problem.
It may become necessary to protect yourself instead of worrying about your partner once you determine that they have alcoholic tendencies.
9. They break their own rules
You may have seen it before; an alcoholic person says they are just going to have two drinks and then proceed to close the bar. When this happens regularly, it likely means that a person cannot stop themselves.
If your partner doesn't keep their promises to themselves, you should try not to expect them to keep their promises to you either.
10. They would prefer to drink
When you ask your partner what they want to do, they may indicate that they want to drink nine times out of ten. This is something that can clue you into their problem with alcohol.
You may want to stop asking them about this and do things you like to do instead.
How dating an alcoholic can affect you
There are a few major ways that dating a functional alcoholic can affect you that you must be aware of.
1. You may be less social
Even if you want to hang out with people you care about, there may be other options. You might find it difficult to keep loved ones from asking questions about your partner or you might not be able to get them to go anywhere with you.
Either way, this could cause you to limit your time away from home and stop talking to people you care about. Avoid doing this, if possible, as you shouldn't isolate yourself.
2. You may become stressed
Something else that may happen when your partner drinks is that you may become stressed. You might worry about what can happen to them, be concerned about their health, or be anxious about what your future with them will look like.
The best thing to do is take it daily so you won't become overwhelmed. Lean on your loved ones for advice or at least talk to them, so they can be there if you need them.
Related Reading

: 

20 Causes of Stress in Relationships and Its Effects
3. You may start drinking also
If you are distancing yourself from loved ones and are only hanging out with someone who may be an alcoholic, chances are this could also cause you to start drinking.
Even if you start not drinking with your mate, you may start drinking more with them, especially if this is all you do together.
Please do what you can to prevent this by being aware of your actions and not letting your partner pressure you into drinking with them.
4. Unable to sleep
In addition to being stressed and anxious about your mate's drinking, this can also cause you to be unable to sleep. Not getting the proper amount of sleep can also lead to a litany of health problems, and it can also impact your immune system.
Try your best to get the sleep you need by creating a bedtime routine to help you relax.
5. Focused on things besides your health
Anytime you are focused on issues within your relationship or home, this may make you unable to worry about important aspects of your health. Instead of worrying about things you cannot control, it may be necessary to address your wellness.
What should you do while dating a functional alcoholic?
Here are some things that you may want to do when you are dating an individual with an alcohol disorder:
1. Know what you want
Be aware of what you want from them and think about how you want to tell them about your expectations. Overall, it would help if you were reasonable in your expectations and stayed firm regarding what you want and need from your partner.
If they cannot give you the things you expect, you may have to determine your next step concerning the relationship.
2. Be honest with them
You do not have to hide your feelings from your partner, especially if they upset you. Tell them how you feel and what you expect after you have determined what you want to say.
Let them tell you what they need to say, and you can agree. If not, other routes may be necessary.
3. Talk to a professional
When you are in a relationship with an alcoholic, you might need to utilize relationship counseling to get everything back on track. This may happen before or after your mate addresses their alcohol addiction.
You do not have to visit a therapist with your mate, however. If you could benefit from therapy, working with a professional by yourself is okay. They should be able to help you navigate your relationship and offer expert and actionable advice to follow.
4. Understand it's not about you
Even if your partner tells you that you are the reason they drink or seem to drink more when they are with you, there's no reason for you to think that you are the real reason they have an issue with alcohol.
Chances are there are multiple reasons why they choose to drink over doing other things and you are not the cause of these things.
Don't take it personally if they blame you and try to keep your distance if they are trying to be particularly harmful to you.
5. Take care of yourself
Never neglect your needs, no matter how you feel or how much you devote yourself to your family. You must eat a balanced diet, get the rest you need, and exercise regularly.
This can keep your immune system working correctly and allow you to be in control of your emotions and actions.
What should you not do while dating a functional alcoholic?
When you are dating a functional alcoholic whom you care for, you want to help. And it is natural to try and smooth things over for them, but be careful.
Please do not do the following things, which only serve to enable their functional alcoholism.
1. Don't ignore the issue
You do not have to ignore your partner's excessive drinking. Doing this could keep you from being able to address the problem when you should, or you may ignore other negative things that are occurring.
2. Don't count their drinks
There's no reason to count the drinks of a functioning alcoholic. Some people may never seem drunk, even when they are.
When you begin counting all the drinks they drink each night, it can cause you to worry even more, and your partner may feel like they are being judged and start to act out or speak unkindly toward you.
3. Don't lie for them
If your mate can't go to work because they are too drunk or can't make a family gathering, you don't have to make excuses for them.
If they cannot stop drinking to do important things, like go to work or be with their family, it is not your responsibility to cover for them.
This can make you feel bad about yourself, and other people may stop trusting you if they find out the truth.
4. Don't fix all of their mistakes
You do not have to fix their mistakes either. If they damage other people's property when drunk or they cannot keep a job, it is not up to you to solve all of their problems.
If you support your alcoholic spouse, they may lean on you for money, but this should have limits.
5. Don't neglect your health
You have to take care of yourself. Don't overexert yourself and make sure that you are taking steps to work on your mental health. You should not put yourself at risk, even if you feel like you need to take care of yourself.
You want to stay fully honest in this relationship. If what they are doing is hurting you, tell them directly.
If you are getting more stress than benefit from it, it could be time to separate and find someone you do not have to take care of. You can always choose to stop dating an alcoholic.
FAQs
What happens when you date an alcoholic?
When dating a functional alcoholic, you may not have all your needs met. An individual may make it a priority to drink rather than go out on dates or pay attention to other responsibilities that they should pay attention to.
This also means that they may spend less time with you than you want them to, or they might be drinking the entire time when they are hanging out.
A lack of attention within the relationship could cause you to feel bad about yourself or like you did something wrong, but this is unlikely to be the case.
Is it a good idea to date an alcoholic?
If you know someone is an alcoholic and you start dating them, this could put you at risk of becoming one of many alcoholic couples that exist. It is important to weigh the pros and cons of dating an alcoholic, especially if alcohol is something that you like to stay away from.
If you didn't know your partner was an alcoholic when you started dating them, it may be hard to determine if you should continue with them once drinking becomes a problem. This is up to you, and you may want to work with a therapist.
Is it hard to date an alcoholic?
It can be difficult to date an alcoholic, especially when it comes to functional alcoholics and relationships. If your partner is a functioning alcoholic, other people may not know that they have a problem with alcohol.
This can make it more difficult for you to explain some of the things that happen to your friends, which could cause you to distance yourself from people you care about.
Besides that, an alcoholic mate could cause you to experience additional stress and anxiety, which may lead to several health problems and mental health problems.
Conclusion
When dating a functioning alcoholic, many signs may be present that can clue you into your partner's alcohol dependency. There are also many things that you can do to protect yourself.
Regardless of your relationship, it may be helpful to talk to a therapist for the most valuable help. They can also help inform you about rehab or intervention programs that may benefit your partner.
Share this article on
Want to have a happier, healthier marriage?
If you feel disconnected or frustrated about the state of your marriage but want to avoid separation and/or divorce, the marriage.com course meant for married couples is an excellent resource to help you overcome the most challenging aspects of being married.
More On This Topic
You May Also Like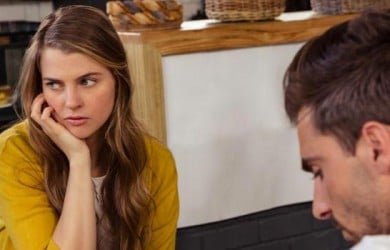 Popular Topics On Married Life