10 Qualities of the Most Successful Relationships
Love is a powerful emotion that can create some of the most beautiful connections between two people. But what sets apart the most successful relationships from the rest?
It's not just about passion and romance but also qualities of successful relationships like communication, trust, and understanding.
Are you ready to learn what it takes to make your relationship thrive? Let's dive in!
What is the definition of a successful relationship?
There is no one answer to this question, as everyone's definition of success will be different.
However, a successful relationship means two people who are happy and compatible with each other.
A happy relationship means that both partners are happy and fulfilled with the relationship and with each other.
There are some key elements that are generally considered to be essential in a successful relationship. These include trust, communication, and affection. Without these things, a relationship is unlikely to last for very long, and it is likely that one or both of the partners will leave it at some point.
All relationships go through ups and downs, but there are certain things that can make them stronger and help them to last longer.
10 qualities of successful relationships
So, what makes a relationship successful? Successful relationships are those in which both parties feel fulfilled, happy, and respected. Here are the 10 qualities of successful relationships:
1. They enjoy spending time with each other
Spending time together is one of the best things about being in a successful relationship. So make sure that your partner enjoys spending time together and that you enjoy spending time together as well.
That way, your time together will be fun and enjoyable. And being with someone you love and enjoy spending time with is a wonderful feeling and will make all of the hard work that goes into a relationship worth it in the end.
2. They trust and respect each other
Trust and respect are the keys to any successful relationship. Without trust and respect, there can never be a true and lasting love between two people.
But if you both trust and respect each other, then you will be able to build a happy and healthy life together that will be filled with happiness and joy.
3. They support and encourage each other
Support and encouragement are two more things that are necessary in order to have a successful relationship. Without support and discouragement, your relationship will fall apart over time, and you will eventually become unhappy and unfulfilled.
But by being there for each other and supporting and encouraging each other no matter what the circumstances may be, you can make your relationship last even through the hard times and make it stronger than ever before.
4. They are open and honest with each other
Honesty and openness are two more things that are essential for having a successful relationship. If your relationship is open and honest, you never have to worry about being cheated on or lied to because you will be completely honest with your partner and always speak the truth.
Likewise, if your partner is open and honest with you, then they can tell you everything you need to know about the relationship, and you can tell them everything about you as well without you ever having to worry about it coming back to haunt you later down the line.
5. They have strong communication with each other
Communication is another one of the key qualities of a good relationship. Without good communication, you and your partner will not be able to really get to know each other, and you will never be able to understand one another and be on the same page as one another.
But with open communication, you will be able to communicate easily with one another and will be able to resolve any issues that may arise without having to fight about them.
You will know exactly what is going on in the other person's life, and they will be able to know and understand what is happening in yours as well.
This will allow you to have a strong and healthy relationship, and you will never have to suffer from misunderstandings or hurt feelings ever again.
6. They support each others' dreams and goals
Supporting each other and being supportive of each other are two more essential parts of having a successful relationship.
By supporting each other, you will help each other to become the person you want to be, and you will be able to achieve all of your goals in life without feeling the need to compete with your partner because you will always have their full support behind you no matter what happens.
7. They have a healthy and open sexual relationship
A healthy and open sexual relationship is also one of the essential relationship qualities. If your sexual relationship is healthy and open, then it will allow you to bond with your partner on a deeper level.
You will not have to worry about the awkwardness or uncomfortableness that often comes with sex because you are both comfortable around each other and will be able to explore all of your sexual desires together without any hesitation or embarrassment whatsoever.
8. They love each other for who they are as individuals
Another important part of having a good relationship is being able to love your partner for who they are as individuals. It is important to love someone for who they are and not who you would like them to be or think they should be.
If you truly love them, you should not try to change them into someone else. You should accept them for who they are and see them for who they truly are instead of trying to mold them into the person you think they should be.
9. They never compromise their beliefs for the sake of being in a relationship
Another important aspect of having a successful relationship is remaining true to yourself and who you are as a person throughout your relationship and never compromising what you believe and stand for just because you want to please your partner or make them happy.
10. Respect in relationship
When it comes to important qualities in a relationship, partners respect each other and listen to one another even when they don't agree with what they have to say.
It is also important to respect your partner and listen to what they have to say even when they are not in agreement with you or they do not agree with you because, at the end of the day, their opinions matter just as much as yours.
Related Reading: 

10 Reasons Why Respect Is Important in a Relationship
10 ways to maintain the relationship spark
Every relationship has its challenges. But with a bit of effort and communication, you can work through them and keep the flame burning. So, how to have successful relationships? Here are 10 ways to keep the relationship burning:
1. Make time to date each other
Set aside a time each week to have a special date night with your partner. This can be dinner at a fancy restaurant, a movie, or just a walk in the park together.
Related Reading: 

10 Romantic Date Night Ideas to Spice Up the Relationship
2. Give and receive compliments
Look for things you like about your partner and compliment them about it. Also, tell them what you love about them! Be on the lookout for ways to make your partner feel good and let them know about it.
Know about how to accept a compliment and give one in return below:
3. Show affection
Give each other hugs and kisses to show your affection and to show that you care. These simple physical gestures can go a long way in strengthening the emotional connection between partners.
In addition, they can also help promote a sense of comfort and security in the relationship, which are important qualities of successful relationships.
Related Reading: 

13 Easy Ways to Show Your Affection in a Relationship
4. Encourage each other
Support and encourage your partner when they try something new or try to do something that may be difficult for them. This is one of the vital qualities of successful relationships, as it helps to build a sense of trust and mutual respect between partners.
By providing a supportive environment for each other to grow and explore, partners can strengthen their emotional connection and deepen their bond.
5. Get to know your partners friends
Spending time with your significant other's friends can help you to understand them better and enrich your relationship. Invite them over for dinner or simply meet them for a drink.
6. Celebrate the small things
Celebrating small victories like your partner getting an A on a test, a promotion at work, or just making it through a tough week can help keep you both focused on all the good things that are happening in the here and now rather than worrying about the past or the future.
7. Laugh together
Try to find ways to laugh together every day, even when times get tough. Laughter is one of the most powerful ways to connect with another person, so find ways to make your day brighter by laughing with your partner.
Related Reading: 

10 Benefits of Couples Laughing Together in Relationships
8. Ask for advice
Your partner may not agree with everything you say or do, but it's important to listen to their opinion and not take things personally when they're giving you feedback. Asking for their input is always a good way to make them feel like they are an important part of your life.
9. Forgive mistakes
Nobody is perfect, and sometimes you will make small mistakes that hurt your partner's feelings. It's important to apologize when you make a mistake and move on as quickly as possible.
If you don't, it could cause resentment between the both of you, which will eventually lead to the end of the relationship.
10. Listen and show interest
One simple way to show your partner that you care is to listen to what they have to say without judgment or criticism. It makes them feel valued and appreciated. And by consciously paying attention and engaging with them, you're letting them know they are important to you.
Related Reading: 

Hearing Vs. Listening in Relationships: How Each Impact Mental Health
FAQs
Qualities of a healthy relationship involve communication, respect, and healthy boundaries. Check out these questions to understand further qualities of a healthy relationship:
What is a healthy boundary in a relationship?
It is clear that healthy boundaries are essential in any relationship. Boundaries protect both people in a relationship from becoming overwhelmed, frustrated, or taken advantage of.
Without healthy boundaries, it is easy for one person's needs to become secondary to the other person's needs. Healthy boundaries in a relationship include:
Knowing and accepting your own worth;

Being able to express your needs and feelings without getting angry or defensive;

Respecting yourself enough to set limits when necessary;

Taking responsibility for your own choices; and

Seeking support and advice from trusted friends and family when needed.

What can destroy a relationship?
Many things can destroy a relationship, including lack of communication, trust issues, infidelity, disrespect, and incompatible values or goals.
Other factors that can lead to the breakdown of a relationship include financial problems, jealousy, controlling behavior, and a lack of intimacy or emotional support.
It's important for partners to recognize these potential pitfalls and address them early on in the relationship. Working on communication, building trust, and being respectful and supportive of one another can help prevent these destructive forces from tearing a relationship apart.
Final thought
In the end, the most successful relationships are the ones that are built on a foundation of trust, communication, and mutual respect. Relationship counseling can help couples develop these key foundational elements and work through any issues that may be impacting their relationship.
By embracing these ten key qualities of successful relationships, you and your partner can create a love that is not only enduring but also enriching and fulfilling.
With patience, dedication, and a commitment to growth, your relationship can stand the test of time and be a source of joy and support for years to come.
Share this article on
Want to have a happier, healthier marriage?
If you feel disconnected or frustrated about the state of your marriage but want to avoid separation and/or divorce, the marriage.com course meant for married couples is an excellent resource to help you overcome the most challenging aspects of being married.
More On This Topic
You May Also Like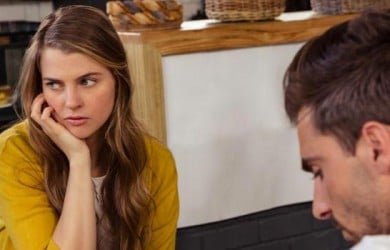 Popular Topics On Married Life