10 Benefits of Couples Laughing Together in Relationships
The value of shared laughter, especially in the context of romantic relationships, is undeniable. Although you may be well aware of how wonderful it is to have humorous moments with your loved ones in general, there is a lot of emphasis on shared laughter in love.
There is a lot of importance that has been given to the concept of couples laughing together and laughter in marriage.
Are you curious about the importance of laughter in relationships?
Well, you're in luck!
There are numerous studies that have time and again indicated the benefits of laughing together as a couple. This includes funny moments together, positive experiences, silly jokes, laughable incidents, special inside jokes, and much more!
One study showed how important humor was to keep that giddy feeling of being in love alive. For consistent passion in a relationship, laughter is essential.
To learn more about the significance of couples laughing together and humor in matters of love, read on.
What facilitates commitment in romantic relationships?
So, how important is laughter in a relationship?
Although there are a lot of factors that facilitate commitment in long-term romantic relationships, humor is a stand-out factor.
Yes, mutual respect, great communication, active listening, trust, etc., are all very important. But the core willingness or desire to be with one's beloved for an entire lifetime is driven by humor.
When you experience a lot of wonderful times with your beloved, characterized by a lot of funny moments, silly jokes, inside jokes, etc., you view your partner as a dear friend too.
And the truth is, you don't want to let go of a friend who is so dear to you, right? That's why a couple laughing together in marriages and relationships matters.
The value of laughter in romantic relationships
Now that it has been established that a couple stays together because of several factors, including humor, let's delve deeper into the significance or value of couples laughing together.
1. Subjective well-being
Your understanding of your overall health and life satisfaction is referred to as subjective well-being.
When you share your life intimately with a partner who makes you feel happy and knows how to get a giggle out of you, your overall perception of your life will be good!
2. Quality of life
When your interpersonal relationships, especially your romantic relationship or marriage, feel good to you, your quality of life will also significantly improve.
3. Relationship satisfaction
World-renowned social psychologist Laura Kurtz has noted from her extensive research on shared laughter in romance that couples that laugh together usually have higher quality romantic relationships.
When you feel that your relationship quality is good, your level of relationship satisfaction will also be high.
Related Reading: 

11 Tips on How to Increase Love in a Relationship
4. Commitment
For couples laughing together, commitment is something they actively strive to maintain. Such couples are usually very loyal because such relationships are strongly based on friendship.
The ability to stay loyal also comes from an enhanced ability to communicate with one's significant other (wherein humor is often used as a communication tool), active listening skills, open-mindedness, and much more.
Related Reading: 

Significance of Commitment in Relationships
10 proven benefits of humor and laughter in relationships
Now that we've covered the basics of couples who laugh together, such as the significance of humor in romantic relationships, let's look into the top 10 proven benefits of laughter and humor in marriage.
1. Better behavior with significant other
The physiological effects of laughter cannot be ignored when addressing the benefits of couples laughing together. Feel-good hormones, secreted by your endocrine glands, flood your body when you laugh!
One of the direct benefits is that your mood is significantly improved. And when you're in a great mood, you automatically tend to behave better with your significant other.
Related Reading: 

10 Different Behaviors That Ruin a Relationship
2. Great for your emotions
As already mentioned, a laughing couple will have good hormones flooding throughout their body. As a result, such couples feel less defensive.
Other than lower defensiveness, such couples also have lower inhibitions and are spontaneous. Laughing at silly or funny jokes, enjoying a fun story, etc., makes couples experience positive emotions. This makes such people pleasant to be around.
3. Enhanced communication within the romantic relationship
Couples laughing together naturally means that they have positive experiences together. They generally behave better with each other owing to the high concentration of feel-good hormones in their body.
Such a positive state of mind also means that they'll be more likely to engage in healthy and direct communication and listen to each other better.
Humor is also a fantastic tool of communication for putting things into perspective. Couples laughing together are better able to understand the other person's point of view.
4. Humor adds excitement to long-term relationships
Not only does humor in romantic relationships make individuals better at solving problems and becoming effective communicators, but it's also great for excitement.
Couples who actively use humor in their romantic relationship usually share a close and intimate bond. Humor is also great for enhancing these couples' attraction to each other.
5. Greater intimacy through shared inside jokes
Another great shortcut to closeness provided by humor in relationships is shared inside jokes. Just imagine how amazing it feels to have certain funny inside jokes or comments that only you and your beloved understand.
And with passing time, the cues for these inside jokes can be as simple as a secret gesture, a single word, a facial expression, and so on!
Related Reading: 

11 Stages of Physical Intimacy in a New Relationship
6. It's an effective stress-reliever
Humor finds a solid place in romantic relationships, which have crossed that phase where partners try to impress each other. That pressure of being your best version is off.
This allows couples to goof around. Couples laughing together turn out to be stress-relievers for each other! Humor is definitely fantastic for alleviating stress.
Watch this video to know the health benefits of laughter.
7. Humor is essential for a great sex life
Couples laughing together often make space for it or incorporate it in the bedroom! Humor in sexual intimacy is very beneficial.
While having sex or engaging in any sexual activity, there is a lot of scope of laughable things to happen. Some of these laughable instances may be deliberate, and some may not.
There's quaffing, farting, awkward role-playing, and so on! When humor is incorporated in such situations, you both can look back at that instance with happiness!
Related Reading: 

35 Sex Tips for Couples to Try
8. More gratitude and mindfulness
Couples with a good sense of humor tend to experience a lot of good times together! This is due to their better behavior with each other, enhanced communication skills, and gratitude!
Couples who often share a joke, funny stories, or funny moments often reflect on these moments. It means that when they're experiencing these moments, they're very well-aware or mindful of it.
Couples laughing together also understand that what they share in their relationship may be quite rare to find. Therefore, the gratitude they have for their beloved and relationship is significant!
Related Reading: 

Improve Your Relationship with Mindfulness and Meditation
9. Humor is important for navigating through difficult times
The harsh reality of life is that it throws curveballs at people. Neither love nor life is consistently blissful and easy. People have to face and cope with difficult times. It's unavoidable.
But, when you share a wonderful humorous relationship with your significant other, it can make those difficult or stressful times easier. Your significant other will be your support system or pillar of strength in those times.
10. Better health of both partners
The physiological benefits of humor in romantic relationships are unparalleled and undeniable. Sharing a relationship characterized by laughter, inside jokes, shared silly incidents, etc., means that there'll be a lot of shared positive experiences (major and minor) between the couple.
This means that for couples laughing together, the hormonal secretion will mostly comprise of hormones like endorphins, dopamine, serotonin, etc. All such hormones have positive effects on both mental health and physical health.
Therefore, couples who have a humorous relationship are more likely to be healthy overall!
When you laugh with your beloved, you stay together
Therefore, there is a lot of truth to the statement: couples who laugh together last together. As already mentioned, there is a significant connection between humor in love and commitment.
Any happy couple laughing together inevitably views their significant other as their go-to person. They usually consider their beloved to be their best friend. Therefore, couples laughing together usually stay committed to each other.
Such couples are friends first and lovers second. Even when it comes to conflicts, as you already know, couples who are humorous with each other are effective communicators. In turn, they are better at solving problems related to romantic relationships or marriage.
Therefore, it is easier for such couples to work through their problems effectively. Couples who share jokes, laughter, funny stories, moments, and positive experiences feel more motivated to be with each other.
Conclusion
So, laugh together with your beloved if you don't already! You'll also get to experience the innumerable benefits experienced by those couples laughing together!
Share this article on
Want to have a happier, healthier marriage?
If you feel disconnected or frustrated about the state of your marriage but want to avoid separation and/or divorce, the marriage.com course meant for married couples is an excellent resource to help you overcome the most challenging aspects of being married.
More On This Topic
You May Also Like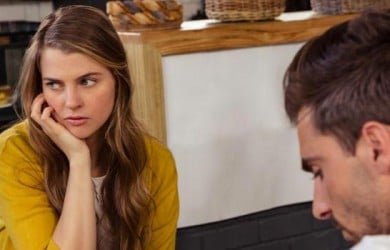 Popular Topics On Married Life