15 Ways of How to End a Relationship Without Regrets
The term 'breakup' has a strong negative connotation to it. The concept of breaking up in a romantic relationship is more often than not perceived to be very unpleasant, sad, and messy.
But do breakups have to be such a negative and messy experience? Not necessarily. The way you approach a break-up and navigate your way through it plays a significant role in molding your perception of breakups.
Learning about how to end a relationship without regrets can be instrumental in showing you how it is entirely possible to avoid messy breakups.
Figuring out why most relationships end in a break up
Before delving into how to end a relationship without regrets, it's important to figure out why a lot of romantic relationships end.
A few reasons have been stated as follows:
Differences in the personality of the partners

One or more incidents of infidelity

Lack of

sexual compatibility

Low relationship satisfaction

Unhappiness and lack of positive interactions between partners in the relationship.
There are several other causes of breakups in romantic relationships.
Here's also a take on breakups:
End a romantic relationship without any regrets: 15 ways
Here are 15 effective ways to learn how to end a relationship without regrets:
Recognize and accept the fact that breaking up is not an easy decision
If you want to learn how to end a relationship without regrets, the very thing you have to do if you've made up your mind to break off the relationship is accepting that it is difficult.
There just isn't any pain-free way to go about the break up. Irrespective of how rough the relationship was, a break up is an official end to the relationship.
Thus, it is a hard reality to accept. Balancing your expectations about how your partner will react to this, your own reaction, life after break up, are all crucial.
The best way to end a relationship is to initiate the conversation about the break up face-to-face with your partner. Yes, it sounds hard. And, it is. But respect plays a fundamental component in learning how to end a relationship without regrets.
Expressing your respect for your boyfriend or girlfriend or partner and respect for the romantic relationship that you built with them is important. Although the idea of talking about such a difficult and uncomfortable thing over texts can seem appealing and easy, it is not respectful.
Try to not give in to protests or arguments
If you want to avoid regretting a breakup or letting it take an extremely messy turn, it is crucial to avoid giving in to these arguments or protests.
One of the best ways to end a relationship in such a situation is by explaining to your partner your reasons as to why you cannot be in the relationship. Tell them your reasons. If you give in to their protests, you're just going to be delaying the inevitable break up.
Honesty is important but do not provide too much detail
Yes, your partner will definitely ask why you're dumping them. They'll want reasons. The closure is important. It's also important for avoiding impulsive breakup regret. However, tread with caution. Making statements that could make them defensive and bruise their ego is not the way to go.
Instead, try using reflective sentences such as "our goals for the future aren't aligning" and "we aren't sexually compatible" are appropriate. They don't spill unnecessary details but are enough for providing closure to your partner.
Express how sympathetic you are
Sympathy is essential if you want to figure out how to end a relationship without regrets. When talking about ending the relationship, you should express how deeply upset you are that the relationship couldn't last.
Sympathy from your end shows that you're also hurting and share the sadness with your partner stemming from broken hopes about the future of the relationship.
Allow yourself adequate time to grieve over the break up
Just because you're the one who will be initiating the break up does not make you a person devoid of sadness, grief, pain, and heartbreak. Although you might hear your partner say hurtful things about you, don't stop yourself from processing all those major feelings.
Running away from these difficult emotions and suppressing them won't help. To avoid relationship regrets and breakup regret, it's important to take time off and allow yourself to grieve and feel these tough emotions.
Blaming and shaming should be avoided
Another important aspect of how to end a relationship without regrets is to steer clear of blaming and shaming your partner. There's no need to label them as bad people. Nobody can be perfect. Relationships are complicated.
Even if your ex has behaved in ways that may have betrayed your trust and hurt you, remember that they are also flawed, imperfect human beings. People engage in bad behaviors. But that doesn't make the person as a whole bad.
Related Reading: How to Stop the Blame Game in Your Relationship
Being courageous is essential
Doing difficult things and making major decisions that will significantly impact your life requires courage.
When something requires courage to be executed, it doesn't mean that you can't experience certain fears about it. It just simply means that it must be something that has to be done.
Figuring out how to end a relationship the right way requires courage. A lot of it. Brace yourself for the painful and uncomfortable conversation with your partner. Brace yourself for their potentially negative reactions. Do it face-to-face.
Communicating about the break up should be done gracefully and tactfully
In learning how to break up with someone without hurting their feelings, grace and tact play important roles. Even if you feel like your partner was the one who wrecked the relationship, blaming or shaming won't help.
As mentioned already, imperfection is a part of being human. To avoid staying stuck in the past, avoid blaming. Navigate your way through the break up conversation with grace and tact. The more you indulge in blaming your partner, the longer you'll stay tethered to the past.
And the longer you remain tethered to the past, the regrets you'll experience about your relationship will keep growing and haunting you.
Avoid dredging as much as possible
Forgiveness is a fundamental part of executing how to end a relationship without regrets. Constantly bringing up and blaming your partner for their shortcomings will make the break up conversation very difficult. It'll be messy.
Practicing forgiveness while ending a romantic relationship is therefore absolutely essential. You don't have to burden yourself to even forget what and how and why things turned south. But forgiveness is key.
A clean break is necessary
How to end a relationship without regrets? Make a clean break. In fact, this is potentially the most important part of breaking up without regrets about the relationship or the break up. Suggesting friendship to your ex post the break up isn't the best idea.
To avoid experiencing regrets, avoiding emotional entanglements with your ex, especially right after the break up is very important. Friendship is something that you can expect later. When you've both had adequate time to move on.
Try to ensure that you're breaking up for the correct reasons
It's very easy to get influenced by others' opinions, especially that of your closest friends, cousins, and other relatives. However, if you find yourself breaking up because you're heavily influenced by your loved ones' opinions of your ex, you're setting yourself up for experiencing a lot of regrets.
Ghosting your way out of your romantic relationship is the very last thing that you should be considering if you want to break up. Please avoid ghosting at all costs.
Yes, running away and vanishing does seem easy and appealing. But the mountain of regrets and lack of closure you'll put yourself and your partner through is not worth it.
Related Reading: What Is Ghosting
Allow your partner to speak
Another way of respectfully ending a romantic relationship is by providing your partner ample opportunities to speak about what they have to say during the break up conversation.
Although it's tempting to just do most of the speaking, especially if you've initiated the break up, for the sake of closure and respect (towards your ex) and not regretting the breakup, give your partner opportunities to share what they're feeling and thinking.
Related Reading: Healthy Communication For Couples: Speaking From the Heart
Overcoming intrusive thoughts about not trying hard enough should be dealt with
If you want to learn how to end a relationship without regrets and experience the peace associated with having a clean break up, it's important to process and overcome intrusive thoughts about not trying hard enough to sustain the relationship.
Breakups just aren't easy. Learning how to end a relationship without regrets and implementing the aforementioned steps can feel quite challenging especially because it involves working on and resolving major feelings and intrusive thoughts.
Conclusion
To move on in life, it is important to learn how to end a relationship without regrets. Understand the effective ways to do so, and also go for psychotherapy or counseling to prioritize your mental health.
Share this article on
Want to have a happier, healthier marriage?
If you feel disconnected or frustrated about the state of your marriage but want to avoid separation and/or divorce, the marriage.com course meant for married couples is an excellent resource to help you overcome the most challenging aspects of being married.
More On This Topic
You May Also Like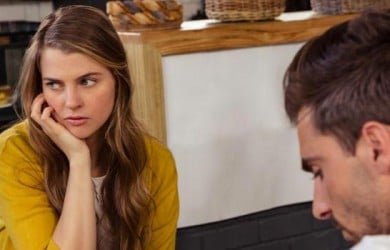 Popular Topics On Married Life