Perpetual Vs. Solvable Problems in Relationships
When two people are involved in a relationship, initially things go really well. Both are looking at life through rose-tinted glasses. Over a period of time, however, issues tend to crop up. How major is the current conflict being faced by any couple?
It is a good idea to look objectively at perpetual vs. solvable problems in relationships. The goal is to try and find a solution in mutual interest.
What does 'perpetually' mean in the context of relationships? Let us find out more about this.
Perpetual vs. solvable problems in relationships
Relationships are not easy, period. There are bound to be conflicts and issues when two people get together. However closely they might have interacted, there will be areas where they find it difficult to agree.
Problems between couples have a way of building up if enough effort is not put into finding a way out. When either or both become rigid in their stance, this often happens.
Another problem is that solving conflicts is sometimes seen as bending too much by one partner. It is like a war where one loses and another wins. The moment this mindset comes into play, things begin to get unsolvable.
Some problems are solvable problems, meaning a couple can find a way out in an amicable manner. Some other issues are not that easy. Despite best efforts that include counseling and bringing about conscious change, these problems are perpetual. Both people in such relationships find it difficult to find a solution and ultimately have to move on.
Identifying perpetual vs. solvable problems in relationships can be fruitful. This often gets the work cut out for partners. They can be more objective about the course of their journey together.
Related Reading: 

20 Common Marriage Problems Faced by Couples & Their Solutions
Perpetual problems in relationships
Among the many things that come forth, unresolved conflicts in relationships create the worst roadblocks.
Perpetual vs. solvable problems in relationships beset every couple. Perpetual issues are mostly about differences in attitude, personality conflicts, and life goals. Both partners have entirely different viewpoints towards conflicts in such relationships.
Adding to that is their unwillingness to adjust or meet halfway. Especially if these problems are about attitude or life goals, incompatibility will ensue. None is willing to give a quarter here. The result is inevitable drift and short shrift for the relationship.
People get into relationships as a means to further companionship, communication, and taking their bonding into progeny. When two people come together, it is also about their families and the future generation.
Constant and perpetual conflicts often lead to unresolved bitterness. This creates a rift among the extended family at times.
Related Reading: 

15 Relationship Conflict Patterns & Common Causes
Perpetual problem examples
Perpetual problems example abounds in relationships. The ones discussed below are just a few of the most common ones.
● Pursuance of goals
What a partner seeks to achieve in life, and more importantly, how, can create conflicts. Perpetual vs. solvable problems in relationships lie in whether either is willing to give in. For one, sacrificing family while achieving their goals may be fruitful; for the other, it could be detrimental.
● Infidelity
If either partner is infidel on a habitual basis, this could shake the foundations of a relationship. Perpetual problems are made of stuff like this. At times partners can agree to put infidelity behind and move on. In most cases, this does not happen. It has been found that only 16% of relationships survive infidelity.
● Financial matters
It is all very well to be idealistic about relationships at the beginning. Reality has a way of sinking in, and fast. There are bills to be paid and rents to be cleared. There are responsibilities too. Sorting finances can become major and perpetual roadblocks in relationships.
Related Reading: 

How to Communicate and Work on Your Financial Matters Together
How to solve perpetual problems
To fix a relationship in trouble, couples need to take certain measures:
● Couples acknowledging the difference
Identify and acknowledge the difference between perpetual vs. solvable problems in relationships. This is the most important step. There are couples who continue to be in denial. There are others who skirt around their conflicts. The moment couples agree that their relationship is facing perpetual problems, the first big step is taken.
● Respecting each other's viewpoint
See if either is willing to honor their partner's viewpoint and adjust. Not making this about wins or losses is very important. Each partner in a relationship will have their own dreams and goals. These are dear to them. When these come at a cost to the relationship, it is difficult to salvage. Respect for partner goals helps to bridge the gap at times.
Related Reading: 

10 Reasons Why Respect Is Important in a Relationship
Here are some tips for showing mutual respect:
● Indulging in 'healthy' arguments
Try to keep your arguments in the realm of 'healthy' exchange that stays away from fisticuffs. When partners face issues that seem too hard to work around, words and actions might follow that add to the overall bitterness. When such situations occur, taking a step back and reviewing the problem is a good idea.
Related Reading: 

Healthy Arguments Are Necessary to Make a Marriage Work
● Acknowledging the end
If the conflict is too pronounced, sometimes it is better to let go of the relationship rather than stay on in the toxicity. Acknowledging that a relationship has crossed the point where it can be salvaged to any respectable degree is important. Of course, this decision should be taken only as a last resort. Once decided it is good to move out at times.
Solvable problems in relationships
Thankfully a lot of problems in relationships are in the realm of solvable. It is thought that such problems are mostly about unmet needs. Everyone comes into a relationship with certain expectations. When these are not met or begin to lose priority, problems crop up.
The difference between perpetual and solvable problems lies in the nature of a conflict and the willingness of partners to meet halfway. Solvable problems example include:
One partner is happy with neatness, other wants perfect order. Will this be a case of '….and thine never shall meet'? Certainly, need not be so.

Sharing responsibility

works. One tidies up, the other puts things in order. Similarly for other issues where a mutually workable solution can be found and adhered to.

'The kid should have more play time', says one. 'What is wrong with having online instruction', feels the other. Again, a compromise is important here! That is the point of

perpetual vs. solvable problems in relationships. Sit together and come to a decision about what is best for your kid. And agree to NOT to argue in the kid's presence.

Logic versus emotion is the most common conflict point. In most cases, women tend to be emotional in their approach to a conflict. Again, this is something that defines the inherent difference between genders. Men on the other hand tackle an issue based on logic. And the two do not see eye to eye. But this is never an issue that is not solvable.

Need for

physical intimacy

is a comparatively easier one among

perpetual vs. solvable problems in relationships. Each person has different needs and different expressions. Sitting across and having a respectful discussion can help attain a common ground. This is a common relationship problem that is definitely solvable.
Effect of unsolvable conflicts on relationships
Unresolved issues in a relationship lead to a lot of problems in the long run. This is true not only for the partners involved. It affects every other person who is invested in the relationship in some way or another.
1. Impact on kids
Kids are unfortunately the worst affected in unresolved relationships. They barely know what is happening and why their parents are not getting along. However, the vibes affect them more than adults can fathom. Constant conflict can affect them a lot. This can find expression in various ways with young folks. It can also affect their relationships in the future.
2. The financial pinch
Financial implications of perpetual vs. solvable problems in relationships are way too much. Any conflict that draws out too long can necessitate counseling at the very least. There is a price to pay here. When conflicts drag out, this becomes an added burden. Legalities in solving conflicts add to the financial drain.
3. Overall mental and physical stress
Mental stress and resulting physical implications can have long-lasting effects on couples, their children as well as other family members. It is good to sort out perpetual vs. solvable problems and be thankful if you find yourself in the solvable zone. The toll that it can take can have long-lasting effects.
Related Reading: 

5 Steps to React Rationally to Stress
4. Ill effect on career
When a problem in relationships drags on, it begins to reflect on careers and performances. There could not be a greater irony if the couple began their conflict on not being able to sort out career issues. With a disturbed mental state, problematic couples often lag in their careers.
Conclusion
Are you in a state of perpetual vs. solvable problems in relationships? A perpetually bad relationship can cause distress to a couple in multiple ways. Seek counseling as a first and definitive step to avoid these and regain balance in your life.
Share this article on
Want to have a happier, healthier marriage?
If you feel disconnected or frustrated about the state of your marriage but want to avoid separation and/or divorce, the marriage.com course meant for married couples is an excellent resource to help you overcome the most challenging aspects of being married.
More On This Topic
You May Also Like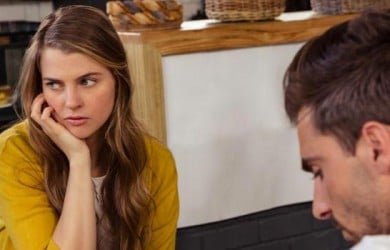 Popular Topics On Married Life