15 Relationship Conflict Patterns & Common Causes
A relationship conflict occurs when people dispute something they feel passionate about. Differences in partnerships often relate to values, needs, perceptions of an idea. Numerous reasons are critical to each person at the moment and can contribute to the union's long-term success once resolved.
Conflict in romantic relationships is natural and healthy for a couplehood. Any two people who enjoy a long-term union share passion, varied emotions in the day-to-day that sometimes erupts depending on life circumstances.
If these were internalized, it would damage the partnership, most likely resulting in its demise.
The problem is not having conflict in relationships, it's how partners manage the patterns of conflict. When these are handled with positivity and respect, a couple can grow closer and ultimately strengthen their bond as partners.
What are patterns of conflict in a relationship?
All relationships endure relationship conflict periodically. When individuals attempt to coexist as in a romantic partnership for a long-term commitment, there will be occasional personality conflicts in relationships.
It's normal and healthy to release passionate emotions and opinions instead of leaving these to fester. The problem is how you manage the negative conflict.
Unfortunately, no one can dictate or determine how a partner will respond in an argument. You can only manage your own behavior. That means there can be potential damage if you're not both on the same page of healthy management techniques.
Over time, partners will begin to notice conflict patterns that each tends toward when they disagree. Once the two of you identify these patterns of conflicts in relationships, it arms you with the "evidence" you need to argue more constructively since you'll be aware of your tendencies.
Relationship conflict patterns will differ for each couple and can comprise any number of common scenarios that a couple repeats each time an argument or dispute arises.
Look for this book on high conflict to gain some insight.
What are common causes of conflict in a relationship?
While relationship conflict is a normal part of life, especially in romantic partnerships, it takes two people to create the couple conflict. That makes you as responsible as your partner for the problem.
In order to find conflict resolution in a relationship, you need to work on your own behavior instead of focusing on what the other person might be doing wrong in your eyes.
If you pay attention, subtle changes you make will impact your partner's actions, generally resulting in changes with them as well. Try this exercise in intimacy conflict. Some causes of conflict include:
Disorganization/messiness

Finances

Homebody/social

Punctual

Control
Also Try: What's Your Conflict Style in a Relationship? Quiz
15 conflict patterns that destroy a relationship
When partners develop relationship conflict patterns, it can be challenging to break these habits each time a dispute erupts.
It seems these are the go-to behavior, and if neither person attempts to make changes, the partnership is at risk. Some destructive conflict examples include:
1. Truth
Someone always needs to be right while the other person has to be wrong. How about if each of you has a good point and you let the other know that. When you look at it that way, it has the potential for diffusing the argument.
2. Hidden agenda
When you show anger and frustration to your partner over behavior that genuinely benefits you behind the scenes, that's unfair and causes distress needlessly. This dishonesty has the potential to damage what could otherwise be a healthy partnership.
If working late is allowing you some private time to enjoy personal interests or merely have some space alone, let your partner know that with full disclosure instead of pretending their lateness makes you angry. Be upfront so your partner doesn't stress while having an already trying evening.
Also Try: The Fun Compatibility Quiz- Can You Two Have Fun Together?
3. Shame/pride
It can be challenging to be vulnerable even with a partner, so it can be painful when a partner points out shortcomings. That causes a defensive reaction and walls to go up.
Everyone needs to be able to face up to their weaknesses. It, in turn, adds to our strength. There's no shame in being vulnerable, especially with your significant other, nor should you feel that you need to hide what you might be least proud of from them.
4. Blame
It's effortless to point the finger, so there's nothing for you to do to fix the problem, nor do you need to feel guilt about the situation. In fact, you have control and a sense of "moral superiority."
But does that truly feel good if it's not warranted? Again, it takes two people to establish a healthy relationship and two to create relationship conflict. It would help if you focused on your changes for genuine resolution, or there could be a resultant irreparable damage relationship.
Also Try: What Am I Doing Wrong In My Relationship Quiz
5. Control
Controlling another person can result in toxicity and a damaged relationship. It's natural for people to desire power even in intimate partnerships; it's instinctual, and often one person does take the "lead" role in a family situation.
But each person must be treated with love, respect, equality, and empathy regardless of who feels they have that "head" spot in the household.
6. Assuming the worst instead of seeing the best
An example with this pattern is someone who assumes that their partner continually shows up late strictly to be disrespectful because they know the problem this behavior causes. A presumption of this sort carries the label as "confirmation bias."
That is the pattern when an individual picks and chooses moments to prove their case but ignores instances that might prove otherwise and dissuade the argument. Perhaps your partner is early more often than late, but those tardies bring out the aggression.
It's essential to see the good instead of always focusing on the bad.
Also Try: What Do You Consider Cheating Quiz
7. Character attacks
Assuming that a character flaw is responsible for the reasons someone shows up late on what you believe is a consistent basis is another pattern that's unhealthy.
You place yourself in the seat of judge and jury, labeling your partner as a procrastinator, unorganized, easily distracted, plus someone who lacks caring and respect for his partner.
Needless to say, the circumstances for the occasional lateness were out of your partner's hands with either the boss calling a late meeting or the cab breaking down. Unfortunately, these "excuses" are unacceptable for someone who finds themself perfect with everything under control, but their partner is a mess.
8. Overstating the circumstances
Again, in the example of being late occasionally, when this is presented as a situation that always happens, a partner retaliates with the notion that you still never recognize the positive they do for the partnership.
These "facts" are merely intensifications of assumptions that, if thought about reasonably, are untrue.
Instead of using such inflated terminology, the argument should be an "I feel as though you do this a lot" minus the "always" so a "never" retaliation doesn't come into the equation.
Also Try: Do We Have a Good Relationship Quiz
9. Threats and ultimatums
Too often, partners will turn to ultimatums or threats in an effort to get a partner to submit to their way of thinking in an argument.
The pattern is exceptionally destructive since after using this method frequently, a partner will call their partner on the ultimatum after growing tired of the threats, usually of a breakup or divorce.
10. Silent treatment
Unresolved conflict in relationships generally occurs when one person chooses silent treatment over effective communication. When the issues aren't addressed, instead internalized and left to fester, there's a greater likelihood that the partnership will fail.
When you speak your mind with open, honest communication, each person has the opportunity to clear up any misperceptions with a better chance for resolving the relationship conflict.
Also Try: Does My Husband Treat Me Badly Quiz
11. Anger and complaints
Anger and aggression can become toxic if not managed appropriately. Many partners tend to grow angry and complain if they believe the other person isn't pulling their weight or is irresponsible in some way.
Sitting down and having a calm conversation is much healthier and would likely produce better results—relationship conflict styles like this cause someone to leave the situation.
Check out these essential steps for anger management in the relationship:
12. Pressure and stress
When you have a partner who is not forthcoming with details about a particular situation, the last thing you want to do is pressure them for the information. That will merely lead to their becoming more defiant and close-mouthed.
In turn, you will start to distrust your partner due to their lack of transparency leading to a much more conflictual relationship. A partner will share when they feel the time is right and know how to share the information.
No one should attempt to force someone to speak before they're ready. A partnership will suffer for that behavior.
13. Contempt
Contempt is not attractive. It's mean-spirited and takes you beyond a relationship conflict and into gradual destruction. No one likes to be taunted or teased. When you do these things, you're demeaning, insulting, and mocking someone that you're supposed to love and care for.
This behavior implies that you feel you're in some way superior when in fact, you're merely a bully headed for a breakup or divorce.
Also Try: What Kind of Relationship Do I Want Quiz
14. Keeping tabs
When you have two people who feel they constantly give while the other is neglectful, and they each keep tally of what they provide, it can grow into a significant conflict relationship.
Resentment develops since the resolution is virtually impossible with the back and forth over who gave more. It's a never-ending competition with no winner. This is a case where individuals need to focus on gratitude and appreciation. Without those things, the partnership has no hope for thriving.
15. Escalating
Some types of conflict in relationships seem harmless in the beginning. You might begin with what appears to be constructive communication, but as the conversation goes, it escalates into a disagreement, into an argument, into an entire blown-out conflict.
You can't maintain healthy communication throughout without it developing into a problem.
That doesn't necessarily mean that you're on the path to a failed partnership if you can determine where or why one or both of you become triggered. Once you figure that out, you can work on resolving that underlying issue and move forward with an effective conversation.
Also Try: Am I Defensive Quiz
Final thought
If you can't seem to come to a common ground between the two of you, couple's counseling is a wise step if you hope to avoid a failing relationship.
The experts can work with you to identify conflict patterns plus provide the tools and skills needed to strive for more healthy communication, ultimately helping to establish a stronger bond.
Share this article on
Want to have a happier, healthier marriage?
If you feel disconnected or frustrated about the state of your marriage but want to avoid separation and/or divorce, the marriage.com course meant for married couples is an excellent resource to help you overcome the most challenging aspects of being married.
More On This Topic
You May Also Like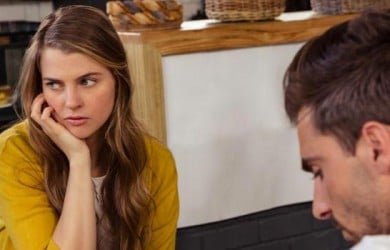 Popular Topics On Married Life