Glaring Facts About Expectations in Relationship
We all have different expectations in a relationship.
Some of these relationship expectations are developed early during our childhood; some are developed by observing the relationships of friends and families while others are formed later in life as we become exposed to the media.
We live in a world that puts a lot of spotlight on finding the "perfect" relationship. From films to TV to the verses of tunes, we are shelled by messages about what love ought to resemble, what we ought to anticipate from our partners, and what it implies if our relationship doesn't satisfy those hopes.
However, the truth regularly appears to be different from those ideal romantic tales we see and hear. It can leave us doubting the extent of our expectations?
The article shares a few facts that can help you in setting expectations in a relationship.
1. You get what you expect
Being familiar with healthy relationships raises our expectations in a relationship, but observing failing ones can lower them just as easily. Most marital experts advise couples to have lower expectations in relationships.
They argue that if you expect less from your partner, you are less likely to be disappointed.
However, this advice is completely wrong. Donald Baucom, a psychology professor at the University of North Carolina who has studied marital expectations for more than ten years, discovered that people only get what they expect.
Low expectations in a relationship lead to poor relationships.
People who have high expectations in a relationship are more likely to be in a healthy and happy relationship, while people who have low expectations tend to be in poor relationships where they are treated badly.
This research suggests that you are more likely to be in the kind of relationship you want; consequently, if you keep high expectations in relationships, you are more likely to be in a better relationship.
It is recommended for couples to settle for the 'good enough' relationship.
In a good enough relationship, it is vital to have healthy relationship expectations about the way you should be treated. People should expect their partner to treat them with love, respect, loyalty, and kindness.
They should be considerate and should take out time for their partners.
Your expectations in a relationship should indicate self-worth and should help you achieve a happy and healthy relationship, allowing you to connect with your partner more emotionally and intimately.
It is also advisable to discuss your expectations outside your relationship with your friends or family to ensure that they are setting realistic relationship expectations.
2. Arguments are good for a relationship
You are bound to argue with your partner even if he is meeting all your expectations in a relationship.
It would be foolish to expect to solve all the problems in your relationship as almost two-thirds of conflicts are permanent.
However, conflicts and arguments are good for a relationship as they lead to a greater understanding between you and your partner.
Even though conflicts can draw out the worst in us, it can likewise reflect on who we are as an individual and as a couple. Conflicts enlighten us in how well we know each other.
Also, conflict presents us with a chance to realize how great we can be at dealing with issues in our relationships.
Despite the fact that nobody appreciates being in a conflict, it's significance should not be undermined.
3. Your relationship can't guide you to self-actualization
It would also be foolish to expect your relationship to guide you to a path of self-actualization or spiritual enlightenment.
Relationships can also not cure any traumatizing childhood wound, so make sure that you do not expect too much from your partner or relationship, but do not expect to be treated poorly.
Make sure that your partner is not emotionally or physically abusive and treats you with respect.
4. Good friendship lead to a good relationship
You will know you are in a good enough relationship if you are good friends with your partner, having a satisfying sex life, and are fully committed to each other.
You must have trust and confidence in each other to overcome any differences in your relationship.
The significance of friendship in marriage can't be exaggerated.
Research examining the data of a survey found that people who shared a deep friendship with their partners reported significantly larger levels of happiness than spouses who didn't enjoy such a bond.
On the off chance that you aren't friends with your life partner, the odds are that your marriage will flounder.
Physical intimacy can further your relationship only so much. Once you are married and things get hard, it is your friendship that helps you to get your life together.
Here are some ways to develop a friendship that can help you survive the rough times:
Don't stop dreaming together.
Trust your spouse.
Spend one-on-one time together.
Open up and share.
Also watch: The importance of friendship in marriage.
Make sure that you are there for your partner.
Make sure that you are there for your partner if he is going through a hard time and are supportive of his dreams and goals.
It is important to ensure that both of you are open to compromises and supportive of each other's rituals, ethics, and beliefs.
Most importantly, both of you should be able to agree on some basic principles, such as what love is, what home is, and what is the best way to raise your children.
Expect this, and you will be a part of a healthy and happy relationship where you will be treated well.
Share this article on
Want to have a happier, healthier marriage?
If you feel disconnected or frustrated about the state of your marriage but want to avoid separation and/or divorce, the marriage.com course meant for married couples is an excellent resource to help you overcome the most challenging aspects of being married.
More On This Topic
You May Also Like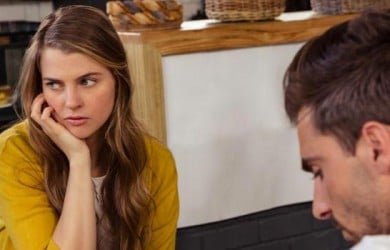 Popular Topics On Married Life