What Is Nitpicking in Relationships and How to Stop It
After getting comfortable with each other, one of the issues couples sometimes have to deal with is nitpicking in relationships. So, what is nitpicking? Keep reading to learn more.
The early part of a typical relationship is usually fun. It is the stage where you get to know your partner and impress them with everything you have, including your 'awesome behavior and attitude.' As you get acquainted with each other, issues and certain attitudes start jumping out.
You wonder if it's the same partner you went on several dates with, but you need to adjust to them. After all, everyone has their flaws and weaknesses. However, when you start finding tiny faults and imbalances as significant issues, that is nitpicking in relationships.
These behaviors of getting irritated over little things or getting fussy over seeming non-issue can damage your relationship. Continue reading to learn more about nitpicking, its examples, and how you can stop it in your relationship. Before we go further, let's answer the question, "What is nitpicking?"
What is nitpicking in a relationship?
What is nitpicking?
The term "nitpicking" comes from the act of removing nits (head lice) from another person's hair. Nitpicking means giving attention to little details, trivial issues, or irrelevant things.
Nitpicking in relationships is often done condescendingly and annoyingly. It involves one partner finding fault with the other person and blaming them for trivial issues they can otherwise overlook. The person who usually complains about these unimportant issues is called a nitpicky person.
To answer the question, "What is nitpicking," it is vital to know some of its examples.
These include baseless, unfair, petty, and insignificant accusations and faults. Most couples who have lived together for a while face nitpicking in relationships at least once a year. They would seem happy at first, but one of the partners suddenly starts finding faults with the other for no apparent reason.
Psychology & behavior of nitpicking in a person
The psychology of nitpicking revolves around negative emotional outpour over the unmet needs of a nit-picky person. You can compare the reaction of people who nitpick to the burst overfilled water balloon. It is sudden and comes with a lot of force. In other words, nitpicking is a result of piled anger.
The leading cause of nitpicking in a relationship might be unknown to a nit-picky person.
Often, people who nitpick find fault with their partner because they are emotionally stressed and need a place to discharge it into. They might even be unconscious or not realize the damage they are doing to the other person.
As stated earlier, the reason for nitpicking in relationships might be some underlying dissatisfaction with something their partner did. When an incident or mistake happens, a nitpicky person finds it hard to express their feelings.
However, the concealed anger and annoyance eventually consume them as it accumulates over time. Thus, they start nitpicking their partners.
5 Signs of a nit-picky person
If you want detailed answers to the question, "What is nitpicking?" It is vital to know the signs a nitpicky person exhibits. Check the following signs of a nitpicky person:
1. Perfectionist
One of the signs of a nitpicky person is the constant need for things to be flawless. People who nitpick understand that there are mistakes, but they give no room for it.
They always strive to achieve perfection in every aspect of their lives, and their relationship and partners are no exception.
Related Reading: 

How to Avoid Consequences Of Perfectionism On Relationships
2. Nitpicky people criticize themselves
If you tend to punish yourself after every mistake or error in your activities, there is a high chance you will nitpick on your partner. Think of the last time you screwed up at work.
Did you say any of these: "You idiot!" "You messed up again!" "Now, it's not going to work out." If you say any of these to yourself regularly, you will do the same to your partner.
3. Parents who have high expectations of their children
Some of the causes of nitpicking in relationships are underlying and not so evident to outsiders. Parents who expect nothing but the best of their children sometimes cause nitpicky.
If your parents constantly have unrealistic expectations to be the best, you will unconsciously transfer the same mindset to your love relationship.
4. People say you complain a lot
Although people can be wrong, you should check your behavior when friends and family say you complain a lot.
While you may not be conscious of your nitpicky acts, others are watching your actions. You may not even be directing the anger to them. Once they tell you you nitpick on your partner, you might be doing so.
Related Reading: 

How to Stop Complaining in a Relationship
5. You are overly sensitive
If you or your partner take jokes or humor personally, that might be signs of nitpicking in relationships.
As humans, offending each other is an inevitable part of our lives. Taking everything personally will inhibit you from moving on. If you feel insulted over every little disagreement, you may be showing signs of a nit-picky person.
Examples of nitpicking
Below are some of the examples showing how a person behaves when nitpicking:
1. "You are wrong"
If you or your partner dislikes something based on your personal opinion or observation, it is an example of nitpicking. For instance, "This is absolutely not right, and nobody will disagree." A statement like this without any tangible proof is an example of nitpicking.
2. "You can't do it better; let me help you"
As stated earlier, everyone has their unique way of doing things. Thinking only your way works and putting your partner's effort down are examples of nitpicking.
3. "I told you so"
"I told you so." is another example of nitpicking. This statement feels like you are waiting for your partner to fail. Besides, that statement will do nothing but aggravate whatever issue is on the ground.
Also, it is insensitive and illogical to say this when someone is going through a problem. A nitpicky person will have no trouble expressing it.
4. "You are stubborn"
When someone says you are stubborn only when you refuse to do things their way, it is an example of nitpicking. It is a different case if there are tangible reasons for rejecting the advice. If it's solely on one person's style, and you have a different idea, it's OK to say no.
5. "That's how you acted three years ago"
Referring to an action that happened a long time to make your partner feel bad is nitpicking in relationships. People make mistakes all the time. Reminding them after they have grown is a wrong and immature move.
Adverse effects of nitpicking in a relationship
As partners know each other more, specific attributes and habits will start surfacing. Since you both are not from the same family background, your behaviors differ. Constantly finding faults will cause some of these unpleasant actions and will cause some damage to your relationship.
No one likes to feel they are incomplete or insignificant.
When you always point out your partner's faults or comment on what they say wrong or how they do things, you demean and embarrass them. That can affect their self-esteem and make them question your intention towards the relationship. After all, you are supposed to love and care for each other.
If you value your relationship, you should look for better ways to present things rather than attacking their personalities. If you don't address it on time, it might grow into resentment for both of you, leading to the end of the relationship.
How to stop nitpicking (If you are getting nitpicked)
Check out how you can stop someone from nitpicking on you. Here are 10 solutions:
1. Express your feelings calmly
If you are getting nitpicked by your partner, it is best to tell them how you feel. Pick out a time when your partner feels good and let them know how their words make you think.
Related Reading: 

How to Share Your Feelings With Your Spouse
2. Describe your pain
It is not enough to express that you are sad over your partner's awful statements. Let them know concisely what their words do to you. For example, you can say, "Your statements make me feel unworthy to be in this relationship."
3. Don't shout
It is expected to feel like yelling at your partner, but that is a wrong move. You might never solve the problem. Instead, calmly say whatever you have to say. Remember, this does not mean you are stupid.
4. Ask questions
Finding fault is one of the keys to a nit picky person. A common way to disarm them is to ask reasonable questions.
For instance, when they say your idea is wrong, ask them to give you tangible reasons. That should give them some push back to think over their assertion.
5. Compliment your partner
While it sounds like a nitpicker does not deserve petting, you should do it.
Nitpicking is a result of personal negativity that has built up over time due to negativity that has built up time. Pointing out the good in your partner can dissipate whatever issues they have been bottling up and help them speak up.
6. Ask what you do wrong
Another way to stop getting nitpicked is to ask your partner if you have done anything wrong or still do. As stated earlier, your partner's nitpicking can be because of another reason. Asking them will make them think harder and tell you.
Related Reading: 

What Am I Doing Wrong In My Relationship Quiz
7. Observe the little reaction
Nitpicking often starts from another issue entirely when your partner should have expressed his feelings. You can avoid this by observing what they say and how they say it. When you are dealing with a nit-picky person, don't ignore their feelings.
For example, if they repeatedly ask you a question, understand that they have more to say. Thus, it is best to address it before it accumulates into an emotional rage.
8. Appreciate your partner
No matter how horrible a person is, there is always a good side of them that melts the heart. When you praise your partner, they will be compelled to be a better person.
Related Reading: 

Ways To Show Appreciation To The Love Of Your Life
9. Support your partner
Constantly showing support to your partner is a way to tell them they have a strong backbone. Many nitpickers don't grow up with the necessary support. As such, they let out their anger on the closest person, which is their partner.
10. Don't criticize in return
It is normal to point out your partner's faults by saying, "You also do this or that." That will only elevate the tension between you and bring out more condemnation. Instead, control yourself by being calm.
Related Reading: 

Critical Spouse Signs and How to Deal With It
How to stop nitpicking (If you are nitpicking)
If you have the habit of nitpicking, check out how you can stop doing so. Here are 10 solutions:
1. Express your feelings immediately
The importance of communication can't be overemphasized. Whenever you feel offended by your partner's action, speak up immediately. The truth is they might not know the effect of their actions. It is your job to call their attention to it as soon as possible.
2. Put yourself in your partner's shoes
Another way to stop nitpicking is to do some reverse psychology. Imagine your partner belittling and embarrassing over the way you throw your shows around. How will you feel?
If shame and guilt make you uncomfortable, then your words and actions do more to your partner.
3. Criticize constructively
Nitpicking in relationships has nothing to do with valuable and encouraging criticism.
Don't just reject an idea outrightly or say something is not good. Instead, give them logical reasons why you feel they shouldn't do something. Even then, they may disagree with you but don't feel the need to cancel their idea without a reasonable explanation.
4. Be nice
Learning how to stop nitpicking in a relationship only involves little action. Be nice to your partner! It can take as little as asking how their day went or what they would like to eat. When they make mistakes or face issues outside, you should be their haven.
They will appreciate this gesture, and that will make you feel great in return.
5. Respect your partner
If you want to learn how to stop nitpicking in a relationship, see your partner as a human.
Just because you date does not give you the right to talk to them anyhow. If you wouldn't embarrass a stranger on the road, you shouldn't do that to your partner because you know them.
Also Try: 

How Much Do You Admire And Respect Your Partner Quiz
Check out this video that discusses respect in relationships:
6. Help them instead of pointing out their errors
The psychology of nitpicking involves pointing out errors, but you can stop by helping your partners. Instead of showing them what they do wrong, assist them in making it better. Then, you can explain to them later.
They will appreciate this better than embarrassing them.
7. Check other approaches
If your partner complains about your nitpicking, but you know you are doing the right thing, you should consider changing your approach.
8. Control yourself
Learning how to stop nitpicking involves controlling your emotions. You may feel angry at your partner's actions or words, but remember to avoid bursting out. Instead, breathe in and out several times and call your partner's attention to the problem.
9. Listen to your partner
If you want your partner to listen to your advice, you also have to return the honors. Devote some time to listening to what they want to talk about. That may include their day, hobbies, interests, or even rants. It will show you a perspective on how to approach them.
10. Accept your partner
You can stay away from actions like domestic violence and elongated emotional abuse. However, you need to accept that your partner has some faults you need to deal with. No one is perfect, and these faults are what make us who we are.
The key to every relationship is tolerance of one another.
Related Reading: 

Developing Acceptance Skills in a Relationship
Conclusion
Nitpicking in relationships revolves around finding faults, awful remarks, the need to condemn others, and unnecessary dissatisfaction.
A nitpicky person often feels the need to attack others for baseless reasons due to underlying anger over something. Their inability to express it at the time accumulates, leading to sudden emotional outbursts. To know how to stop nitpicking in a relationship, communicate with your partner, and create solutions to any issues as soon as possible.
Share this article on
Want to have a happier, healthier marriage?
If you feel disconnected or frustrated about the state of your marriage but want to avoid separation and/or divorce, the marriage.com course meant for married couples is an excellent resource to help you overcome the most challenging aspects of being married.
More On This Topic
You May Also Like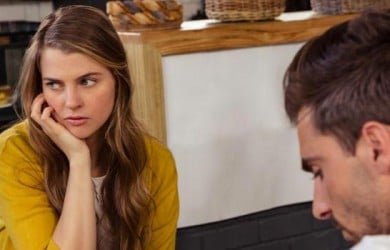 Popular Topics On Married Life