10 Signs You've Found an Ideal Husband
Most of us dream of finding the ideal husband, but we may not always be sure of those ideal partner qualities or perfect husband material qualities.
We may even be so set on finding the perfect mate that we idealize a partner who isn't right for us. Knowing when you've found the right match is important, so consider the following ten signs you've found an ideal partner.
How do you know when you've found your ideal husband?
No one in the world is perfect, but there are some signs that someone would make an ideal marriage partner.
The perfect husband may look a little different for everyone, but a few common qualities can set you up for a more successful marriage.
In general, these qualities can help you to resolve conflict healthily, get through the ups and downs of life, and generally just be happier in your relationship. Below are ten of the best husband qualities.
Related Reading: 

Tips on How to Be a Good Husband
10 signs you've found an ideal husband
Has it ever happened that someone asked you about your ideal man, and you enthusiastically started with 'my ideal partner would be…. ' and then suddenly experienced a loss of words?
Well, here are the ten signs that will help you identify your ideal partner. Maybe you have come across one and are not sure yet. These tips will certainly guide you through your apprehensions.
1. He has strong communication skills
Communicating about wants, needs, and conflict is an important part of a successful marriage, and research backs it too. Someone who would make a caring husband is able to communicate with you.
This includes being open to talking with you, taking time to listen to what you have to say, and trying to understand your viewpoint.
2. He is loyal
Loyal is probably one of the top answers to what a husband should be. Also, as per research, loyalty is one of the most critical factors contributing to marital satisfaction.
Someone who is unfaithful during the course of a relationship is not an ideal marriage partner, so it is important that your partner is able to be committed to you and only you.
The ideal husband understands that while the world is full of beautiful women, there is only one woman he needs in his life.
3. He views you as an equal
Another must for a good husband, a great marriage, is that your man must view you as his equal. He shouldn't see you as being inferior to him or less important than he is.
Also, as per research, men who consider their partners to be equal and share household responsibilities significantly contribute to the relationship quality.
He should value the strengths that you bring to the relationship and recognize that the two of you both have strengths and weaknesses. Another part of viewing you as an equal is considering your opinion.
When you have an ideal spouse, he will take your viewpoint into consideration when making decisions because he sees you as a teammate.
4. He understands who you are
Another important one of the 'husband material' qualities is being understanding. Your ideal husband should understand who you are, what you value, what makes you excited, and what makes you upset.
You should feel that he understands you on a deep level.
5. He genuinely enjoys time spent together
If your partner is an ideal husband, he will want to spend time with you. You don't even have to be doing anything particularly exciting.
He will legitimately love spending time at home with you, watching a favorite show, or just browsing the aisles of the grocery store with you. As long as the two of you are together, he will have a good time.
Also Try: 

What Do You Enjoy Doing Most With Your Partner Quiz
6. You can't help but laugh and smile when the two of you are together
If you are wondering, "who is my ideal man?" part of the answer is that it is someone who always makes you laugh and smile.
Humor is necessary to get through life, so your ideal partner will definitely be someone who can lift your spirits or crack a joke.
Along the same lines, the ideal husband will also be able to cheer you up, whether you're dealing with a bad day at work or a conflict with a friend. He will know exactly what to do to make you feel better.
7. You feel he is your number one supporter
When you set a goal at work or try something new, your ideal spouse will be supportive. He will be someone to lean on through the ups and downs of life, and he will cheer you on, even when you doubt yourself.
He will also take the supportive role by assisting with housework and being willing to fulfill daily duties, such as cooking dinner.
This is one of the signs your husband loves you; he will want to support you by helping out around the house instead of relying on you to carry the burden of maintaining the household on your own.
8. He is willing to admit when he makes a mistake
We all make mistakes from time to time, whether it is blaming our partner for something that wasn't their fault or failing to follow through with a promise.
It's normal to make mistakes in life, but admitting to his mistakes is one of the things a good husband does. Instead of blaming you or ignoring the problem, he will admit to his faults and attempt to correct them.
9. Protecting you is one of his main jobs
Being your biggest protector is one of the signs your husband loves you. An ideal husband should want to protect you from harm and ensure that you are cared for physically and emotionally.
When you are traveling, he will call to ensure you get to your location safely, and he won't want you to go places alone after dark or be subjected to any danger.
10. He pays attention to the details of your life.
Your ideal husband will also be attentive to the details you share with him.
He may not remember everything, but he will remember little things you share with him, such as your favorite childhood memory or your favorite kind of ice cream from the place down the road.
This means that he is a caring husband who makes a note of the things that matter to you.
Also Try: 

Does My Husband Care About Me Quiz
Conclusion
What makes someone an ideal husband will ultimately depend upon your unique preferences and lifestyle, but the qualities here are some traits that represent what a husband should be.
The ideal marriage partner should be able to communicate and admit when he makes a mistake, and he should also be someone who enjoys spending time with you and makes you laugh.
Other qualities, such as being able to view you as an equal and showing a commitment to protecting you are additional traits that make for a good husband, a great marriage.
Rounding out the list of what makes an ideal husband is someone who pays attention to the details you share, supports you through everything, understands you on a deep level, and stays loyal through it all. If you have found this type of partner, be sure to keep him in your life.
Also Watch:

Share this article on
Want to have a happier, healthier marriage?
If you feel disconnected or frustrated about the state of your marriage but want to avoid separation and/or divorce, the marriage.com course meant for married couples is an excellent resource to help you overcome the most challenging aspects of being married.
More On This Topic
You May Also Like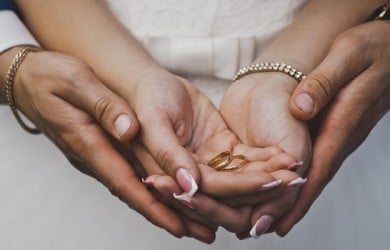 Popular Topics On Getting Married