12 Striking Signs of a Disrespectful Husband
Women look for loving and caring husbands. Someone who would be truthful to them! It's a gamble that everyone plays, and only a few wins.
At times, when women are smitten with their partners, they tend to overlook the conspicuous signs of a disrespectful husband.
So, when it comes to choosing a life partner, women ought to be sure of a lot of things, their future husbands being respectful towards them is the one.
It's quite tricky to know when your husband disrespects you. So, listed below are some of the signs of a disrespectful husband that everyone woman must know of.
1. Not being honest enough
Honesty is one of the pillars of a healthy relationship. If your husband is not entirely honest with you, he isn't respectful to you.
Being dishonest means he doesn't consider you worthy enough to share a lot of details with you. When in matrimony, you both should share and respect each other.
The lack of honesty reflects what he thinks of you.
2. Not making a note of your needs
As a husband, it is his responsibility to ensure that you have a comfortable life. He should make a note of your needs and should try to fulfill it, like the way you do for him.
If he is not paying attention to your needs and comfort, he isn't treating you right. This is the sign of disrespect in marriage.
3. Making a comparison
No men, who have immense respect for his woman, would compare her with another woman.
When you're in love or matrimony, you both should accept each other for the way you're, with an open arm. However, one of the signs of a disrespectful husband is he compares her woman with others.
These unwanted and uncalled for comparison shows he considers you not worthy enough to be with him.
4. Doesn't listen to you
Marriage or relationship means being expressive. You both should share your feelings and listen to each other.
It's never a one-way communication.
However, you feel that your husband shares only his feelings and thoughts and simply don't care or listen to your feelings, then you have a disrespectful marriage.
5. Demands a lot of things
One of the signs of a disrespectful husband is that he demands a lot of things. It's never about 'me' in marriage, but us.
When you're living with an inconsiderate husband, he would only focus on things he wants and would never care for what you want.
One of the examples of disrespect in marriage is he demanding sex, even when you're not in the mood. Just because he wants to have sex, you should have as well.
6. Never supports you
One of the signs of a disrespectful husband is that he never supports you in whatever you do. In marriage, you're to support each other in every situation and desires they've to fulfill.
However, in impertinent marriage, the husband would not care for what you want or desire. They would expect you to support them, but when it comes to them helping you, they'll vanish.
To be in such a marriage isn't suggested at all.
7. Not ready for compromises
It can never be 'My way or the highway' in marriage. You both should understand each other and should make certain compromises at some point in life.
Warning signs of a disrespectful husband is that he would never compromise or bend down to make you happy or comfortable.
They would do what they feel right and never respect your opinion or choices.
8. Bosses around and never treat you as equal
Equality in marriage is essential.
Gone are those days when men were considered above women, and women have a limited say in marriage. Today, the husband and wife are equal and have an equal say.
However, an inconsiderate husband will still go by the old rule and will boss around in the house. He would try to control you and would treat you as a child.
You will have to seek his permission to do anything. This, obviously, isn't good for your married life and your self-esteem.
9. You're not his priority at all
In a relationship, you both are each other's priority. You always put each other above anything else. This is because you both love and respect each other.
However, one of the signs of a disrespectful husband is that you'll never be his priority. He would put his family, friends, or even work above you.
He would choose to do something else than to be with you.
10. Treats you like a house help
For a disrespectful husband, you're nothing but someone who cooks, cleans, and keeps his house tidy. He would always treat you like a house help.
He would never treat you equal or would give you respect in front of anyone else.
11. Always criticize you for everything
Someone who has no respect for you at all will always point out flaws in you. He would never appreciate you for things you've done for him.
Instead, he would treat those as your obligation towards him. He would find out flaws and will not leave a moment to criticize, in private and in public.
This attitude of his would surely hamper your self-esteem in the long run.
12. Isolates you
Isolation in a relationship in intolerable. An impolite husband will never understand this and will isolate you whenever he wants.
He would come to you only when he needs you and would vanish when you need him.
These are some of the glaring signs of being trapped in a toxic marriage.
Seek help, take necessary action, and do not compromise on your dignity when you realize that you have married a disrespectful husband.
Watch this video:

Share this article on
Want to have a happier, healthier marriage?
If you feel disconnected or frustrated about the state of your marriage but want to avoid separation and/or divorce, the marriage.com course meant for married couples is an excellent resource to help you overcome the most challenging aspects of being married.
Learn More On This Topic
You May Also Like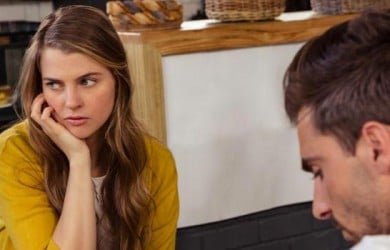 Popular Topics On Married Life