How to Deal With a Controlling Husband
Living with a controlling husband can make your life a living hell. You want your marriage to work and would do everything in your power to keep the peace. But at what cost? You live with a permeating feeling of guilt and powerlessness all the time.
What is a controlling husband anyway? How do you know if he is just looking out for you or trying to micromanage your life in the name of love? A controlling husband tends to take charge of every aspect of your life and relationship, leaving you to feel totally out of control.
If that sounds like your husband, you must be asking yourself, 'How can you live with a controlling husband?' ' Can a controlling husband change?'
Well, first things first, let's look at the signs of a controlling husband first, and then we will take you through the ways to deal with him effectively.
15 Signs Of A Controlling Husband
You may be wondering if your partner is actually that controlling or you're reading too much into things. Well, pay attention to the following signs of a controlling husband.
Here are 15 telltale signs that your husband is controlling:
He is a nitpicker and finds problems in everything you do.

He manipulates you to do whatever he wants.

He criticizes your every move and wants you to change how you eat, dress, and act.

He makes you feel guilty for not indulging his every whim.

He gaslights you

and makes you dissect your every thought and action.

He makes you feel bad about having a life outside of your marriage.

He tries to isolate you from your friends and family.

He wants you all to himself and

gets jealous

whenever someone else gets your attention.

He seems to care a little too much about your finances, and your financial independence has jumped out the window.

He

emotionally blackmails

you by making demands and threats to have everything his own way.

He

doesn't respect your opinion

, and you don't have a say over any major decisions in your marriage.

Even though he vowed to

love you unconditionally

, such a husband only offers love with 'strings attached.' He only loves you when you do whatever he says.

He refuses to listen to you and dismisses your point of view without giving it a thought.

He slowly destroys your self-esteem and makes you believe that he is the only person you can and should depend on.

He doesn't take you at your word and spies on you.
If your husband shows most of these behaviors, it isn't all in your head when you keep thinking, 'my husband tries to control me all the time.'
10 Ways to Deal With A Controlling Husband
Being married to an over-controlling husband can be very trying. The constant criticisms, the spying, and gaslighting take a toll on your mental health. So, if you're wondering how to handle a controlling husband, keep reading.
We're going to take you through 10 effective ways to deal with a controlling husband.
1. Keep your cool
When you're dealing with a controlling husband, it's hard not to argue. He tends to get on your nerves, and you don't want to bow to his unreasonable wishes. Well, you don't have to. There's another way around.
You should try to stay calm and patient when dealing with him. Instead of getting in his face, ask him gently if he has considered your perspective. Dominant husbands are unlikely to respond well if you treat them the way they treat you. Be the bigger person here.
2. Figure out the causes behind his controlling behavior
In order to deal with a controlling husband, it's important to know what makes a person controlling in the first place. Did your husband lose a loved one in an accident? How was his childhood? Was it traumatic? Were his parents controlling?
Does he have an anxiety disorder that makes him want to control you? Figuring out what's causing him to behave this way is the stepping stone to dealing with a controlling husband. With love and empathy, you might be able to get him to stop being so controlling.
3. Openly communicate with him
Once you identify the problem, you can understand where he is coming from. Then you should try to talk to him about how his behavior is damaging your marriage. Just a little reminder: he might totally blow you off and get angry.
After all, he isn't willing to let go of the control. Most controllers aren't even aware of their controlling nature. So telling him 'You're dominating your wife and you should stop right away' won't work.
You need to be respectful and gently remind him of the times he came off as controlling. Tell him how'd you like him to behave instead. He won't magically transform into someone else overnight. But, talking to him openly about the issues is a good starting point.
4. Take charge of your life
It's easy to lose yourself when your husband constantly criticizes your every move. You might be thinking, 'My husband is too controlling. I should avoid doing things that I like because it upsets him.'
Take control of your own life. You want to quit your job and go back to school? Do it. You want to learn something new, but he wouldn't allow you? Go for it anyway. Don't let your passion die just because your husband controls your life.
5. Stay close with your friends and family
It doesn't matter how much your husband hates your best friend, don't stop seeing her. Go visit your mom even if it sends him into a frenzy. You shouldn't let him isolate you from the people who have always been there for you.
How do you stop a controlling husband from making your life miserable, you ask? You need to surround yourself with positive people. Explain why you need to see your girlfriends every once in a while.
Make plans with them, and don't let your husband stop you from showing up at your friend's party.
6. Don't hesitate to ask for help
How often do you feel scared of your husband? Does he seem abusive to you? Abuse doesn't necessarily have to be physical. It can be verbal, mental, and psychological as well. Make it perfectly clear to him that you won't tolerate any kind of abuse.
If he doesn't listen to you and keeps getting violent, let your friends and family know about it. Even if your over-controlling husband promises not to do it again, keep an eye out and don't let him walk all over you.
7. Set boundaries that stick
You must be thinking, 'My husband is trying to control me. How can I set boundaries when he doesn't bother listening to what I've got to say?' First, you should try to talk to him calmly and try to explain the things you won't take anymore.
If he ignores you, you should still set the boundaries and give him consequences to make him understand how serious you are about the limits you've set. However, withholding affection or leaving the house frequently won't change anything if he doesn't want to correct his behavior.
In the video below, Renee Slansky discusses why boundaries in a relationship are important and shares tips to set healthy boundaries. Check it out:

8. Stop giving him power over you
It might not be as easy as it sounds. But you should try to take control of your life and relationship. Stop letting him control you. If you're financially dependent on him, get a job. Don't let him destroy your self-worth. Take care of your mental and physical health.
Whenever he tries to make you feel small, stand up for yourself. If he doesn't try to recognize and correct his controlling nature, be brave enough to give him an ultimatum. Tell him you'd move out if things don't get better. Don't be scared to follow through if push comes to shove.
9. Give couples therapy a try
What if your husband doesn't bother trying to correct his controlling behavior even after your consistent effort to make him see how his actions are ruining your marriage? In that case, it's time to involve a professional.
It doesn't matter how he feels about therapy; try to make him understand how seeking professional help can improve your relationship. Through couples therapy, both of you can feel heard and sort out the issues with the help of a licensed therapist.
10. Be brave enough to leave
There's nothing wrong with going out of your way to stay with such a husband. It doesn't make you look weak. Rather it shows how strongly you uphold your vows. However, you need to remember that some people simply can't and won't change.
If, after trying your best to deal with such a husband, he still can't see any issues with his action, let alone fixing his controlling behavior, walking away from this unhealthy marriage might be your only choice. It doesn't mean you failed your marriage.
You're just choosing your physical and mental well-being over an unhealthy relationship.
Conclusion
There should be an equal balance of power in a healthy relationship. If you're married to a such a husband, it might be hard to feel in control of your life. But, with open communication and counseling, you can regain a sense of control and feel happy again.
If your husband is willing to change and accept responsibility for his actions, it's possible to fix the unhealthy power dynamic in the relationship. Otherwise, consider individual therapy to work on improving and maintaining your emotional health.
Share this article on
Want to have a happier, healthier marriage?
If you feel disconnected or frustrated about the state of your marriage but want to avoid separation and/or divorce, the marriage.com course meant for married couples is an excellent resource to help you overcome the most challenging aspects of being married.
More On This Topic
You May Also Like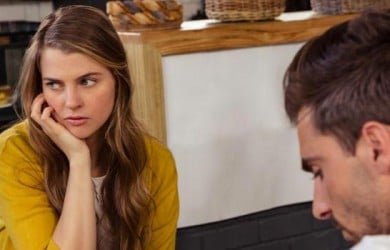 Popular Topics On Married Life