21 Tips on How to Keep Your Man in Love With You
Falling in love or experiencing that strong attraction towards a man can happen quite easily. It might be his alluring personality or the fact that you both just clicked suddenly!
But sustaining that strong attraction towards the man is the real challenge. If you're already deeply in love with your man and he is in love with you, maintaining that love is the real challenge.
So, how to keep your man in love with you is a common question that might be plaguing your mind right now. And it's alright. This happens.
After all, the monotony does set in, whether you like it or not! Keeping a guy in love with you is the topic of interest.
When it comes to learning how to keep your man in love with you, it's all about actively engaging in actions that enable you to show that you are deeply in love with him.
So, learn everything about making a man fall in love with you and keep your man happy and faithful by reading on.
Related Reading: What Makes a Man Fall Deeply in Love With a Woman – 4 Pro Tips
Make a man you're in love with fall deeply in love with you
Before jumping into learning about how to keep your man in love with you, let's go back to figuring out how to make a man you're in love with fall in love with you.
That's where this journey begins.
To understand what makes men fall for women, it's important to identify the different factors that affect their thinking when it comes to choosing a compatible partner for life.
These factors include:
The similarity of core values
When a man figures that the woman he is attracted to has the same core values as him, falling in love happens quite easily, so, ask yourself whether the man you love shares your core values and beliefs as a person.
One of the first and most direct signs of falling in love is physical attraction between the two in question. Do you feel a strong physical attraction towards your man? Does he find you extremely attractive? If yes, then the chances are high that he'll fall in love with you.
Emotional intimacy is another fundamental aspect of falling in love with someone. Physical intimacy is key. But, emotional intimacy is equally important. If your man feels appreciated, understood, and loved by you, he will also very likely fall in love with you.
Irrespective of gender roles, for a person to fall in love with another individual, a strong feeling of support is essential. If your man feels like you are a strong source of support in his life, he will most likely fall in love with you.
Related Reading: 15 Ways to Improve Emotional Support in Your Relationship
Originality is key. Men don't appreciate women who behave differently in their presence. If a man finds that you are true to your values and you are authentic in front of him and around others, falling in love is a highly probable outcome.
These are the five primary factors that determine whether a man will fall in love with you.
If you're authentic, supportive of your man, share a strong emotional intimacy and physical intimacy with your man, and share the same core beliefs and values, the man you're in love with will most likely fall deeply in love with you.
Keeping your man in love with you
Have you already confessed to your man that you love him deeply and he has reciprocated your feelings? Has it been a while since you've been in a long-term romantic relationship?
So, there are some chances that you might be doubting whether he's still in love with you. It's alright. As mentioned already, monotony in relationships is common.
That intense passion or strong sexual intimacy can die down with time. But there are so many easy ways to revive that passion!
Learning about how to keep your man in love with you is mostly about ensuring that you actively express your love for him.
To keep a guy interested in you forever, learning to take care of your man is essential. It's about engaging in simple yet thoughtful actions and activities that clearly express how supportive you are of your man.
21 tips for keeping your man deeply in love with you
Here are some simple, thoughtful, and easy ways to make him fall in love with you forever:
1. Try new things together with your beloved
Men love adventure! So, if you're planning to spend quality time with your man, consider going out to try new exciting things with him that neither of you has tried before!
2. Surprise your man to show that you care about keeping him happy
If your man loves baked goods, then surprise him occasionally by baking yummy treats for him. Surprise him by considering what he genuinely enjoys.
When it comes to learning about how to keep your man in love with you, surprising him is a great way to show that you care for him!
Related Reading: 19 Ways to Attract a Man by Surprising Him
3. Touch your man often
As mentioned already, physical intimacy is one of the easiest and the most direct ways for you to express to your man that you love him.
A passionate kiss in the morning or a long hug or holding hands with him or resting your head on his shoulder are just a few examples of the various ways to keep a man in love with you.
Related Reading: The Power of Touch in Your Marriage
4. Say that you're grateful for him
Sometimes, words of affirmation work wonders! Yes, when it comes to how to keep your man in love with you, sometimes simply telling him how grateful you are for your beloved is enough!
Genuinely meaning what you say especially when you express your gratitude verbally is of utmost importance. To unconditionally love a man, words of affirmation matter.
5. Be encouraging towards your man
As men appreciate feeling supported, you can be your beloved's biggest cheerleader by being encouraging towards him.
Encourage him to pursue that new hobby he's been talking about to encourage him to work hard for that promotion. Whatever works for you!
Here's a quick video on how you can be an encouraging partner:
6. Be consistent with your man
Consistency in your actions, behaviors, love language, etc., all matter when it comes to learning how to keep your man in love with you. Men appreciate consistency and stability.
7. Be an active listener
Actively listening to what your man is saying, especially when he's going through a difficult time, is extremely important.
To keep your man happy in a relationship, conveying the fact that you're an empathetic listener is essential. Don't interrupt him. Listen and respond with words that show that you truly understand him.
Related Reading: How to Use Active Listening and Validation to Improve Your Marriage
8. Give him personal space
The importance of personal space in marriages and romantic relationships is very important to prevent boredom. When couples spend time without each other, it can be very refreshing for both the individuals in the relationship.
9. Openly communicate about conflicts with your man
So, how do you keep him in love? By showing that you deeply care for the relationship and for him by openly addressing the difficulties or issues in the relationship.
Allowing yourself to have pent-up negative feelings about the relationship and then having sudden outbursts in front of your man won't help.
Related Reading: How Does a Lack of Communication Cause Conflict in Marriage
10. Tell him to hang out with his loved ones
There's a difference between being a little possessive and preventing your man from connecting with the loved ones in his life. A little possessiveness is fine.
But not allowing him to chill with his buddies won't help you or your relationship at all. Your man will feel extremely frustrated.
11. Pursue your own interests
You have to be an interesting individual even outside your relationship to keep your man interested in you. Yes, pursue the things you're passionate about. Go for that hobby.
Try new things. If you're happy and excited in your own life, you'll automatically draw your man's interest and attention.
Related Reading: 7 Ways To Support Your Spouse's Passions
12. Sex is essential
Having an interesting and active sex life is very important for all couples in romantic relationships or marriages.
Engage in role-playing, express your fetishes, initiate sexual activity. These are all important.
13. Don't be extremely needy
If you behave in a very needy or nagging manner, your man is bound to feel irritated and frustrated.
Although it might sound strange, you should not devote yourself completely to your man and expect him to do the same. Instead, try to have the same level of commitment that he possesses and prove yourself worthy of his love.
14. Respect him
Supporting him and not talking poorly in his absence are important ways of showing that you respect your beloved.
Make your man feel like a king through your words as well as your actions. If you can give him due respect you will get the same in return. This respect for each other triggers intimacy.
Related Reading: 20 Ways to Respect Your Husband
15. Physical attractiveness matters
It may sound like a cliche, but men love physical attractiveness in women. Working on keeping yourself physically attractive will constantly remind your man about how he felt attracted to you in the first place.
Stay physically fit and avoid looking shabby. Your sensual attractiveness plays a major role in keeping your man 'rooted'.
16. Be a source of peace for him
Another great way to be a support system for your beloved is to become a source or a beacon of peace for him. He will then feel relieved after confiding in you.
In other words, you should make your partner feel 'emotionally safe' in your presence. Be the person in front of whom he can always tell the truth without being judged.
17. Pursue his interests
Doing things that he likes or is passionate about or at least trying them out is fantastic for learning how to keep your man in love with you. Sharing interests paves the way to solid companionship.
Your man wants you as a friend. By being interested in his interests, you will keep him happy as he will treat you as a friend and confidant he can hang around with.
18. Praise your man
According to men, the more time they spend on a task, the more difficult it is. So be increasingly appreciative when he spends a considerable amount of time doing something, such as preparing dinner or fixing a machine.
Genuinely complimenting your beloved will boost his confidence. Never fake it, and you will find that your appreciation will pave the way for love.
Related Reading: The Whole Picture: Complimenting Your Man in Every Way
19. Learn his love language
Learning about the different types of love language and figuring out your beloved's preferred love language is important.
Different people perceive love differently. So, if you want to make him fall in love with you forever, show love in a way in which he wants to receive love. In this way, you will be able to make him clearly understand that you love him.
20. Have deep conversations with your beloved
Deep conversations about the future, both of your beliefs, values, morals, and other topics that are relevant to society and your relationship are important.
The more you talk, the 'easier' your relationship becomes since your man increasingly perceives you as a confidant. This kind of emotional bonding is one of the best ways to keep a man in love with you.
Related Reading: 4 Relationship Conversations You Can Have With Your Partner
21. Flirt with him
Flirting with him by sending cute text messages randomly or leaving flirty notes in his lunch box are easy ways to make your significant other fall for you.
Do not think whether your man will appreciate these things or not. Just do them! Remember, no man can ignore these cute love gestures from people near them.
Related Reading: How to Flirt With a Guy: 30 Flirting Tips for Girls
Takeaway
Remember these simple yet meaningful activities and tips and implement them! You will definitely find your man falling for you again and again.
Share this article on
Want to have a happier, healthier marriage?
If you feel disconnected or frustrated about the state of your marriage but want to avoid separation and/or divorce, the marriage.com course meant for married couples is an excellent resource to help you overcome the most challenging aspects of being married.
More On This Topic
You May Also Like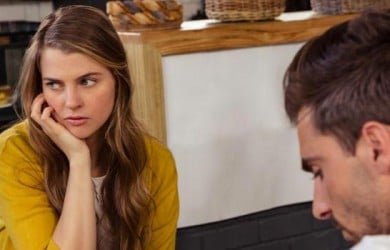 Popular Topics On Married Life