19 Ways to Attract a Man by Surprising Him
In a matter of relationships, everything is reinvented daily. Saying I love you is not enough unless you demonstrate it with actions worthy and pleasant for that special man. You have to know
ways to attract a man
besides just telling him that you love him.
The gestures are certainly worth a thousand words, so do not miss the opportunity to make your boy happy with meaningful but straightforward actions for him.
In this installment, we want to help you devise various beneficial strategies, which will surprise your partner and will undoubtedly help you to consolidate the relationship and the link you share. You may have thought that to surprise him is a difficult task, but they also feel and expect to special without any reason in specific.
So get ready to know these ways to attract a man that will make them fall in love with you.
1. Romantic trip
If you want him to be open-mouthed, plan a romantic trip. Escape routine during a weekend is not only tender but de-stressing.
It will allow both to connect, converse, be more open and spontaneous. Of course, you should make sure to reschedule your commitments and yours so that you can enjoy the trip.
If you know his taste, it will be easier to choose the correct destination, remember that it should surprise him, so look for a place where there are activities that usually cannot be done easily, but would undoubtedly enjoyable. This is a great way to attract a man.
2. Recreate with a sports game
Not all women enjoy or get excited about the idea of ​​accompanying their boyfriends to a baseball or soccer stadium. But for a man, it is precisely this test of the greatest love that can be given to them. If you are looking for ways to attract a man this is the one you must give it a try.
It will allow you to show him that you are capable of making some sacrifices for him.
Even if you do not like sports, we assure you that you will get a lot from him, after staying screaming and bearing sun in a stadium.
Your boyfriend will know how to thank you, because the excitement generated by some guys sports, is comparable to the emotion that produces women a discount on shoes.
3. Cook for him
Maybe the kitchen is not your forte, but there is a saying that men are attracted by sight but conquered by the stomach. If you want to get to the heart, then make him fall in love with a surprise dinner.
It is not necessary that you experiment with costly dishes or something challenging to elaborate, but make sure you make dinner with love and taking care of the details in the presentation of the meal.
The way to attract a man to prepare a decent meal. Practice in advance to be sure that you will get the results you expect and that he enjoys the taste of the food.
The colors, presentation, and flavors are fundamental. Buy a beautiful tablecloth, candles, and flowers to create a romantic atmosphere.
And do not forget the dessert, which can be a cake, a cupcake, or some other sweet to close the night. The idea is that the dessert is you, so be prepared to enjoy your dinner.
4. Be a beast in bed
If you want the answer to, 'How can I attract my husband sexually?', it's easy.
Let's be honest; every man expects to have a beast in bed. If you're looking for ways to attract a man, then change your behavior as a good girl and get ready to give him what he has always been waiting for: "A private show."
It may not be your style, but it's not about you, it's about surprising him.
Visit an adult store. There you will find many hot options to excite him visually and give him twice as much pleasure.
This kind of surprises can only work if you relax and get into your role as a dominatrix that knows what you want. Otherwise, you will only get bored. You have to be utterly seductive, daring, and sure of yourself. Your boy will enjoy it and will never forget this experience.
5. Picnic day
Searching for ways to attract a man? Don't think too much, some men are simple, charming, and quite tender. If your boyfriend fits this profile, we recommend taking him to a park and sharing a meal in the middle of nature.
Locate a quiet place, comfortable, with a large tree that provides pleasant shade and of course, do not forget to bring a tablecloth and a mosquito pesticide.
The park should be quiet so you can talk freely without a child arriving from scratch looking for his lost ball, or a dog eager for your food.
6. Night of jacuzzi
What could be more romantic and pleasurable for a man who has spent a day of hard work, coming home and having a Jacuzzi with warm water, rose petals, bubbles, and scented candles waiting for him?
Read on for some tips to seduce a man and make him want you.
Accompany him, and give him a massage on the back, it's your moment to disarm him before your eyes, only you have control.
Who said spas are only for women? Men also deserve a massage, release toxins in a sauna, and be pampered. One of the ways to attract a man is to give him a relaxing massage.
If you are going to surprise him in this way, you can not go on questioning him later on how good the masseuse could be or if he became aroused by the massage.
If you give him a spa day, it is so that he returns home as light as a pen and is more willing to be with you and aware of your desire to make him happy.
7. Pay for an exotic dinner
Some men are of the elegant palate, and they enjoy very much knowing new restaurants and tasting unique and different foods.
Of course, this way to attract a man is usually expensive, but they are well worth it. Invite him to taste the last dish of the restaurant menu of your liking, and you will see his face of bliss.
8. Mechanical attractions
Amusement parks appeal to children and adults, and every man retains something of a child within himself. You can enjoy a lot by his side if you invite him to an amusement park.
Practicing target shooting to win a gift, entering the house of horror, eating sweets, and climbing the roller coaster will distract you.
You both will laugh and can also leave behind the stress of work and daily occupations. It is a unique way to attract a man.
9. Photo session
Not only will it make you both laugh, but the photo sessions can be enjoyable and even quite intimate, depending on the theme chosen by both. This is also another unusual way to attract a man.
10. Take him to the movies
Usually, cinema outings are always proposed by men, but this time you take control! Take care of him, buy tickets for the movie that he likes and pay for the snacks. Make him feel comfortable during his visit to the cinema. Not only is this thoroughly enjoyable, but it's a fun way to attract a man.
11. Share music
Download music that you love, or the theme that you both identify with. He will be able to listen to your music in his spare time, and he will remember you.
Sharing your good taste in music is a good way to attract him.
12. Online sex
If your boyfriend is out of town, that should not impede reminding him that you are his girl.
Online sex drives men crazy, and it will also allow you to be quite uninhibited, so try and enjoy it. He will be thrilled to see you seduce him in the video chat. This is a sensual way to attract a man.
13. Sexting
If you are thinking, 'how can I seduce him with words?', the answer is sexting.
Another sensual way to attract a man is sexting. It is similar to online sex, but it is timeless, that is, you send erotic videos to your partner or pictures that you probably have taken hours before or days before.
He will love it, and he will also be able to see them as many times as he wishes.
14. From fantasy to reality
All the people have some or many fantasies, thanks to cinemas, magazines and videos on internet. Men think much more about sex than women, and their imagination is more creative in this matter.
However, most fantasies are never taken to reality because they fear that the girls get angry or uncomfortable.
Be confident enough to ask your boyfriend what sexual fantasies he has and if they are accessible to you, do not hesitate to surprise him.
If you are looking for ways to attract a man and keeping him satisfied, pleased and happy try some roleplaying.
15. Attend a wine tasting
Wine is an aphrodisiac, going to a wine tasting is not only sophisticated but has another function: take it to bed. Wine is the ultimate way to attract a man.
16. Paintball day
If you want to know ways to attract a man and give him a different day, where his adrenaline goes up a thousand, and he feels happy and grateful for your gesture, then do not hesitate to take him to a paintball court.
In this place, he can release his instincts as a man, attack the opponent, plan a strategy to win, and at the same time protect or attack you in case you want to add more spice to the situation and participate in the opposing team.
All men enjoy the tension that offers them to attack others without real consequences.
That is why video games are also so successful, men are extremely competitive.
Paintball will allow you to relax and keep in mind that your girl is adventurous, risky, and also a bit rough when you want.
17. Mímalo More
No matter how sexist, rude, or temperamental a man is, everyone likes to be pampered, caressed, kissed, and fully understood by their partner. The key to a lasting and pleasant relationship is to be tolerant with the relationship and learn to take care of the other.
If as a woman, you lose the details to your boyfriend, there are not enough hugs, kisses, and caresses, he will look for someone to provide to him.
Appreciate him and thank him for good, and remind him why you fell in love with him. This is not only a good way to attract a man but also keep him close to you.
18. Urge it
Looking for ways to attract a man? Aféitalo, bathe with him, buy an aromatic cream and give him that message he has always wanted. They are usually somewhat careless about these details, but you can help him and remind him how handsome he is and what makes you fall in love with him. This is a great way to attract a man.
Although you may not believe it, for a man the fact that his wife shaves and cares for him means too much.
Besides, it can get to excite him enough, so from one moment to another, it is possible that you go from a simple shave to the action in bed.
19. Plan a night of men
Plan a night of male friends and invite them. This way, your boyfriend will feel the freedom to be with them without thinking about what you will be upset about. Prepare dinner, and have control over the television, pool table, and even the liquor they wish to drink.
They require the company of other men to talk about their worries, work, sports, and many other topics that women often seem trivial.
Money does not have to be an impediment for ways to attract a man, to let you show that you care and that you love him. He is not the only one who has to remember dates and surprises you.
Share this article on
Want to have a happier, healthier marriage?
If you feel disconnected or frustrated about the state of your marriage but want to avoid separation and/or divorce, the marriage.com course meant for married couples is an excellent resource to help you overcome the most challenging aspects of being married.
Learn More On This Topic
You May Also Like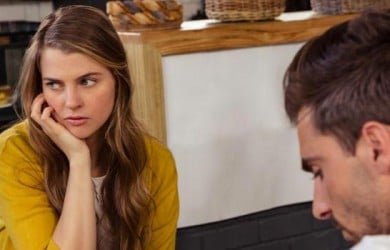 Popular Topics On Married Life