How Does a Lack of Communication Cause Conflict in Marriage
Recently I was asked to write an article for marriage.com. The ironic part is that I have never been married.
However, I have listened to many clients over the years who were facing a conflict in marriage that could be traced back to communication issues in relationships, or rather a lack of communication.
Miscommunication in marriage
The two most common relationship communication problems I have seen with individuals and couples have to do with one partner assuming or expecting their mind to be read.
The other relationship conflict is simply not taking responsibility for a mistake of any kind, such as saying and meaning "I'm sorry" or "I messed up."
When you expect a certain result without clearly communicating your intentions, this can cause consequences going as far as resenting the other person.
Poor communication as a cause of conflict is very common in relationships.
Research has even suggested that the effectiveness of communication in marriage is a predictor for martial satisfaction.
One client I met had a particular desire to be appreciated. Who doesn't?
This client has made the assumption that if he provides a certain level of care, this exact act should be reciprocated. When this does not happen, he will get very angry.
This person is essentially assuming, "since I do this, then I should get this back in return.
With no communication in marriage, when the person is not getting back what they assume they should, not only is this person angry, but the other party may very well feel taken for granted, causing resentment.
Fix communication in a relationship
Mind reading thoughts usually begin with "should statements" such as "you should act this way when this happens" or "you should feel a certain level of gratitude each time I do this."
Even if an event or the same situation has been repeated over a number of years, still it never hurts to fully clarify their intentions and desires for the other person.
Should statements come off as the other person invalidating your feelings?
"You don't feel like that" or "you're just too sensitive" is not only hurtful but can cause repercussions for the person as time passes, thinking their way of thinking is wrong.
Also watch: What Is a Relationship Conflict?
A person's feelings are always valid, and ideally, they should feel free to express what they are feeling.
A person not taking responsibility for their actions communicates their inability by saying, "I messed up."
When someone blames another person when they are, the clear culprit marginalizes the other person, which in turn causes the other person to feel frustrated, causing a chasm between the two.
Due to a lack of communication, if this person does not feel free to voice their side of the story, over a period of time, they feel they have no voice and that what they say or think does not matter.
Claiming responsibility for something that went sideways shows care for the other person and validates the other person's feelings.
When you take responsibility, you are taking a burden off of yourself, and the rest falls into place.
My parents were married for 48 years before my mother passed away due to Alzheimer's disease. They definitely had their share of arguments, but both were able to apologize to the other afterward.
My father still has some expectation that others should know what he is thinking without him verbalizing his expectations. The difference is that my dad recognizes this lack of communication and will apologize when he senses he has wronged the other person.
Share this article on
Want to have a happier, healthier marriage?
If you feel disconnected or frustrated about the state of your marriage but want to avoid separation and/or divorce, the marriage.com course meant for married couples is an excellent resource to help you overcome the most challenging aspects of being married.
More On This Topic
You May Also Like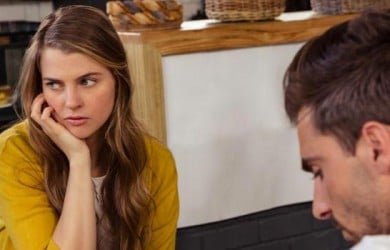 Popular Topics On Married Life