9 Relationship Tips for Wives to Navigate the Male Mind
Nowadays, women are all over the internet analyzing the male mind. Their approach towards dating and relationship is what drives women crazy and gives them an excuse to spend their weekend with their friends drinking cocktail.
The male mind is a mystery and understanding it can take a lot of time and effort. Most wives get desperate when they don't know what's going on in their husband's mind, what he is thinking, what he wants to do.
But you no longer have to worry, mentioned below are relationship tips for a wife to help understand their spouses better.
1. Obsessiveness is not cute
It is okay to be jealous sometimes as this makes the other person feel more desired and important. However, going through your husband's personal stuff, his phone, his wallet and pockets of his jeans while he is showering is being obsessive. This is not tolerable and gives birth to trust issues and insecurity.
If you feel as if your husband is hiding something, it is better to confront him rather than sneak around and spy on him.
This way you can get closure and keep your relationship healthy.
2. Avoid pyjamas, the mood killers
Most guys do not want to see their wife in her pyjamas after a long day at work.
Office hours can be stressful, and guys look forward to going home and spend some time with their partner, but walking in the house to see their wife in a pajama can be a mood kill.
Girls should take some time out and once done with their daily chores, dress up for their husbands. This will make your husband's very happy, and they will enjoy spending time with you.
3. Keep your bathroom business to yourself
No man wants to imagine their girl sitting on the toilet.
The bathroom is a holy area and whatever you do in the bathroom is entirely your business.
Your husband has no interest in knowing what you are doing in there. Unless you are showering.
4. Know your worth
Men admire women who are confident and know their worth.
When a man talks to a woman who is insecure, doubtful and very self-conscious, he may lose the respect he has for her.
As a woman, you must understand you are very gorgeous and strong, under no circumstances should you ever doubt that. Never ever weaken your self-worth.
5. Control your emotions
It is usual for you to be upset and angry in an argument but being so angry that you start screaming and shouting may cause your husband to lose his respect for you. During an argument, throwing dishes, slamming doors may push your man away from you.
Showing that you are very aggressive can tick them off and is not great for a long-term relationship.
6. Act like a lady
Listening to a woman speak as if she has spent her childhood on the street can be very unattractive.
No man wants to bring home a girl who does not know how to address people and talk like a lady. This does not make you sound very cool and instead is a real turn-off for men.
Act like a woman, and he will treat you like one.
7. Don't change yourself
Many women when they enter into a relationship, they leave themselves behind. They forget their likes and dislikes and try to become the exact version of their husbands.
It is completely okay to have different hobbies and likes or dislikes.
Just because you do not indulge in the same thing as he does not mean you do not enjoy it. If he wants to watch a football game, then spend time with him and watch it. This will help increase the bonding you have with each other.
8. Do not bring up your ex
Bringing up your ex is the last thing you should do in a relationship.
Men have a natural instinct to go jealous and possessive, bringing up your ex will make them go crazy, and it might tick them off.
9. Treat your men with the love and affection they need
Most girls make the mistake of not treating their men with the love and affection they need. This is where they are wrong. Guys are just like girls, and they need attention, love, and care all the time.
When they get home, they want someone to ask them about their day; they need someone to cuddle up to and talk all night long; they need someone to watch the Godfather with. Just because your interests collide with him does not mean you can't enjoy it.
If your husband can sit around and watch The Notebook with you, then you can do the same. Spend time with him, love him and care for him. This is all that makes them happy.
Share this article on
Want to have a happier, healthier marriage?
If you feel disconnected or frustrated about the state of your marriage but want to avoid separation and/or divorce, the marriage.com course meant for married couples is an excellent resource to help you overcome the most challenging aspects of being married.
More On This Topic
You May Also Like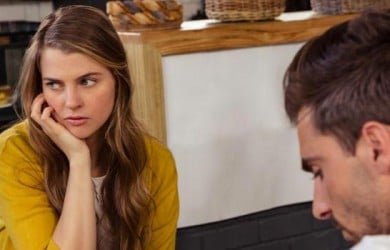 Popular Topics On Married Life