10 Essential Tips for Introvert and Extrovert Relationship
Couples can achieve more together when they know how to infuse balance in their marriage or relationship. One of the aspects of relationships where balance and other key factors like understanding and commitment are needed is personality type.
An introvert and extrovert relationship might look difficult to navigate, but it is possible to have a prosperous union. This article will teach you some smart tips for successful introvert and extrovert relationships.
To better understand the extrovert and introvert personality types, you can read Orit Zeichner's study. This research helps you understand extroversion and introversion in a broader context.
10 tips that introvert-extrovert couples to apply
When it comes to the introvert and extrovert relationship, it is important to note that they are different humans who are like two sides of a coin. Therefore, you can expect that almost everything about them will be different.
Here are some tips that introvert and extrovert couples can apply to make their union successful
1. Proper communication
Introverts and extroverts view communication from different lenses. When an introvert communicates, they need their partner to be more attentive because they will drop hints and details for them to hold on to. This is why introverts ensure that when communicating, they are not distracted.
They can clear their schedule to have proper communication. In comparison, extroverts do not pay good attention like introverts when communicating. Some of them know how to listen but might be good at remembering details, except if someone reminds them.
Since most extroverts are outgoing, they are likely to do other things while communicating with their partner so they don't get bored. Extroverts need to prioritize listening instead of hearing what their partner is saying.
2. Be ready to compromise
Another tip for an introvert and extrovert relationship to work is when both parties are ready to compromise. They need to realize that if they decide to stay in their comfort zones, the relationship might not work out.
So, they must make sacrifices to allow each party to meet in the middle. For instance, the extrovert is energized by public gatherings, while the introvert will shy away.
They can make things work with the extrovert by reducing their public engagements, and the introvert tries to suggest public outings occasionally. This will help to breed more understanding and reduce conflict.
3. Be yourself
One of the reasons why some relationships don't work out is because partners try to adopt another identity. Introvert and extrovert couples need to realize that they have special attributes they should be proud of.
It will be disadvantageous if they fear being themselves because they want to satisfy their partner. Sometimes, it is great to come out of your shell, but it should not be on the premise of being compelled to please your partner when they are not even asking.
You might be surprised to discover that your partner likes some of your characteristics that you are not proud of.
4. Remember to give your partner space
When you are in love with someone, you might feel the never-ending urge not to give them space because you want to be around them. Your partner might not buy into your ideology and may be hesitant to request space.
You need to realize that everyone needs their space to figure out things going on with them. Therefore, for an introvert-extrovert marriage to work out, partners need to give each other space, especially for things they enjoy doing.
Remember that sometimes, a little absence makes the heart grow fonder. So give your partner time apart, and you can also focus on doing other productive things.
Related Reading: 

15 Signs You Need Space in Your Relationship
Watch this video on why giving your partner space is important:
5. Create time to spend together
While you work on giving your partner some space, remember that the two of you need to spend time together to create special memories. Several studies have shown that relationships, where partners spend more time together are more likely to last than those who stay apart.
For an introvert married to an extrovert, make efforts to spend time together by doing activities you both will love.
Remember to put away other activities that might distract you from enjoying your partner's presence. You don't have to spend much to achieve this. It can be getting tickets to watch a movie together. Going to see an interesting game. Or taking a walk in the park.
6. Be open and honest about how you feel
Another way to make an introvert and extrovert relationship work is to talk about how you feel instead of keeping quiet about it. When you prefer to bury your feelings, resentment will likely build within you.
Therefore, if you don't like discussing how you feel, you need to make it a habit to open up more. Similarly, if you are used to always being open about your feelings, make sure your comments do not criticize your partner.
7. Speak well of your partner to family and friends
For an introvert and extrovert relationship to work, your loved ones must have a good impression of your partner. This can be balanced when introverts talk more about their partner's good deeds to their family and friends.
For extroverts, they can control what they say about their spouses so that they don't give the wrong impression. The goal is to make people know that your partner is doing their best to make the relationship work.
Related Reading: 

8 Tips to Communicate Effectively With Your Husband
8. Learn to create new friendships together
When it comes to making friends, introverts and extroverts have different approaches.
Introverts take ample time before making friends. They like to study people with the potential to be friends before sticking to a few. Extroverts thrive on social energy, so they will likely get along with many people before creating a small circle.
In an introvert and extrovert relationship, both parties should work together to create new friends. With the peculiarities that come with their personalities, it would be easier to select the right set of friends.
Related Reading: 

12 Reasons Why You Need to Build Friendship Before Relationship
9. Check in with your spouse when you get your way
One of the factors that make relationships work is compromise. When you compromise, you show your partner that you can sacrifice your convenience to make them happy.
To make an introvert and extrovert relationship work, always appreciate your partner when they allow you to have your way. However, be careful not to take their sacrifice for granted so they won't be reluctant to do the same thing next time.
10. Know your partner's desires
One of the ultimate tests of love is knowing what makes your partner tick, which applies to introvert and extrovert relationships.
You need to know your partner's needs and desires so that your acts of love will make them happy. You might not satisfy them when you don't know these details. You can communicate with your spouse about what makes them happy the most.
3 ways for introvert-extrovert relationships to work
Knowing the hacks to make them work will make the relationship successful when it comes to introvert and extrovert relationships. So, even though both partners have completely different personalities, they can provide a balance to keep the union intact.
1. Try to have a life outside your relationship
Both spouses need to have independent lives outside their union. They need to set important boundaries, so they don't affect the love they share for their partner.
However, they should remember that their partner might not be available every time, and they will need friends and close acquaintances to keep them company.
2. Don't try to change them
It is wrong for couples to try and change each other because of selfish reasons. Introvert and extrovert personality types have interesting peculiarities that can be explored to make the relationship beautiful. Introvert and extrovert partners should learn to appreciate each other more.
3. Seek help from a professional
Sometimes, you might be unsure how to make your relationship work. This is where a professional counselor or therapist comes in. It would be nice to make it a habit to see a professional counselor when having extrovert or introvert relationship problems.
For more tips on how to make an introvert and extrovert relationship work, read Marti Laney's book titled The Introvert and Extrovert in Love. This book helps you understand how opposites attract in a romantic union.
Challenges that introvert-extrovert couples face
An introvert and extrovert relationship are not without obstacles. They face common problems that can be tackled if they work together. Here are some of the challenges an introvert and extrovert couple will face
1. Their partner's energy might be excessive
One of the issues that an introvert will struggle with when they are with an extrovert is matching their energy. They might find their partner's energy too much, which can lead to conflict because they are not on the same page.
2. They might have too many people around them
It is normal for extroverts to have many people around them because of their outgoing nature. Therefore, introverted couples might not be comfortable having many people around them. This is why some of them might frown at the regular visits by their partner's circle.
3. They might spill some relationship secrets
Since extroverts have many people around them, they are likely to say some things that they shouldn't. This includes saying some secrets that they share with their partner.
Hence, good advice for an introvert married to an extrovert is always to implore them to reduce the secrets they spill.
Related Reading: 

Having a Secret Relationship – Is It Even Worth It?
1. They may not get the energy they're expecting
Extroverts are likely to get discouraged when their introverted partner does not return the energy they are facing. This is because they usually have high expectations when giving out energy and vibes to their partners.
2. Their partners might prefer to hide their feelings
Even though introverted partners know how to communicate, they hide their feelings most of the time. So, their extroverted spouse would find it more difficult to motivate their partner to reveal their feelings.
3. Their partners might not be active in making plans
When it comes to making plans in an introvert and extrovert relationship, the latter is always at the forefront. The introvert prefers the extrovert to draw out all the plans while they assist in executing them.
How to make an introvert and extrovert relationship work
Making an introvert and extrovert relationship work depends on how both parties expect to go when putting in the work. Both partners need to understand the uniqueness of their spouse's personality.
They should not be compelled to force each other to become like them automatically. However, they should be ready to make compromises occasionally to adapt to what their partner wants.
For example, extroverts can be laid-back to make their introverted partner happy. Similarly, introverts can go out of their way to be outgoing sometimes, so their extroverted spouse will not feel bad.
Additionally, both partners should learn to do things together irrespective of their differences. This will help them to understand more about each other and make the relationship healthier. In the long run, they will find it easy to balance their personalities because they work as a team.
To understand more about introvert and extrovert relationships, check out Naquan Ross' study titled The People We Like. This study sheds more light on introversion-extroversion commitment among partners.
Can introverts and extroverts make good spouses?
Introverts and extroverts can make good couples and build healthy and desirable relationships. Doing this requires understanding and a good communication level. They might blame each other for their actions, not knowing it was due to their personalities.
For instance, the extrovert cannot expect the introvert to be outgoing every time. So they can exercise more patience until the introvert feels charged up to step out and enjoy the social energy.
Also, introverts should not be desirable to their extroverted partner if they have an active social life different from their relationship.
Conclusion
After reading through on how to handle an introvert and extrovert relationship, you now understand that knowing the right tips can make this type of union work.
When an introvert and their extroverted partner understand how to make each other happy irrespective of their personalities, it becomes easier to build a healthy relationship. For more tips on how to make an extrovert and introvert relationship work, you can take a course or see a relationship counselor.
Share this article on
Want to have a happier, healthier marriage?
If you feel disconnected or frustrated about the state of your marriage but want to avoid separation and/or divorce, the marriage.com course meant for married couples is an excellent resource to help you overcome the most challenging aspects of being married.
More On This Topic
You May Also Like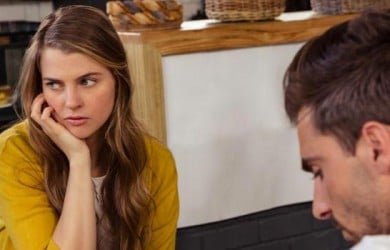 Popular Topics On Married Life