Dating an Introvert – 10 Things You Should Keep in Your Mind
They say opposites attract. This statement cannot be truer regarding the introvert personality type. Nine of ten introverts find themselves with extroverts regarding romantic liaisons, despite the key differences in dispositions.
Perhaps, it is their exact personality type that draws them toward each other.
However, dating an introvert can sometimes be challenging, especially for an extrovert. Here are some things you should know about dating an introvert.
This research highlights interesting aspects of the introvert personality type.
What exactly entails an introvert personality type, and how do they differ from extraverted people? Watch this video to know more.
Are introverts affectionate?
Extroverts are wonderful partners to introverts, as they help ease their loved ones into the world and make them used to the hustle and bustle without it all getting overwhelming.
Extroverts are loud when they are in love. They will jump and shout it all from the top of a tower.
Whereas to find whether an introvert is in love requires a keen eye. Introverts use their peculiar way of expressing their feelings. They help their extrovert partner channel their feelings on a much bigger scale and settle down.
Introverted personalities and relationships take time to pin down. As they shy away from words so much that if one does not pay attention, they will miss everything. They are very low-key about their feelings and are also not fond of socializing.
Can introverts be in relationships?
Many people wonder several things about introverts due to a lack of awareness. Therefore, many also wonder if introverts can be in relationships or not.
Since introverts are a little bit withdrawn, it takes a keen eye to see an introvert's true potential, real self.
Being in love with an introvert is an amazing emotional ride, as they are quiet and reserved regarding social outings.
They prove to be great observers.
Introvert personalities and relationships are extremely complicated, as they never express their emotions and sometimes even bottle things up. They tackle any problem head-on and are very much in tune with themselves – though they rarely show it.
Handling an introverted personality and relationship is a tough task; however, if done correctly, it is worthwhile.
Things to know about being in a relationship with an introvert
If you are married to or are dating an introvert, or even if you are romantically interested in one, here are a few pointers to ease you into a conversation to avoid any introvert-extrovert relationship problems –
1. An introvert's decompression means staying in
After a long week of everyday struggle, when exhaustion tries to pull you under, several people crave to go out of town for an evening to decompress and re-energize.
They recharge themselves by talking and dancing with, perhaps, strangers or a group of friends. It refreshes them and rejuvenates them for the upcoming week.
In contrast, introverts find the idea of socializing tiresome. Their job is a necessity to them; everyone needs to get paid. However, extending the requirement to expand their social circle by going out to pubs seems like a hell of a task.
This is where the idea loses its charm.
Do not challenge an introvert's desire to stay at home during the weekends by pointing out that "normal people" tend to go out and have fun. The insinuation that there is something inherently abnormal about an introvert does not sit well with them.
2. Do not appreciate the lecture
Introverts already know they are 'stay-at-home' couch potatoes who talk the least they can.
They do not need you to constantly remind them how much they are missing in life. The constant reminder that they have been silent for a while or need to talk more will only put pressure on them and cause them anxiety.
If you need a talkative friend, you are barking up the wrong tree, my friend.
Related Reading: 

How Lack of Appreciation Can Ruin Your Marriage
3. It takes an introvert a while to fully unveil themselves
Introverts are extremely mindful and respectful of others.
As they are afraid not to impose or burden anyone, they remain quiet and endure whatever comes their way. Be it more work, unflattering rumors, or just assumptions regarding them from others.
Introverts are very picky when it comes to having friends.
Having a large group of rowdy friends who cannot put two words together in a conversation to save their life but knows how to party is not the kind of people that an introvert would generally look for.
Introverted personality and relationships go hand in hand. They have a small but highly intellectual group, as their entertainment comes from having deep and meaningful conversations.
4. Introverts require that occasional nudge
Introvert relationship problems can include getting too comfortable or too laid back.
To survive, introverts require the occasional nudge, though they will never admit to it.
This is where having an extrovert partner pays up.
As love-y dove-y an introvert describes their home relaxation time to be, life is all about balance, and though they will never admit it, the introvert depends on their extrovert partner to snatch and pull them out of the house for a night out in town.
However, this trust is hard to earn for the extrovert. They have to be careful and not push the introvert further away due to unprecedented nagging.
When it comes to introverts in love relationships, they are very protective about their personality and identity, and it should not be taken lightly.
5. Please, do not try to change them
Introverts and relationships can be tough to navigate sometimes.
The worst you can do with introverts is to try to change them, either by love or force.
This is a part of their personality. No matter what you do, they will never change, nor should they. If you love them, and their mild and quiet personality drew you in, then why the personality makeover now?
After all, you know your partner best, extrovert or not, and do what makes your loved one happy. Please make your own rules and follow them. Be your example to the world.
Related Reading: 

Here's Why You Shouldn't Try to Change Your Partner
6. They are not necessarily shy
Many people think that the terms shy and introverted are interchangeable, but this could not be further from the truth.
You would be surprised to see how not shy some introverts are. They need to be around the people they are comfortable with, and you will see a side of them you never have.
It is important to know this when you are dating an introvert. You might treat them in certain ways thinking they are shy, but that may not be true. Understanding that they need to be around some people and take their time to get comfortable is vital when dating an introvert.
Related Reading: 

How to Stop Being Shy in a Relationship: 15 Tips
7. They're good listeners
Introverted people tend not to speak too much. They are very observant and read the room before they talk. It is this quality that makes them great listeners.
Introverts in relationships are good listeners, and this can be a very endearing characteristic. If you are someone whose relationship needs include being listened to, then dating an introvert may be a great idea.
8. They're deep thinkers
Introverts tend to be great thinkers. They think about various topics – from history to existence to almost anything under the sun. They also like to be involved in deep conversations.
However, when dating an introvert, you must remember that apart from being deep thinkers, they are also overthinkers.
Sometimes, they can get too much into their heads, to the point where they have built so much apprehension in their heads that they cannot shake it off. This is one of the introvert dating problems.
In such times, they may need support and reassurance from you if you are their partner.
9. They are loyal friends
Introverts may not have a lot of friends, but they have a small circle of 'ride or die' people. They are also very loyal friends themselves. Introverts take any relationships seriously, and friendships are no different.
If you are dating an introvert, you may be introduced to their small circle of friends. It is also important to an introvert that their friends like their partner and vice versa.
Related Reading: 

What is Loyalty & Its Importance in a Relationship?
10. Introverts make good long-term partners
Introverts may differ from the life of the party or the person you go home with at the end of the night. However, introverts may be the right kind of people if you are looking for a long-term, healthy, and happy relationship.
They value relationships, are good listeners, and are often very grounded to earth.
FAQs
Here are some frequently asked questions about introverts.
1. How do I deal with an introverted partner?
If you are dating an introvert but are an extrovert yourself, it might get overwhelming or even annoying dealing with someone who has a personality so different from yours.
The first step to dealing with an introverted partner is to understand that since you are both opposites, chances are that they are also just as frustrated or annoyed with how you are sometimes.
It is also important to remember that they always were an introvert, even when you fell in love with them.
Remembering the qualities that make them lovely and the things you like about them can help you deal with an introverted partner.
2. How do introverts act in a relationship?
Introverts act just like any other partner in a relationship. Some good qualities of introverts in romantic relationships are the ability to have deep conversations and being a good listener.
However, an introverted partner in a relationship may not want to go out all the time and may not be a party person.
For them, quality time can be as simple as watching a movie at home while eating pizza.
The takeaway
Everyone has a unique personality. The introverted characteristics mentioned in this article may not be completely true for your partner, even when they are introverted.
It is not a one-size-fits-all.
However, suppose you are an extrovert dating an introvert. In that case, it may be important to consider who they are and how they behave before you step into a serious relationship with them.
It can get overwhelming to deal with a partner who is very different from you. If you both cannot work out your differences and would like to seek help, consulting a relationship therapist is a good idea.
Share this article on
Want to have a happier, healthier marriage?
If you feel disconnected or frustrated about the state of your marriage but want to avoid separation and/or divorce, the marriage.com course meant for married couples is an excellent resource to help you overcome the most challenging aspects of being married.
You May Also Like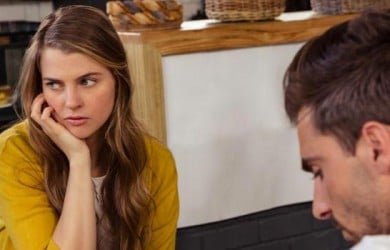 Popular Topics On Married Life