How to Stop Ruminating After a Breakup: 20 Ways
Experiencing a breakup is sometimes not a pleasant experience because it means detachment from your partner. Not everyone reacts to the reality of a breakup. Some people move on almost immediately, while others find it hard to let go.
If it is difficult to accept that you just experienced a breakup, you can learn how to stop ruminating after a breakup. In this article, you will learn how to stop thinking about the painful incident and explore life's other prospects.
Is it normal to ruminate after a breakup?
Whenever a breakup happens, it becomes apparent that your worst fears have been confirmed, especially if you loved your partner. Therefore, you might find yourself reminiscing about the lovely moments you spent with your partner.
You might think of replicating these moments, but it is impossible because the relationship doesn't exist. Don't be bothered if you are ruminating after your breakup, but it gets dangerous when it begins to affect your productivity in other aspects of your life.
Why am I ruminating about my ex-partner?
The primary reason why you are ruminating about your ex-partner is that you still hold on to some memories shared with them. These memories might be happy or sad ones, but you remember them all the same.
Some people ruminate about their ex-partners because they are angry with them and how the relationship affected them. Therefore, your reasons for ruminating about your partner are due to the cause and circumstances surrounding the breakup.
Why is rumination unhealthy
Rumination can become unhealthy when it is done excessively. Some people ruminate over their ex-partners and the just-ended relationship to the point where they become depressed.
The idea of rumination after a breakup is to allow you to know the important lessons that came with the separation. However, it can become unhealthy if you brood over the breakup and disconnect yourself from people.
Research shows that rumination can get to the point where it is unhealthy and we should try to avoid that. Brooding, reflection and regrets are included in this as they negatively impact the individual's mental health.
What can I do after a breakup?
One of the first things to do after a breakup is to accept that the relationship has ended. You need to realize that other phases of your life need good attention.
This is the point where you have to remember that you have other loved ones in the form of family, friends, and close acquaintances who will always be there for you. This is a productive approach to learning how to stop ruminating after a breakup.
Research suggests that focusing on the positive aspects of the past experience while avoiding negative emotions is an excellent approach to moving on after a breakup. But having a forward-thinking attitude is a positive way to handle a breakup's emotional impact.
How to avoid ruminating after a breakup
On how to stop ruminating after a breakup, you can start by distracting yourself. Focus on other time-consuming things but ensure they are adding value to you. When you productively distract yourself, you will think less about your ex-partner.
Another step is to separate yourself from anything that reminds you of them. You will not often ruminate over the breakup when you disconnect from these things.
Keeping yourself engaged in activities that give you pleasure and satisfaction is an excellent way to avoid stressing yourself out by thinking about the breakup constantly. You can stop obsessive thoughts after a breakup by doing this.
20 tips to stop rumination after a breakup
After parting ways with someone, it can be difficult to take your mind off them. If you share pleasant memories with them, you might keep ruminating, and it can affect you in different ways. Here are some effective tips on how to stop ruminating after a breakup.
1. Sever all connections with them
It will be hard to stop ruminating if you are still in touch with your ex-partner. To help yourself, cut all ties so that you will think less about them. You can start by deleting his phone number, emails, and other contact information.
Also, if you are logged into any of his media accounts, delete everything that connects the both of you. Also, if you are in contact with any mutual friends, you can cut connections with them to protect your mental health.
2. Don't monitor them online
After cutting ties with them, you might still feel like monitoring them. This usually happens because you want to know if they have moved on or probably found another partner. When you monitor them, you will keep having those obsessive thoughts after the breakup.
To let them out of your head, stop stalking them online, and focus more on yourself. It is fine if you accidentally come across their posts, but don't make it a habit of knowing what's happening in their lives.
3. Avoid reaching out to them
Before the breakup happened, you and your ex-partner probably communicated every day. However, there might have been nobody to converse with regularly since the breakup like before.
To implement ways to understand how to stop ruminating after a breakup, ensure you resist the urge to reach out to your ex-partner. This is where you need to protect your mental health, and communicating with them like before is not healthy for you.
Related Reading: 

10 Handy Tips for Letting Go of a Relationship
4. Accept the reality
To know how to stop ruminating over a failed relationship, one of the things you should do is avoid thinking that the breakup was not real. Some things in life are difficult to accept, including separation from your partner.
When you acknowledge the reality and the pain you are feeling, it will be easy to move forward with life. That is why it is one of the important ways to stop ruminating.
5. Be happy with yourself
One of the mistakes people make during obsessive rumination is attaching their happiness to the relationship. Therefore, when they break up with their partner, they find it hard to be happy.
You need to realize that happiness should emerge from within, not from relationships. It is crucial to be happy with yourself so that it would radiate in different aspects of your life, including your relationship.
Related Reading: 

15 Tips on How to Be Single and Happy
6. Do things that make you happy
After finding happiness from within, you need to indulge in things that make you happy. Remember that these things are secondary sources of happiness, so you should not be too disappointed if one of them fails along the line.
Similarly, be open to different unexpected sources of happiness. Sometimes, the unexpected things might bring the greatest joy.
7. Start getting productive
If you are busy ruminating about the past, you might not get anything done in the present. To know how to stop ruminating after a breakup, get busy with productive ventures. This is one effective way to get your mind off your ex-partner.
You can pick up a hobby you dropped or even start doing something different from what you are used to. Other things will occupy your mind with time, and you will think less about the breakup.
8. Find your identity again
Can you remember what made you special and what made people look up to you? If you have been ruminating after your breakup, reuniting with yourself is important to help you get better.
You need to remind yourself of your purpose on Earth and your assignment to humanity. When you feel disconnected after a breakup, do things that will remind you of who you truly are.
Related Reading: 

You're Lost: How to Hold On to Your Identity
9. Note the reasons why the breakup happened
Have you thought about the reasons why the breakup occurred? Knowing why it didn't work out will give you a good perspective on what to look out for in your next relationship.
It might be difficult for you to move on with your life because you will be feeling all types of emotions. However, try to figure out why the breakup happened so that you can learn the vital lessons.
Related Reading: 

20 Common Reasons for Relationship Break-Ups
10. Look forward to a better future
One of the gifts we have as humans is envisaging a good future. Instead of ruminating thoughts about your breakup, why not imagine a better future where you are in a better place.
You can look forward to having a better relationship, career, financial life, etc. It is one of the important anti rumination techniques because when you realize that you deserve better, you will feel less burdened by the breakup.
11. Throw the physical reminders away
It would be hard to deal with ruminating thoughts disorder if you still have things around you that physically remind you of them. This can be one of the most challenging parts of a breakup because throwing away those things means you won't see them forever.
Those little things might seem subtle, but they are powerful at invoking memories of the good times you shared with your partner. Since you and your partner have let go, you need to throw those reminders away.
12. Find out what you meant to your partner and vice-versa
You might be surprised to discover that you didn't miss the relationship but the role that your ex-partner played in your life. When you figure this out, it would be easy to heal from the breakup, and it will help you in dealing with rumination.
Also Try: 

Is Your Ex Over You Quiz
13. Rely on your support system
Another way to learn how to stop ruminating after a breakup is to depend on your support system. This category of people comprises those who genuinely care about you.
You need to reconnect more with these people and strengthen your bond with them. These people have a pivotal role to play in providing your life with balance and bliss, and you should open your eyes to this reality.
14. Speak positive words to yourself
To deal with intrusive rumination thoughts, you need to be kinder to yourself. Always speak positively to yourself to boost your morale, mood, and self-esteem. One of the reasons why some people find it hard to let go is because they feel that they are not enough.
When they experience breakups, it looks like a huge chunk of their life has been taken away. However, with positive words of affirmation, you can remind yourself of the potential you carry, which will help you stop ruminating after breakups.
Watch this video to learn about the impact of positive self-talk on individuals:
15. Set new goals
After a breakup, you are solely responsible for planning and achieving your goal without the influence of another person. Setting new goals will help you look forward to the future and ignite the excitement that comes with the prospects of achieving them.
Ensure you remind yourself not to keep looking back at the past. Even if you have some interesting memories, be positive that the future holds more fascinating times for you.
Related Reading: 

How to Get Over a Breakup: 25 Ways to Move On
16. Make a new friend
While you are trying how to stop ruminating after a breakup, you should try talking to someone new. It is not advisable to enter into a new relationship immediately because you need sufficient time to heal.
However, it would not hurt to meet someone new and talk with them. The primary goal is to broaden your scope about life generally and remind yourself that you need other forms of relationships to survive.
17. Let go of the resentment
You might be holding a grudge against your partner because of what they did to you. If you keep holding on to what they did, you might never be able to stop ruminating on what happened.
Being resentful would also prevent you from having a clear head because your mind will keep going back to what happened.
18. Establish some boundaries
After leaving the relationship, you need to put some boundaries to avoid making some mistakes again. These boundaries are lessons from your past relationships that you don't want to repeat. For instance, when you are ready to search for a new partner, you will know the qualities and features to look out for.
Related Reading: 

Why Setting and Maintaining Healthy Boundaries in Dating Is Important
19. Don't put too much pressure on yourself
Another way to learn how to stop ruminating after a breakup is to avoid expecting too much from yourself. You need to practice self-care to protect your emotional and mental health.
When you don't put too much pressure on yourself, you will be able to take one day, each step at a time.
20. See a therapist
The role of a therapist is often underrated because people don't feel comfortable discussing their issues with someone they are unfamiliar with. A therapist can teach you some effective tips on how to stop ruminating and go on with your life.
Relationship Expert Susan J. Elliott, in her book 'Getting Past Your Breakup,' is an eye-opener for anyone who wants to turn their devastating loss into the best thing that happened to them. This book contains proven plans to overcome the painful end of any relationship.
Conclusion
Accepting the reality of a breakup is challenging, but you need this to move on with your life. You can explore the tips mentioned in this article on how to stop ruminating after a breakup. Feel free to seek help from your support system to help you heal from the pain.
Share this article on
Want to have a happier, healthier marriage?
If you feel disconnected or frustrated about the state of your marriage but want to avoid separation and/or divorce, the marriage.com course meant for married couples is an excellent resource to help you overcome the most challenging aspects of being married.
You May Also Like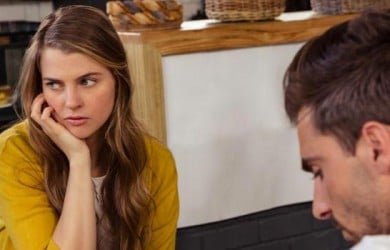 Popular Topics On Married Life