Craving Intimacy After Breakup? 11 Ways to Rebuild It
Craving intimacy after breakup is normal and understandable, compelling individuals to rebuild connections.
In this article, we delve into the reasons behind this longing, the significance of reestablishing intimacy, and the distinction between missing the person and yearning for the intimate bond they once provided.
Why does one crave intimacy after a breakup?
It happens! The craving for intimacy after breakup is due to the emotional void left by the end of a close relationship. The need for connection, affection, and support persists, leading to a desire for missing physical intimacy after breakup.
So, what does it mean when you crave someone sexually? It can serve as a means to heal, regain a sense of belonging, and fill the void left by the previous relationship.
Importance of rebuilding intimacy after a breakup
Rebuilding intimacy after a breakup is essential for individuals who are craving intimacy after breakup as it helps individuals heal, grow, and move forward.
Breaking up with someone can be painful and lonely. It can also damage your sense of self-worth and trust in others.
That's why it's important to rebuild intimacy after a breakup, whether it's with yourself, your friends, or a new partner. Intimacy can help you heal, grow, and find happiness again. It can also make you more resilient and confident for the future.
Distinguishing between missing the person and missing the intimacy
Distinguishing between missing the person and craving physical affection involves recognizing that the longing may not solely be for the individual, but for the emotional connection they provided. It requires introspection to understand if it is the specific person or the closeness and intimacy that is being missed.
11 effective strategies to rebuild intimacy after breakup
Rebuilding intimacy after a breakup is a crucial step towards healing and establishing meaningful connections, whatever the reasons why people breakup and are left craving intimacy after breakup.
In this section, we present 11 effective strategies that can help individuals navigate the process of rebuilding intimacy. These strategies encompass self-reflection, communication, vulnerability, self-care, and fostering new connections to foster a sense of closeness and emotional fulfillment.
1. Self-reflection
In order to build a larger understanding of yourself and what you need in a new intimate connection, take the time to understand your wants, desires, and boundaries.
This will allow you to establish a greater knowledge of what you need in a new intimate relationship. If you do this, you will be able to have a better understanding of the information you are looking for.
2. Open communication
When you're craving intimacy after breakup, be honest with your conversations.
Encourage open, honest, and transparent communication with prospective business partners by cultivating a climate that is receptive to free-flowing dialogue and building the groundwork for trust.
3. Rebuilding trust
Important aspects in the process of reestablishing lost faith include tending to past wounds and working towards restoring trust in new relationships via patience, consistency, and mutual understanding. This may be accomplished by a combination of these traits.
4. Emotional healing
All types of urges including craving intimacy after breakup will likely end with your complete emotional healing.
On a spiritual and psychological level, you should allow yourself time and space to emotionally heal from the split, and if you feel the need to, seek support from loved ones or professionals. You should give yourself time and space to emotionally recover from the breakup.
5. Self-compassion
This is an activity that comprises being kind and compassionate to oneself, knowing that rehabilitation takes time and that one is deserving of love and connection, and other similar activities.
Self-compassion is a practice that has been increasingly popular in recent years through which you can combat a lack of affection and intimacy in a relationship
6. Embrace your frailties
When you are willing to be vulnerable with new partners, you may be able to develop a better emotional connection by revealing your fear of intimacy after breakup, insecurities, and ambitions. But only if you do so with the right people. A willingness to be vulnerable is required.
7. Take it slow
Take things simple and establish a steady pace for the growth of intimacy while allowing the relationship to proceed in a natural and unforced manner. There may be signs he is hurting after the breakup but this will allow the two of you to become closer.
How long does it take to get over a breakup? Watch the insightful explanation by British journalist Mona Chalabi:

8. Explore new activities together
Take part in activities and outings with one another or a hookup after breakup that will bring you closer together while also providing opportunities to forge new connections and memories with one another.
9. Prioritize quality time
If you want to improve your emotional connection and your bond with your partner, you should make spending quality time together a high priority by setting out chunks of uninterrupted time to spend together which will also bring you to how to stop craving sex.
10. Participate in active listening
One of the best ways to show that you care about your partner and are interested in what they have to say is to actively listen to what they have to say. This will contribute to the development of comprehension and connection.
11. Seek professional help if needed
When in doubt, seek the advice of a professional.
Take into consideration taking part in some type of talk therapy or counseling in order to work through the issues that occurred in prior relationships and gain support on how to rebuild intimacy in a way that is both healthy and pleasant.
This will allow you to work through the issues that arose in previous relationships.
What are some healthy ways to cope with craving intimacy after breakup?
Healthy ways to cope with craving intimacy after breakup include self-care practices, such as engaging in hobbies and self-reflection, seeking support from friends and family, focusing on personal growth, and allowing yourself time to heal before pursuing new relationships.
Some important questions
Further to the above discussion we address a few questions that may often crop in the minds when talking about post-breakup cravings.
What role does self-love play in the process of rebuilding intimacy after a breakup?
Self-love plays a vital role in rebuilding intimacy after a breakup. By cultivating self-love, individuals can develop a strong sense of self-worth, which forms the foundation for healthy relationships.
It allows them to set boundaries, prioritize their well-being, and attract partners who respect and value them while craving for intimacy.
How can lessons from past relationships be used to foster intimacy in the future?
Lessons from past relationships serve as valuable tools for fostering intimacy in the future. Reflecting on past experiences helps individuals gain insights into their needs, desires, and patterns.
By learning from mistakes, identifying red flags, and understanding their relationship preferences, they can make informed choices, set healthier expectations, and build stronger, more fulfilling connections and tackle craving intimacy after breakup.
Moving on with confidence
As we said in the beginning, craving intimacy after a breakup is natural, but it can also hold you back from healing and moving on. Instead of seeking validation from others, focus on yourself and your own needs.
Reconnect with your passions, hobbies, and goals. Surround yourself with supportive people who respect your boundaries. And remember, you are enough. You don't need anyone else to complete you or make you happy.
Share this article on
Want to have a happier, healthier marriage?
If you feel disconnected or frustrated about the state of your marriage but want to avoid separation and/or divorce, the marriage.com course meant for married couples is an excellent resource to help you overcome the most challenging aspects of being married.
Learn More On This Topic
You May Also Like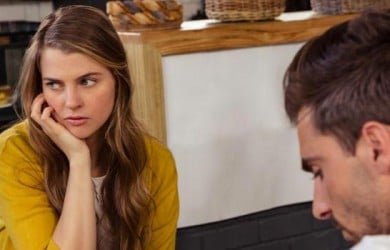 Popular Topics On Married Life