You're Lost: How to Hold On to Your Identity
Are you guilty of losing your identity in a relationship and forsaking your autonomy altogether?
When you start a new relationship, whether it is with a new friend or being a spouse in a marriage, the experience can leave you feeling overjoyed. You are trying to have a connection, a bond that brings you and your special someone closer together.
While this is a good idea, you have to be careful not to lose your own identity. It is important to remember that individuality is what drew the other person to you in the first place.
It is not uncommon in new relationships to start taking on other people's habits and lose your own in the process. The changes in you are so subtle, you don't realize them until after the relationship changes or dissolves. Then you are left wondering where that person is you where before you got involved. You say to yourself, "What happened to me?"
Outside of being a wife, mother, husband, father, employee, you have to have an identity that is all yours. With so much going on in your daily life, it can be a struggle hanging on to your individuality. Listed below are a few suggestions to help you not lose who you are.
Do me
Spend time (daily, weekly, etc.) to do something you enjoy. Whether it is by yourself or with someone else, the most important thing is that you take some time to "do you." That helps in ensuring you don't end up losing your identity in a relationship.
Keep close contact
Make sure to keep in touch with friends and family while in your new relationship. It can be difficult, but even if it is a text or a social media post, at least check in to say hello.
If possible, set up a lunch or coffee date. This gives you an opportunity to vent, swap stories, or get a fresh perspective on an issue/concern and helps in not losing your identity in a relationship.
Safe space
You shouldn't feel bad for saying no, especially if it is something that makes you feel uncomfortable. Setting up boundaries lets the other person know your comfort level, which you have every right to have.
If the other individual person cares for you, they would want you to feel good all the time and won't wish you losing your identity in a relationship or losing yourself in marriage.
Tips on how to be independent in a relationship
Losing yourself in a relationship or feeling an unhealthy sense of merging where you don't want to spend time with yourself is alarming.
If you are so deep in your relationship that you no longer stay yourself, and are unable to maintain an identity as a separate person, that's when you are losing a sense of self in relationship.
Being involved with someone in a long term relationship should not mean that finding yourself in a relationship and being your own person becomes an uphill task. That's not how a couple in a healthy relationship should operate.
It is crucial to remember at such times that the objective of a happy and healthy relationship is to stay close and at the same time look for effective tips on how to find yourself again in a relationship.
So, how to be more independent in a relationship when you have meshed together in the most unhealthy way in a relationship?
These tips on how to remain independent in a relationship will help you break this unhealthy pattern, reconnect with yourself and stay true to yourself while enjoying long-lasting happiness in your relationship with your spouse.
On how to be yourself in a relationship, learn to agree to disagree. To establish independence it is important to understand and accept your partner's point of view, even if it is not in tandem with your perspective on the subject.
Being independent in a relationship is possible only if you stop relying on your partner to fulfil all your wants and needs. Unhealthy codependency in a relationship is the ultimate buzzkill for couples. Try to strike a fine balance between being independent and codependent, and aim to be interdependent in relationships while being yourself in a relationship.
When you lose yourself in a relationship, it is important to remind yourself of your core value system. Don't replicate your partner's values just to be in a relationship, continue standing for your principles and values, to grow in a solid love partnership with your significant other.
Finding yourself again in a relationship requires you to figure out what other things you want in life alongside your relationship. While you should prioritize your relationship, don't make it the only focal point of your life. Take stock of what's important aside from your relationship and discover ways to find your independence.
Alongside this advice on how to be your own person in a relationship, you need to learn to be happy with or without your partner.
While staying loyal and committed is important, equally relevant is going out, meeting new people, having your own passions and exploring activities that make you happy.
For a relationship to grow, it is important to take care of your own needs, strive for some solo experiences and love yourself.
Share this article on
Want to have a happier, healthier marriage?
If you feel disconnected or frustrated about the state of your marriage but want to avoid separation and/or divorce, the marriage.com course meant for married couples is an excellent resource to help you overcome the most challenging aspects of being married.
More On This Topic
You May Also Like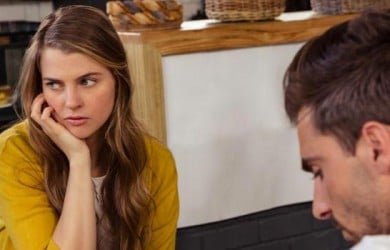 Popular Topics On Married Life