How to Move On Without Closure? 21 Ways
It's natural for humans to want to figure out how to move on without closure. That's because they have the desire to resolve any situation. So, they want to understand why a specific situation didn't work.
Moving on can be difficult if they don't have the closure they need. This is more real in a breakup without closure.
It's likely harder to end a relationship without closure, but there are effective tips on how to get over someone without closure. Continue reading to know more about these.
What is closure in a relationship post-breakup?
Closure after a breakup means the impulse of your brain to understand the situation. So, you go through all the events leading to the breakup. What happened in the relationship? How did it end up this way?
When you feel satisfied with the answers you got, you have closure.
No closure after a breakup is painful. It can be tempting to ignore the pain and force yourself to move on. But this is a mistake since you need to deal with what you're feeling to move on healthily.
Related Reading: 

Healing Relationships After Breaking Up And Making Up
Can you move on without closure?
No, that's because healing is different from closure. You can heal even without closure. When you heal, you can go through life even if there's pain left.
To heal, you need to realize what you've lost and give yourself time. When the breakup has no significant meaning, this is an indication that it's possible to move on without closure.
Why do many people find it hard to move on from an unclosed relationship?
One of the main reasons it's hard to move on without closure is social media. Through social media, you seemed loosely connected with your ex. So, you can't forget them and move on with your life completely.
Because you see them from time to time on social media platforms, you'll be tempted to try hard to piece together different clues you uncover as you check their accounts. This will make you feel worse and think of scenarios of what went wrong in the relationship.
It would help if you kept in mind that moving on without closure can be as challenging as moving on with closure.
Related Reading: 

15 Ways on How to Accept and Move on From a Relationship
Watch this video by Coach Lee to see whether you need closure from your ex after a breakup:
21 ways to move on without closure
Yes, it might not be easy to move on from a relationship that did not have any closure. But it doesn't mean it's impossible. By having the right approach, discipline and some patience, you can move on in a positive direction.
Here are a few tips for moving on without closure:
1. Understand that closure begins with yourself
You might be thinking that the last conversation equates to getting closure from an ex. But, understanding that it comes within you is how to move on without closure and feel peace.
2. Accept that closure requires patience
It would help if you gave yourself time. This isn't only true in breakups as it also applies to whatever hurtful ending you've experienced. Doing this helps you gain closure soon because you have more patience. As time passes, you figure out the answers and lose the desire to have closure.
Related Reading: 

10 Reasons Why Is Closure Important in a Relationship
3. Let yourself absorb the emotions
Emotions come and go. They're inevitable, but they are important in the healing process. But most people try to hold their feelings in. This could result in feeling depressed and anxious.
It's okay to feel some negative emotions when you lose someone. Embrace these so that you can feel relief.
4. Effectively communicate one last time
Receiving no response is often a powerful response when learning how to move on without closure.
When someone doesn't respond to your attempts to communicate, there could be different reasons. However, rather than sending unclear or demanding messages such as "Please talk to me," you have to be more strategic with your follow-up message.
Your message should make the receiver feel the need to respond directly. If they don't answer, you have to make sure not to send another message again. If they respond without the explanation you need, you can give them time until they're ready to talk.
Related Reading: 

6 Steps to Effective Communication in Relationships
5. Don't blame yourself
What's worse than a breakup is feeling that you are the one who is responsible for everything that went wrong in the relationship.
Self-blame can make you feel ashamed, ugly, guilty, and other negative feelings about yourself. Though you may have done something wrong in the past, it doesn't mean that you're the one to blame for getting ghosted.
Research shows that self-blame can adversely affect one's sense of self and outlook.
So, this has nothing to do with your self-worth. No one deserves getting ghosted or having no closure in a relationship. This act reflects more on the person who did it.
An effective way to understand how to move on without closure is not focusing on your imperfections.
Related Reading: 

How to Stop the Blame Game in Your Relationship
6. Try being a forgiving person
Letting go of all the hate, anger, and disappointment you feel while you grieve is how to move on without closure. That means you have to forgive the person who caused you pain.
Depending on their emotional maturity, you have to treat your ex kindly. You must understand that you didn't get the closure you deserve because your ex is not strong enough to explain themselves to you.
Some people deal with emotional issues this way, so sometimes it's better to be the bigger person.
7. Hope for the best for your ex
Aside from forgiving them, you can step up your recovery process by wishing your ex all the best. You don't need to pressure yourself to do this.
You can be compassionate enough not to wish the other person to feel the same pain as you did. It'll help if you understand their actions through psychological and spiritual perspectives.
8. Think of a closure ceremony
A closure ceremony is something you can regularly do to remember a chapter in your life that ended. Here are some closure ceremony ideas you can do:
Visit a place regularly and

meditate

to let go of someone or something.

Gather the possessions of someone to remind yourself that you're not putting yourself through them.

Go to the places that remind you of something or someone and make new memories there.

Reflect on things that can help you

let go of relationships

with someone or something.
9. Separate yourself from the situation
If possible, it's best to leave behind the person you need closure from. You can have a wiser and fresher attitude toward things by doing this. As a result, you can let go of the things not worth holding onto.
Here are some of the things you can do to help you distance yourself:
Take a break from using social media or the internet.

Go on a retreat alone.

Have a weekend vacation or holiday.

Slow down in doing your routines.

Go on a hike weekly to ponder on your situation in another place.
10. Try a new hobby
You can discover a new interest or try a new hobby to avoid having thoughts of your past and cope through rebound relationships. Not only does it help in your healing, but it also allows you to use your free time constructively.
11. Send a message to your ex
Sending a message to your ex is an effective method to learn how to move on without closure and can help you recover from bad relationships.
You need to get a blank piece of paper and write everything you want to express to your ex without making any changes.
From love, happiness, and memories to resentment and anger, pour out all your thoughts in your letter. It's perfectly fine if you take the time to write this. While writing, you can realize the truth.
After finishing your letter, you don't send it to your ex. Instead, you burn, crumple, or tear it apart to help you heal faster and symbolize the beginning of moving forward in your life.
12. Write a message for yourself
After writing a message for your ex, the next person you write a message to is yourself. You can write a message to your future self. You think of what your current self wants to share with yourself six months or several years from now.
Writing about harsh truths about your current self and affirmations can help give you hope.
Related Reading: 

What Is Self Love?
13. Don't try to contact your ex
Except for the last message you'll send, you should keep in mind that sending many messages to your ex doesn't guarantee that they'll try to reach out. The best thing to do is keep your dignity and look for peace within yourself.
Also, if you keep on trying to contact your ex, they might get the wrong idea. In some cases, it can become essential to learn how to get closure without contacting the other person.
14. Think and forget
When you reflect, you can learn a lot from your experiences. You also avoid feeling depressed because you don't have negative thoughts.
It's recommended to spend several hours every day or once a week reflecting on the person you need closure from. You can determine the answers to your questions, which helps you let go and accept the future wisely.
Related Reading: 

20 Reasons to Forgive but Not Forget in Relationships
15. Do appreciation meditation
Appreciation helps ease the pressures in life and makes you realize the beauty of life. So, rather than thinking of your ex as a bad person for hurting you, you can be grateful for that person for giving you many life lessons.
Research has shown that appreciation and gratitude can positively impact one's well-being.
You can set at least ten minutes every day to list down the things you're thankful for from your previous relationship. Realizing the positive from something negative is beneficial in your healing because you appreciate the life lessons the experience has taught you.
16. Be patient
You'll benefit a lot if you are patient in searching for closure. There's a possibility that your ex will try to reach out and give you the answers you need. However, it would help if you learned to wait.
Your ex might apologize in the future, so it's best to be patient.
17. Focus on the present
Rather than focusing your energy on the past which affects you emotionally, you better concentrate on the present. Moving on without closure means moving forward and leaving the past behind.
Related Reading: 

10 Ways of Being Present in a Relationship
18. Make changes in your routine
You need to change your routine, especially if it involves someone you need closure from. You can use the time you would previously spend with your ex to try something new or look for new friends.
This is an effective tip on how to move on without closure because you end up distracting yourself and diverting your energy into new and more productive beginnings.
19. Involve your friends in the process
Talking to your friends about your healing process is good. However, you can progress if you become responsible for what you say you'll do. If you say you're not going to contact your ex again, inform them and do it.
20. Delete details from the past
Whatever you see on social media that reminds you of the past, such as your Facebook status, you have to delete these.
If you want to stop living in the past completely, you can try to avoid things that are connected to your past relationship. At least, until you've completely moved on and healed from it.
21. Consult with a professional
Your family and friends can help you heal when you share your thoughts and experiences with them. But seeking professional help will help you go deeper into your feelings.
Some challenges can be too tough to overcome on your own, so talking to a therapist or coach can be advantageous.
Final thoughts
Finally, you better understand closure after a breakup and what you can do if you don't get the closure you need. No single method guarantees that the healing process will be smooth since there can be challenges on your way to recovery.
But, by following the provided tips, you can free yourself from your complicated relationship and give yourself the chance to discover new interests and relationships. Counseling will also help you overcome the need for closure.
Share this article on
Want to have a happier, healthier marriage?
If you feel disconnected or frustrated about the state of your marriage but want to avoid separation and/or divorce, the marriage.com course meant for married couples is an excellent resource to help you overcome the most challenging aspects of being married.
More On This Topic
You May Also Like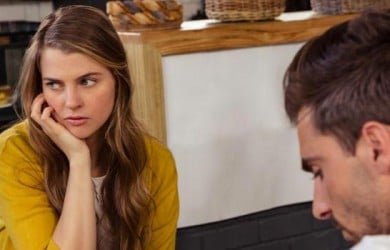 Popular Topics On Married Life