How to Accept the Past of Your Partner: 12 Ways
The truth is that everyone has a past, but it may be hard to move forward after you hear about your partner's past, depending on what it entails. However, there are ways you can learn how to accept the past of your partner so that it won't bother you anymore. Here's a look at how to accomplish this task.
Does your partner's past matter?
When you are trying to understand how to get over your partner's past, this is something that can take a lot of time and energy on your part.
In many cases, your partner's past may not matter, but you must know your partner's past to feel comfortable building a future together.
Keep in mind that you need to think about your past before judging your partner on their past, especially if you feel like a partner's past bothers me. Your past may also bother your partner and they are keeping quiet about it.
Also Try: 

How Well Do You Know Your Spouse's Past?
Should you be bothered by your partner's past?
When it comes to should someone's past affect relationship, the answer is probably not. If you are with someone and they have given you no reason not to trust them, their past is likely not an issue that will negatively affect your relationship.
You have to learn how to accept the past of your partner if you would like to have a productive relationship with them. Even if you think your wife's past relationship bothers you, or you are wondering why does my husband's past bother me so much, these are issues that you must work through.
Your spouse's past may have very little to do with your relationship with each other.
Evidence suggests that you are more likely to be jealous in your relationship if you are unsure of your attachment to your partner. If this is the situation in your marriage, you may want to consider what you wish to do about it. You can attempt to grow your bond or work on your insecurities.
Is it essential to know your partner's past?
You might also be curious about does the past matter in a relationship and the answer is it may be important to you, and it may not be.
If you have been in relationships where a person's past has interfered with the present relationship, you may be sensitive to your partner's past.
On the other hand, don't let past relationships ruin present ones. This could prevent you from being happy and being with the person you should be with, simply because of something that happened in their past that can't be changed.
12 easy ways to accept your partner's past
When you are facing difficulty figuring out how to accept the past of your partner, there are some easy ways to go about it. You don't have to be jealous of partner's past any longer. Read these ways and use them when you learn more about accepting your partner for who they are.
1. Talk to them about it
One way related to how to accept your partner's past is to talk to them about it. If you are interested in knowing more about their past relationships and what they involve, ask them questions. At the same time, you must be ready to answer questions about your past too.
If this makes you uncomfortable, you should reconsider bringing up the past in a relationship.
2. Tell them your concerns
Another tip on how to get over someone's past relationships is to share your concerns about them. If you have heard things regarding other people they have dated or how they have treated others previously, speak with them about how you feel about this and see what they have to say.
Of course, if this is your current partner, you owe it to them to trust whatever they say. After they address your concerns and give you the details you want, you need to keep from being suspicious. They took the time to try to allay your fears, which is important.
3. Put yourself in their shoes
It can be pretty tricky when you are investigating how to accept the past of your partner. However, an easy way to do this is by putting yourself in their shoes.
Once you know their story, consider if it would be easy for you to share your history with someone you care about. You may realize that it took complete honesty and courage to open up to you. This could allow you to appreciate your partner and that they care about your feelings.
Related Reading: 

How Seeing Things From Your Partner's Perspective Can Boost Your Love
4. Consider what aspects bother you
If you are concerned when a wife tells me about her past lovers, this is something that you need to work out within yourself. Think long and hard about what aspects of what she told you bother you and what can be done about them.
Maybe you are upset at the number of lovers they had in the past or how some of them treated them. Either way, you need to determine what is bothering you the most about what you know to decide how to move past these issues.
5. Don't let it invade your thoughts
You must choose how to forget your partner's past, so the details aren't always front and center in your mind. If this is all you can think about, it will significantly affect your current relationship.
Pouring over something repeatedly in your mind is known as rumination, and it can affect your mood and could lead to a mental health condition if you engage in it too much.
Related Reading: 

4 Tips on How to Get Rid of Negative Thoughts in Relationships
6. Think about how you feel about them
While you are figuring out how to deal with your partner's past, you need to think long and hard about how you feel concerning them.
If you feel like they may be your soulmate or have a real future with them, you owe it to yourself to let the past go. You can make history with your mate and not be concerned about any partners that came before you.
7. Trust them
You should always trust your partner, regardless of if you have figured out how to accept the past of your partner.
They have chosen to be with you and if you are also satisfied in your relationship, then there is little for you to worry about on that front. On the other hand, if you are not satisfied, you must decide what you want to do. Consider all of your options.
Related Reading: 

The Importance of Trust and the Science Behind It
8. Follow your instincts
Along with determining what you want to do about your relationship, you should also follow your instincts regarding how to forget your partner's past.
If there have been no red flags to speak of the whole time you have dated or been married, you should know that issues will be unlikely to pop up. Or if there have been things that you were ignoring, consider what this means for your relationship and if you want to continue in it.
9. Be aware of your past
While working on how to accept the past of your partner, understand that they may have to do the same thing regarding your past. This could be just as difficult for them as you, so you may want to cut them some slack.
Remember that you chose to be with each other, and it is only the two of you in the relationship.
Related Reading: 

Should You Tell Your Partner Everything About Your Past or Not?
10. Don't allow yourself to be jealous
You do not have to be jealous of your partner's past. It is their past, but they are no longer with the others that they used to have relationships with.
Instead, you need to work on how to accept the past of your partner in a healthy way so you aren't jealous or bothered by the things that have happened previously.
For additional information on how not to be jealous of your partner's past, check out this video:
11. Keep at it
Keep at it as you are doing your best to get over your partner's past. Feeling better about the situation, especially if you only recently heard all the details, could be something that takes you a while to process and move on from. This is to be expected.
Take your time and make sure that you are realistic in your expectations.
12. Seek therapy
If you do not understand how to accept the past of your partner no matter how hard you try, you may need to meet with a therapist for help and advice. They should be able to support you in changing how you think about certain situations and put everything in perspective.
You can even choose to seek therapy with your spouse if both of you agree to it. Therapy may improve a marriage and the satisfaction experienced within it.
Related Reading: 

What Is Relationship Therapy – Types, Benefits & How It Works
Summing up
There are multiple things to consider when it comes to how to accept the past of your partner. You might experience jealousy or distrust once you learn details about the relationships that your mate has previously engaged in.
However, you should think about what you have together and if it is worth sabotaging over the past or not. When it is challenging to figure out what else to do, consider reaching out to a therapist, who may be able to provide more information and advice on how to move forward in your relationship.
Share this article on
Want to have a happier, healthier marriage?
If you feel disconnected or frustrated about the state of your marriage but want to avoid separation and/or divorce, the marriage.com course meant for married couples is an excellent resource to help you overcome the most challenging aspects of being married.
More On This Topic
You May Also Like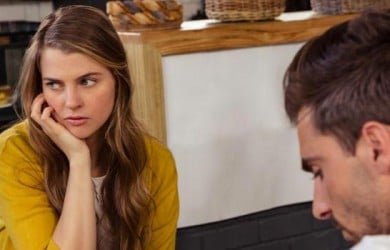 Popular Topics On Married Life