How to Know When to Let Go of a Relationship: 15 Signs
Relationships go through periodic rough patches; that's natural. Most are worth the peaks and valleys making partners strive to put forth immense effort to get through those tough times and come out stronger, closer, and with a more established band.
There's comfort, certainty, and familiarity in those bonds, so when doubt sneaks in, many tend to push it away the first few times, unsure when to let go of a relationship or if they should.
No one wants to go back into the unknown or face being alone if they don't have to; instead, choosing to hold on to a connection they're beginning to recognize is lost.
When assessing whether this is one of those times your effort can put it back together or whether you genuinely want to, you know in your heart staying together isn't for the greatest good of either of you. Still, when is it time to let go of someone you love?
Why knowing when to let go is so hard
That is okay when you have a partnership; it can be confusing if uncertainty comes in to shake things up. You begin to question whether there would be more benefits of letting go than continuing in the current pattern.
While it's not abusive, since that would make the decision straightforward, it's not the union you see yourself in for a lifetime.
It undoubtedly will need to come to an end; it's merely a matter of knowing when to let go of a relationship and how.
Your mate might be more invested, making the break hurtful and difficult for them, plus you've grown comfortable and familiar.
While you have friends and family, being alone will be new, and the potential for starting over is intimidating.
You need to figure out the best way to cope with these fears rather than push away the doubt and stay in a partnership that's not working.
That would be unfair to you and your mate. It's time to learn to let go and move on. Read this literature on how to deal with the after-effects of a breakup.
Also Try: Should I Let Him Go Quiz
15 Signs that it's time to let go
Life is about choices, and sometimes those choices are not the easiest to make. That's especially true when it comes to letting go of a relationship.
We as humans often want to hold on to what provides us with a certain level of comfort and security instead of choosing to let go of that familiarity.
Still, sometimes letting go is easier than holding on or at least the best thing for everyone when that connection is lost. How do you know when that time has come? Here are some signs it's time to move on instead of living unhappily.
1. Putting on airs is the new norm
When there comes the point where you are no longer comfortable being authentic around your mate due to too many misunderstandings occurring or enduring too much judgment, you are put in a difficult spot.
Either you see yourself letting go of a relationship or staying simply because letting go means having to start from scratch with someone else, and that's intimidating.
Related Reading: 

How Do I Make My Partner Realize Their Responsibilities

?
2. Happiness doesn't describe the partnership
A relationship shouldn't merely be about going through the motions. All partnerships will endure rough spots, but most mates can work through those patches into more blissful periods where closer bonds are established.
If the union remains lifeless and sad, it speaks to neither partner wanting to do the work anymore to jumpstart the heart of the couplehood. That is how to know when to let go of a relationship.
3. Life circumstances are different
You have each grown in different directions finding your needs and desires different. While you want the same things at one time, that's no longer the case. It can be challenging when you're on a different wavelength to compromise vastly.
With varied objectives, lives will go in separate directions, eventually resulting in the pair drifting apart. As the distance becomes more remarkable, it becomes apparent when to let go of a relationship.
Also Try: What Do I Want In A Relationship Quiz
4. Complaints and criticism are the courses of the day
When a partner is not appreciative of your attributes, instead constantly complaining and critiquing what they feel are weaknesses, these are signs you should move on.
Not only is your mate not observing the good qualities you have to offer, but you are facing challenges seeing positivity with your partner due to all the negativity that's coming from them.
5. Monotony replaces passion
Losing passion, whether in the bedroom or the overall interaction as a couple daily, can often lead to a partner seeking companionship outside the relationship.
It can, in many instances, lead to emotional, if not physical, affairs since mates look to find the connection they've lost at home.
Here is a video that can suggest some ways to make your relationship fun again:
6. Loneliness is beginning to set in
A partnership starts to feel broken when you start to believe that you can no longer share any details of your life.
Still, at one time, you couldn't wait to tell your mate the most insignificant triviality from your day, building it up as if it were something so fantastic, and they would exude excitement as if they had never heard something so extraordinary.
These tales are spun with friends and family while there is silence between you, begging the question of when to let go of a relationship.
Also Try: Am I Desperate for a Relationship Quiz
7. Resentment and frustration are inevitable
Rough patches typically require a great deal of effort and compromise to come out on the other end in a brighter frame of mind and closer to each other than even before the challenges.
Suppose you give your partner the effort, are the only one communicating through the difficulty and make all the compromises to regain good relations.
After doing this a few times, you recognize you're the only one giving and find yourself becoming frustrated, which will only grow into resentment.
At this point, you start to consider when to let go of a relationship since your mate is not participating in maintaining it.
8. Neglect is excused or justified
You'll decide when to let go of a relationship when you find yourself continually making excuses as to why your mate is lacking in some way, whether missing affection, non-communicative, or overall just neglectful.
When a partnership is unhealthy or makes you feel like you have to excuse it to friends or family, it's not worth holding onto. It's not benefiting you in any way, or you wouldn't find a need to be defensive of it.
It's time to move on to something that makes you genuinely feel good. Here's a guide on surviving after the emotional rollercoaster stops.
9. Fighting is a constant form of communication
A good indication of when to let go of someone is when you regularly fight, not just heated discussions but genuinely yelling and arguing with each other, non-constructive communication.
These kinds of interactions leave issues unresolved and each person feeling bad.
Underlying frustration rears its head given the lack of understanding between the two of you to have a conversation effectively. Incompatibility is a reason to let go of the partnership and move on.
Also Try: Do We Fight Too Much Quiz
10. Feeling drained, not energized
A good relationship should motivate and encourage, lift your spirits but, instead, you feel drained from the interactions.
When your mate no longer supports you, whether it be your interests, goals with your job, dreams, or even personal desires, it can deflate you as a person.
A partner is the one individual you look to as a sort of mascot on the sidelines cheering you on. Losing that makes you want to let go of the relationship, but the familiarity of what once was lingers, and you and many people try to hold onto the hope that they can be again.
11. The relationship is suffocating and burdensome
You no longer feel joy when interacting with your partner. You feel suffocated and burdened by the constant inquiries as to where you go and what you do, who you're with, a sense of always having to explain something.
You dread spending time with them instead of feeling joy at the notion. It's a sign it's time to move forward.
Also Try: Is He Rushing Into Things Quiz
12. Change is the anticipation
Each day you believe that your mate will change into the person you were within the beginning instead of this person you no longer recognize or with whom you find happiness.
You're holding out for that to happen, but you're not making improvements or looking at your behavior to see where changes can be made.
The two of you are basically at an impasse. And realistically, no one, not even you, should have to change to make a partnership work. Each should complement the other and accept the other as is.
13. Lying has become a method of coping
When you find yourself making up stories so that you can avoid certain lines of dialog or keep from going home until later in the evening to keep interacting to the bare minimum, it's most certainly reaching the time when to let go of a relationship.
Lies turn into mistrust, and that's not something that can be rebuilt easily. When you resort to lies, the partnership is on the way down.
Also Try: How To Tell If My Husband Is Lying Quiz
14. Abuse or violence
For anyone enduring any abuse or violence in the home, there is no question when to let go of a relationship; the response would be now.
No one should remain in a home where they are hurt emotionally, mentally, physically, sexually, or any combination of these.
Find a safe place to go and contact the authorities as appropriate.
This behavior does not warrant any excuse or justification. It is inappropriate, wrong on every level, and no one needs to tolerate it.
15. Is there room for therapy
In cases when you feel the relationship might benefit from couple's or individual counseling, you should most certainly go for individual counseling because a professional will help you move on to a more healthy partnership where you might otherwise feel a bit of trepidation.
Whether the partnership is, in fact, salvageable (except in cases of abuse or violence) will be determined with your counseling sessions.
It would be best if you had the impartiality, understanding that you want to hold onto what's familiar and comfortable instead of heading out into the unknown or starting over from scratch, both a bit intimidating.
In most of the situations presented, the problem is that it's in your best interest to let go and move forward. Check this study that looks at the psychology of letting go.
Also Try: Quiz: Do You Need Couple's Therapy?
How to let go of a relationship
Letting go of a partner can be exceptionally confusing. One moment it feels like the exact thing you need to do, but in the next, self-doubt creeps in, making you question everything you thought you knew.
It's intense, to say the least. It generally involves a few tries before you cut the ties.
Still, some are unable to take that step because the anticipation of the loss is unbearable despite the circumstances, even if there is abuse.
That is not in any way implying anyone should stay in an abusive situation. Each person has to make a personal choice. Check these steps for guidance on how to make that move forward.
Conclusion
We all have choices that sometimes challenge us to the core. In some cases, rather than have to face these, we take what we feel is the safest route by staying in what is familiar and comfortable instead of venturing out into the strange and unknown where it could be worse, scary.
We hold ourselves back from probable growth, strength, bliss. The ideal way to maneuver through trepidation is to seek individual counseling from a third party before deciding to move forward.
A professional can guide you through the process and make the actual transformation into your independence so much smoother.
Share this article on
Want to have a happier, healthier marriage?
If you feel disconnected or frustrated about the state of your marriage but want to avoid separation and/or divorce, the marriage.com course meant for married couples is an excellent resource to help you overcome the most challenging aspects of being married.
More On This Topic
You May Also Like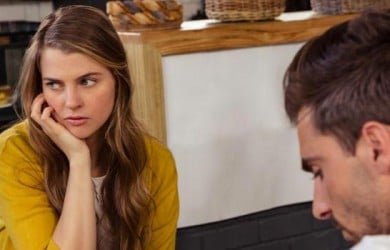 Popular Topics On Married Life