20 Ways to Focus on Yourself in a Relationship
When it's just us and ourselves, we're really good at prioritizing ourselves. Many people are doing well by themselves. However, once in a relationship, they begin to lose their individuality in order to not start trouble and to satisfy their partner.
This is not to say that pleasing and being pleased with your partner aren't important in a relationship. However, every relationship requires a healthy balance of your alone time and time shared with your partner. You need to understand when you need distance and when you've gone overboard with your partner.
So, what happens when we get lost in a relationship? We will learn more about how to focus on yourself in a relationship in the next parts.
What does it really mean to "focus on yourself"?
When was the last time you gave yourself some "me" time? Is it really that long? That's reasonable considering that you most likely have a lot on your plate. On the other hand, you would like to spend time with your loved ones, which can lead to you agreeing to just about everything they ask.
It is difficult to deny that your loved ones play an essential role in your life.
However, if you neglect other parts of your life, you may begin to feel out of sync. And, as with most things in life, learning to focus on yourself while in a relationship is all about finding a fine balance.
Prioritizing your own needs and goals over those of others is what is focus on yourself meaning. Consider your presence to be a garden, with each plant representing a different aspect of your well-being.
As you water each garden bed, your watering can will ultimately run dry. As a result, you must know which plants are deserving of your attention in order to avoid running out of supplies.
This does not suggest that you are actively focusing on one plant at the expense of others. It simply means that you are not depleting your watering can too fast in order to keep all of the plants happy.
Thus, focusing on yourself is comparable to recharging your watering can so that you can keep taking care of every aspect of your existence. Learning how to focus on yourself in a relationship can also help you to recognize plants that require an unnecessary amount of water from you.
Making time for your passions and long-term objectives, for example, can help you understand what does it mean to focus on yourself. This increased self-esteem will spread over into your career and connections, resulting in a positive energy that you radiate to others.
At first, this may appear to be egocentric. However, taking a step back from your relationship is a chance to better yourself and start focusing on what is truly important in your life.
In the long run, understanding how to focus on yourself while in a relationship will foster a healthy environment in which you and your partner can be individual people while appreciating each other for your uniqueness. This is why it is critical for you to be able to do so in a partnership.
More importantly, it is critical to discuss your priorities openly so that you can truly reflect on yourself and sort out what is best for you and your relationship. Understand that each pair will find its own conclusion.
So, there is no one-size-fits-all solution for every couple on the planet; it is fully dependent on the conversation.
Now before we move on to the next section, let's take a look at this video to gain some more insights about how to work on yourself in a relationship.
20 ways to focus on yourself in your relationship
It's natural to focus on relationships and become absorbed in other people because, after all, humans are sociable beings. Having your own identity is essential because you are a unique individual with your own personality, likes, and dislikes.
It is tough to focusing on yourself in a relationship, but you can learn to be your authentic self and walk the road to self-improvement. Only you can provide what you have to give, and knowing how to focus on yourself is one method of ensuring that.
Below you will learn more about how to focus on yourself while in a relationship.
1. Be gentler with yourself
This is the most crucial stage in understanding how to stop looking for love and focus on yourself. Understand that you have the right to take care of yourself.
Try to be aware of negative ideas and self-talk. Also, try not to be concerned with what others, including your partner, may think. Instead, think about the way you'd like to spend your self-care time.
Related Reading: 

10 Ways on How to Humble Yourself in a Relationship
2. Don't cover your partner's emotions
Your partner has the same right to their feelings as you do to your privacy. Allow your partner to process their emotions if they are upset because you are focusing on yourself.
They'll grow accustomed to your new boundary. And if they don't encourage you to take care of yourself, they might not make a good companion for you.
3. Take proper time alone
In a relationship, there is no right or wrong amount of alone time. Your partner should recognize your need for quiet time, but keep them informed and make time for them as well.
If you'd rather remain at home and do your stuff, don't make it appear that you're unhappy with the partnership. Allow your partner as much quiet time as they require.
4. Exercise
Even when it's tough, exercise feels wonderful. When it comes to exercise, you don't have to do it all by yourself. You and your partner could train together if you're interested.
Related Reading: 

7 Reasons Why Exercising Together Will Improve Your Relationship
5. Set goals
Every pair has relationship ambitions. However, take into account your personal objectives. Set short-term and long-term objectives and organize them into the small steps required to achieve them.
Check out this video where Jordan Peterson talks about how to make better goals:
6. Maintain your connections
When people enter a new relationship, they typically overlook their friendships. So, invest time with your friends and reunite with them. You might not get as much time as you used to, but you can still make time for them.
7. Make time for your hobbies
If you took up a hobby before you started a relationship, pick up wherever you left off. Alternatively, choose something related to your talents. Find your interest and devote some of your time to it.
8. Rearrange your living space
Take a look around your house. If it isn't filled with items that bring you joy and signify nice memories, have a clear-out and throw away anything you don't need.
9. Relive your nostalgic memories
Is there a show you no longer watch because your partner doesn't like it? Consider the things you enjoy when no one is looking because they can refresh your identity as a person.
Related Reading: 

15 Awesome Ways to Create Memories with Your Partner
10. Appreciate the fresh air
Going outside has numerous health advantages, including better cognitive performance and reduced stress. Even if you don't enjoy being outside, an easy walk to the park can be beneficial.
11. Fill out your diary
Journaling can help you process your ideas and feelings. Writing down your thoughts, feelings, and experiences can help you gain clarity in your life.
12. Take good care of yourself
Maintain your health by consuming a well-balanced diet, sleeping well, and drinking plenty of water. Maintain your hair, face, and nails as well. Make sure your body and soul are both in decent shape.
13. Practice meditation
Mindful meditation is also an excellent method to cultivate self-compassion. Find a calm, silent location and settle into a comfortable posture. Focus on your breathing and relax your muscles.
14. Concentrate on your career
If you're in a romantic relationship, don't overlook your career. If you enjoy what you're doing for a living, look for ways to improve. Otherwise, look for ways to get closer to your ideal career.
15. Don't measure yourself against others
Don't be fooled by perfect images on social media or the media's unrealistic portrayal of appearance. When you compare yourself to others, you develop unrealistic standards.
16. Take daily breaks
If you're in need of a break, ask for it and take it. Take breaks to savor the day and recharge your energy. Do something comforting to help you feel re-energized.
17. Understand how to say no
Those who have no idea how to say no is quite often overwhelmed by the number of things they must do for others. Make boundaries and simply say no to people.
18. Turn off your gadgets
Be at ease and content in your own company. If you tell your partner that you will be unavailable for a couple of hours, they will understand.
19. Consider therapy
Getting help when you need it is part of taking responsibility for yourself. If you still have issues that are limiting your serenity, speak with a therapist about them.
20. Laugh and smile
Another thing to learn about the ways to focus on yourself is to be cheerful and try to smile more often. Smiling is healthy for you, and it can spread. So, remember to have some fun from time to time.
Related Reading: 

10 Benefits of Couples Laughing Together in Relationships
5 simple ways to keep yourself from losing yourself in your relationship
The significance of learning how to focus on yourself in a relationship cannot be overstated. If you've ever been in one, you know that putting yourself first before loving others is essential if you want to have a solid and thriving relationship.
However, it is difficult to deny that with all of the ups and downs in a relationship, we have a tendency to lose ourselves.
Losing yourself in a relationship says that your mind is so consumed by the connection that you have neglected your own identity. What's unfortunate about losing yourself is that it doesn't feel good for both you and your partner.
Follow the steps below to prevent losing too much of yourself in a romantic relationship.
1. Practice self-love
A relationship is engaging and delightful, which is why you want to spend as much time as possible with each other. However, it is critical that you do not neglect how to fix yourself in a relationship.
One of the most common things people overlook in a partnership is self-love.
When you learn to appreciate yourself, your affection for your partner will blossom. It not only enables you to stay completely loving yourself, but it also lets you zero in on things other than your partner that satisfy your needs.
If you typically try new things with a partner, for example, it's time to get out of your habit. This will assist you in returning to your inner personality, listening only to your personal internal dialogue.
Related Reading: 

What Is Self Love?
2. Develop clear communication habits
One of the most important things to concentrate on in a relationship is clearly communicating your needs. Clear communication habits will be advantageous to the relationship in the long run.
Communication will assist you in establishing limits and expectations. It will also assist you in avoiding confusion about what you want and require from your relationship. You'll both have a clear idea of what you want out of a partnership and can work on it from there.
Bad communication, on the other hand, can lead to a toxic partnership. This is why you should make it a habit to share and discuss what you want to improve on as individuals and as a couple.
3. Set aside specific days for yourself
If you spend every day together, you'll grow bored quickly, which is why making time for yourself is essential for your partnership. There are numerous activities you can do on your own to feel valued and pleased.
You can, for example, go to a farmer's market and stock up on fresh produce that you love. You could also take a free online class to learn a skill you've always aspired to.
It is essential to understand your individuality and the differences between you and your partner. Furthermore, the activities you engage in on your alone days can all provide you with a feeling of fulfillment.
4. Take responsibility for your happiness
Many people start dating with unrealistic expectations of their partner. They believe that their partner will leave them feeling loved, valued, and appreciated. Then both parties are stuck in a situation where neither is ready to reach out and help the other.
Entering a partnership with the expectation that your partner will be your sole source of happiness is a recipe for disaster. For starters, you are the only person who fully understands yourself. So, why bother to place all of the blame on your partner?
Please keep in mind that you have complete power over your happiness. Allow your partner to experience a happier and more fulfilled version of you. It will be simpler for them if you look after your own happiness.
5. Challenge and grow yourself
If you feel like you've lost yourself in your relationship, odds are you're keeping a big, terrifying dream in your core. So, toss out any excuses, find the goal you've been putting off, and give it a priority!
By standing up for your goals and ambitions, you show your partner that you, too, are human. You inform them that you deserve every chance to develop and that you are not there as a servant but as an equal.
Related Reading: 

How to Grow Individually in a Relationship? 6 Pro Tips
More questions on focusing on yourself in the relationship
Focusing on yourself is of utmost importance. Check out these further questions on the topic:
Can you focus on yourself while in a relationship?
Many of us believe that there will come a time when self-discovery will simply end, and that's when the right person will appear. However, regardless of your relationship state, self-development is an ongoing process.
The issue with this thought is that many of us think that being in a relationship means we can no longer be ourselves. But this is not the point of dating or marriage.
In reality, being in a relationship allows us to discover a lot more about ourselves.
This is due to the fact that relationships serve as a mirror in which we can see what kinds of conduct and behaviors we have to offer. It can also give us a chance for each of us to address unhealthy processes within ourselves.
Is it selfish to break up with someone to focus on yourself?
Relationships are messy, which is why there is often guilt when things end, particularly in a presumably perfect relationship. Despite your guilt, it is not selfish to end a relationship in order to focus on yourself.
What you did was instinctive and essential for your personal development and long-term well-being. Remember that taking care of ourselves first is the greatest thing we can do to strengthen our relationships.
When you are ready, let go of your guilt, your connection, and any remaining burden. After all, your romance has ended, and you are not to blame, nor is your ex. Believe that your ex-partner will recover and carry on with their life.
Takeaway
When we lose ourselves in a relationship, we become highly preoccupied with and reliant on our beloved. We see fewer of our peers and may shift our habits to have more time with them. This motivation to satisfy can then turn into an obsession.
Moreover, our need for intimacy can cause us to deny our partner's behavior and question our own views. The healthy boundaries we once had have become blurred, and we've now started to accept our partner's point of view, no matter how wrong it is.
This is why you must learn how to focus on yourself in a relationship. Taking care of yourself also includes asking for assistance when you need it, such as relationship counseling.
Share this article on
Want to have a happier, healthier marriage?
If you feel disconnected or frustrated about the state of your marriage but want to avoid separation and/or divorce, the marriage.com course meant for married couples is an excellent resource to help you overcome the most challenging aspects of being married.
Learn More On This Topic
You May Also Like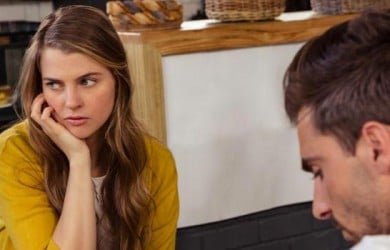 Popular Topics On Married Life