9 Foolproof Tips for How to Kiss a Guy
A great kiss can change your whole entire life. It is one of the most intimate things you can do with another person. And for good reason!
Studies show that kissing contributes to emotional intimacy and boosts relationship satisfaction.
There are so many different types of kissing. A shy peck, a passionate open-mouth, subtle flicks of the tongue. But for those who are just learning how to kiss a guy, even a simple kiss on the cheek can leave you feeling anxious and stressed.
Don't stress! Nerves are normal, but kissing is supposed to be fun!
Whether you're new to the kissing game or you're a seasoned pro, everybody can benefit from these foolproof tips for how to kiss a guy.
Get your lips ready, because it's time to pucker up!
1. Prepare in advance
A girl who knows how to kiss a guy knows that preparation is key. On the big day, make sure you're prepping for your kiss in advance.
Nobody likes to kiss someone with bad breath. Onions, garlic, cigarettes, and coffee can leave you with major stink-mouth. Avoid strongly flavored foods before your date and make sure you pay special attention to your oral hygiene.
Floss, brush your tongue, teeth, and use mouthwash. You can also take some mints with you on the date and use one before going in for the big kiss.
On the night of your intended kiss, make sure you dress up.
Do your hair, put on some makeup, and wear an outfit that will knock his socks off. Not only will this make you seem absolutely irresistible to him, but you'll go into your date feeling confident and beautiful.
2. Make your intentions clear
Great kissers know that consent is everything. Make your intentions clear with your guy so that there are no unwanted surprises when you go in for the kiss.
You can do this by sending positive body language his way. Flirt, laugh, touch him on the arm. Lick or bite your lips and draw his attention to your mouth. This will help him get the message loud and clear.
3. Get affectionate
Learning how to kiss a guy means building an intimate moment. This includes the kiss itself as well as other forms of physical affection.
Studies show that physical affection such as holding hands, hugging, or kissing on the cheek can boost partner satisfaction.
Having a little bit of physical contact can also make you and your guy feel more comfortable together before going in for the big smooch.
4. Use the right amount of tongue
Now that you've set the mood and freshened your breath, it's time to go in for the kiss.
If it's your first kiss, you may want to avoid using tongue. It could make an otherwise enjoyable kiss feel awkward or overwhelming.
If you do use tongue with your partner, remember to use it sparingly. Nobody likes having a tongue shoved down their throat. Too much tongue can create a buildup of spit or feel unpleasant and invasive.
On the other hand, subtle flicks of the tongue into your guy's mouth can make your kiss feel like one long, sensual tease.
5. Slow and steady wins the race
Fast kissing may be good while you're getting physical, but when it comes to learning how to kiss a guy for the first time, you're going to want to take it nice and slow.
Don't rush your kiss. Take your time and enjoy the process of dancing your lips around your partner's.
Relish the taste of their tongue. Enjoy the intimate moment you're sharing together.
6. Keep those eyes closed
If your parents taught you manners growing up, you know that it's rude to stare. That includes when you're kissing. Staring contests can be fun, but now when you're kissing. Nobody wants to be gawked at while they are trying to build intimacy.
7. Be a great teacher
Learning how to kiss a guy is about knowing exactly what to do with your lips. It also means knowing how to navigate a bad kisser.
Not every guy you kiss is going to be as great at it as you are.
If your guy is going too fast or has some crazy ideas of what to do with his tongue, you know how to pull him back and slow things down.
You make him follow your lead. With a little guidance and a whole lot of patience, he'll catch up to your skills in no time.
8. Communicate
Communication is essential for any healthy relationship, and that includes communicating about your kissing techniques.
Let your partner know what's working and what isn't. It's also a great idea to give each other positive feedback about their techniques.
9. Explore different techniques
There are so many different types of kisses to experiment with.
A peck on the cheek or lips can convey a sweet, playful, cute persona. On the other hand, a deep kiss with a tempting flick of the tongue against your partners is sexy and builds physical tension.
Don't be afraid to play around with different techniques, such as:
Try new things with your tongue

Kiss your guy's jawline or neck

Explore erogenous zones with your mouth

Gently bite his lips in a seductive and playful manner

Use strong mint or cinnamon to give a new taste and sensation during your kiss

Put your hands on his face or up the back of his head during the smooch
The options for a great kiss are endless.
When it comes to learning how to kiss a guy, don't be afraid to try new things. Make your intentions clear with him and build on the intimacy you already share together. Be confident and when things don't work out as planned, laugh it off. Have fun and you'll enjoy the learning process.
Share this article on
Want to have a happier, healthier marriage?
If you feel disconnected or frustrated about the state of your marriage but want to avoid separation and/or divorce, the marriage.com course meant for married couples is an excellent resource to help you overcome the most challenging aspects of being married.
More On This Topic
You May Also Like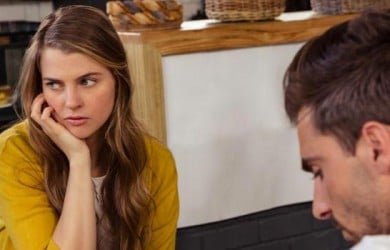 Popular Topics On Married Life