10 Tips on How to Set Intentions in a Relationship
The new year is fast approaching. With that comes the promise of fresh starts and the glimmer of what could be with that clean slate. People begin to set an intention of what they plan to accomplish with their gift.
An intention is focusing on a specific direction that you hope things will go, what you anticipate. That can happen with your goals for the new year, and you can also have intentions in a relationship.
Love intentions are not as much about planning but more about a divine concentration that's more of the heart than of mind. A person can have good intentions if they're looking for a positive connection.
In that case, they will share only the healthiest aspects of a partnership with a compatible partner.
It's up to a prospective partner to realize whether those intentions are authentic.
Related Reading: 

20 Ways to Build Positive Relationships
What do intentions mean in a relationship?
True intentions in a relationship are not necessarily goals since these are reserved for general life circumstances but more so hopes, anticipations, perhaps a dream that you foresee as the partnership progresses.
Once you determine that a partner is someone that you want to move forward with more exclusively, there comes the point where you need to discuss what are my intentions with this relationship to see where each of you stand.
First and foremost, there needs to be a specific level of self-love intentions before you can love someone else freely and fully with intention.
Ensuring that you are strong in confidence, individuality, and independence allows you to share with another person but not depend on someone else. The expectation in return for love with intention should be comparable.
What are good intentions in a relationship?
Good intentions for dating are specific positive accomplishments that you commit to yourself and your partner to achieve for that partnership as it progresses.
A union can only be healthy when two people work at it. It takes considerable effort not only in the beginning but throughout your lifetime to retain that passion, grow that love and respect, and establish closeness and bond.
There are specific components that create these elements resulting in a healthy match. If a mate expresses a hope to bring these to the relationship, it represents signs he has good intentions.
Check out this podcast on good intentions in a relationship with Dr. Jessica Higgins. Some we list:
Showing kindness and respect

Love unconditionally

Participate in open, vulnerable communication

Share passion, affection, and intimacy

Support and appreciate

Compliment and admire

Avoid criticism and complaints

Promise personal space and individuality

Likely to argue, bicker, and debate as a healthy couple

Apologize and forgive
Every couplehood takes two people working together, so each person needs to have good intentions in a relationship. If one makes these commitments, the other needs to have comparative purposes for the union to move forward.
How do couples set intentions in relationships?
Dating with intention can be challenging, but there are ways you can set intentions in the way you present yourself to the people you see or even those with whom you're developing a relationship.
These aren't something you plan or "schedule," as we necessarily see it. These should be part of who you are. So let's look at a few rules as to how you can date with intention.
1. Don't compromise on your standards
If you have friends or family members or tell you that you're filtering too much, you need to let go of a few characteristics that you're looking for – no, you don't.
That person with those specific traits is out there. Your search can go on as long as necessary until you find someone who meets your needs.
Date with that purpose and don't compromise. Hopefully, you can progress forward with ideal intentions in a relationship if the partnership is successful.
2. Expression is key when dating initially
Many people, upon meeting, tend to put on airs instead of presenting themselves as their authentic self. Instead of paying attention to what's happening and genuinely listening to the other person, they're busy ensuring their act is perfected throughout the date.
It should be a sincere intention to avoid this habit. Instead, present authentically so your partner can find out instantly if they feel a real sense of connection with the true you. Instinct doesn't lie.
3. Lead with confidence
Set the intentions in a relationship that you will lead into the relationship feeling secure in the gifts you bring from within and assure that you know you have an understood intention from your partner.
When you have this sense of the strength of conviction, it allows your partner to present comparable strength exposing their attributes and what they intend to bring to the partnership.
4. It should be smooth
The intentions in a relationship are that there should be no struggle. The suggestion here is when you consider each relationship in your life, do you tolerate or endure hassles or difficulties?
Why would you want to do so with the person you might be spending a majority of your time with, if not the remainder of your life? No one wants that, and the idea is that won't be happening.
A healthy relationship should be easy, smooth, and carefree. That's not saying there will never be challenges or difficulties. That's, of course, part of having a passionate, long-term partnership. Life will happen, but struggling with each other as a couple should not.
5. Mistakes are impossible
There are no mistakes when you're in a loving couplehood, and the intentions in a relationship mean that you never criticize or hold each other responsible over and over again for making mistakes.
These are communicated, worked through, apologized as appropriate, and forgiven. Moving on from there is also an intention with no further mention of what transpired. The past remains there.
6. Individualism is maintained and expected
When you become a couple, you don't automatically meld into one person – that is not the intention. Instead, you maintain your individuality.
The anticipation is that each person will still pursue their own interests, see friends and come together at the end of the day. Personal space is just as important as enjoying time together.
7. Take your intentions slowly
Even if everyone's intention is understood early on, there is no hurry to move towards a specific "goal" in the partnership. It's essential to fully become aware of qualities, make sure the intentions are good, and learn if the connection is valid before committing further.
If you're the one feeling that things are becoming stagnant or you're finding yourself hesitating, it's wise to look at the situation again.
8. Vulnerability is a virtue
Vulnerability between two people ultimately establishes a deeper bond and brings the couple much closer. The intentions in a relationship should be to work towards sharing that benefit in order to strengthen the partnership.
You might have to show your knowledge of what are intentions in a relationship by taking the lead with deeper conversations that reveal who you are to develop a degree of comfort and trust so your mate can then open up as well.
Check out this video on how you can be more vulnerable in the relationship:
9. Disallow rejection from your mindset
When a date or even a relationship doesn't work, it's not your fault. Two people are involved, and two people help create the cracks that deteriorate the foundation.
Your intention to yourself needs to be that you will never allow self-blame when there is a breakup. Instead, understand that some things just don't fit, but there's something else that might be waiting in the future.
10. There is support, albeit a challenge
The intention is to find a partner that will support you in each thing that you do and vice versa, albeit you need to take that a step further.
It's essential to find someone who will hold you accountable to grow further by reminding you to follow your dreams and consistently challenging you in varied ways to meet those goals.
The person reflects who you are and who you want to be, motivating and encouraging you beyond your imagination. It's a mutually fulfilling, content experience hoping that it becomes more – at least those are the intentions in a relationship.
How do you know your intentions in a relationship?
Intentions in a relationship are something you either feel committed to within your heart and soul or don't. When you're with someone, your instinct will kick in, and you'll know almost instantly if there's a connection.
That will start the process for you developing intentions in a relationship of whether you want to move forward and how you want to proceed with the blossoming partnership. Do you intend to be vulnerable, communicative, honest – that will all come to you.
A more realistic question is how to know a guy's intentions, and that takes time. They can express them to you and will when prodded, but actions speak louder than words. Over a period of spending time with your mate, you can develop a sense of their authenticity.
Final thought
The idea of intentions is to relatively commit to bringing specific components to a partnership in hopes that it can move forward healthfully. When one person sets intentions, it's the hope that the other person has comparable commitments for the relationship.
When you're with a mate for whom you have deep feelings but things are stuck in one place, and you want to move forward, it's wise to re-evaluate each person's intentions for the future.
If you both seem to be on the same page, but you're unsure how to get past the hesitancy, perhaps, a professional counselor can offer beneficial feedback that can guide you to a better place.
Share this article on
Want to have a happier, healthier marriage?
If you feel disconnected or frustrated about the state of your marriage but want to avoid separation and/or divorce, the marriage.com course meant for married couples is an excellent resource to help you overcome the most challenging aspects of being married.
More On This Topic
You May Also Like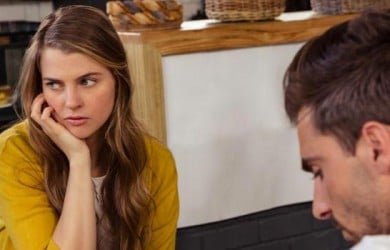 Popular Topics On Married Life