8 Men's Kissing Tips: How to Do It Right!
Open mouth, tongue, sweet and simple smooch, peck, lip-biting, drawn-out, and passionate. These are all different types of kissing techniques you will experience throughout your life.
So do you know how to kiss well? Are you a good kisser?
Not many men will respond with a no. Even so, there is always room for improvement.
But when you are kissing someone for the first time, it can be a stressful experience.
That's why we're here to give you the best men's kissing tips to make sure you know how to kiss someone for the first time so that your first kiss is memorable for all the right reasons.
There will be no reason to second guess your kissing skills after following these men's kissing tips.
Grab your breath spray, freshen up, and get ready to rock her world with our kissing advice.
1. Freshen up
There's a reason why they say not to eat garlic on your first date – it's because of the goodnight kiss! Nothing ruins a romantic or passionate kiss quicker than bad breath.
The food you eat is a huge culprit for bad breath. Strong smelling foods such as garlic and onions can make your breath smell pungent. Not exactly the message you want to send to your sweetheart.
Before you go out on your date, make sure you pay special attention to your oral hygiene.
Brush your teeth, tongue, floss, and use mouthwash. You can take extra precautions if you feel like you're getting close to the big moment by carrying breath strips, spray, or by chewing minty gum.
2. Practice kissing manners
Do you have rough, dry lips?
Ouch! If they're painful for you to live with, they'll be painful for your partner to kiss. Make sure your lips are smooth and kissable by using lip balm and trim down any crazy facial hair that might scratch her face.
Another great piece of advice is to watch your spit.
Don't kiss for so long or use so much tongue that you lose control of the liquids in your mouth. Swallow your spit regularly so that you're not gobbing on your date.
3. Make it special
The way a guy kiss says a lot about him. In fact, the way he kisses can change the way a female perceives him.
In a study of 724 participants, results revealed that women valued a partner's kissing ability increased their desirability.
Women were more likely to get physical with a man if they were a good kisser.
Whether this is your first kiss ever or just your first kiss with someone new, you're going to want to make it memorable.
You can do this by going out on a romantic date beforehand, giving her compliments, lighting candles, or playing her favorite music in the background.
4. Read her body language
One of the biggest men's kissing tips is to pay special attention to your date's body language before going in for your kiss.
For example, if she's interested in kissing, she will lean in when you do and meet in the middle for the kiss. And obviously, when you are kissing her, she will be reciprocating wholeheartedly.
Read her body language. It's an important men's kissing tip that you just can't ignore.
If she wants to kiss you, she will be sending out signals with their body language. She will be flirtatious throughout the evening; she may lick or bite her lips seductively – anything to draw your attention to that region.
Also watch:
5. Not too much tongue
Using tongue while kissing is not usually recommended for a first kiss, but if you're feeling especially passionate, go for it. Just don't use too much.
When the night's over, and your date goes home, you want her to rave to all of her friends about your evening together. "He kissed me! It was amazing!"
What you don't want is for your crush to talk about how you "shoved his big cow tongue right into my mouth!"
That is definitely not high praise.
Instead of doing the typical high-schooler move of swirling your tongues around one another like two wrestling snakes, try doing subtle, sexy flicks of your tongue into her mouth.
This sexy tease will leave her wanting more.
6. Close your eyes
Making eye contact is a great way to initiate a kiss. Pay heed to this crucial men's kissing tip.
It builds intimacy and makes the moment feel especially romantic.
However, here's a great men's kissing tip that applies to the kiss itself. Close your eyes! Nobody likes being stared at, especially not when their face is connecting with yours.
Keeping your eyes wide open during a kiss can seem weird and make things feel awkward. Instead, close your eyes and enjoy the moment.
Kissing is a time to be passionate, intimate, and sexual. It isn't the moment to have a staring contest.
Do yourself and your date a big favor by closing your eyes.
7. Don't rush it
You may be nervous when you first go in to kiss someone, but once you've made contact, stay there. It can feel tempting to give a quick smooch and pull away.
If you are going to break the kiss, do it slowly.
Kiss your partner soft and sweetly, then pull back. Make eye contact, then go back in to extend the kiss. This is incredibly sexy and will definitely make this a kiss to remember.
8. Enjoy the moment
Couples are happier when they are kissing.
Studies show that displays of physical affection, including kissing, is strongly related to partner satisfaction.
Kissing someone for the first time can be nerve-wracking, but don't be so nervous that you forget to enjoy the moment. Presumably, if you're kissing someone, you have some sort of crush on them.
So relish the kiss! Close your eyes, feel their lips on yours, work together until you find a rhythm that works for you.
Know how to initiate a kiss cause you only have one first kiss with someone, so make it a moment to remember.
When it comes to good kissing tips, just remember to relax and have fun. Practice good oral hygiene and make that first kiss soft and sweet. Confidence will go a long way in making your kiss special.
Give your partner the smooch of their lifetime by following the best kissing tips and learning the different ways to kiss.
Share this article on
Want to have a happier, healthier marriage?
If you feel disconnected or frustrated about the state of your marriage but want to avoid separation and/or divorce, the marriage.com course meant for married couples is an excellent resource to help you overcome the most challenging aspects of being married.
More On This Topic
You May Also Like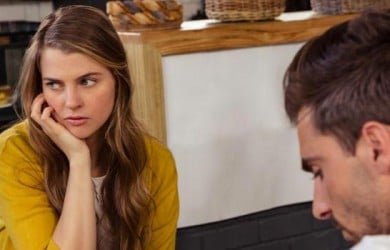 Popular Topics On Married Life