Prevent Arguments from Escalating- Decide on a 'Safe Word'
Sometimes during arguments, even if we know exactly what we need to do, we have off days. Maybe you woke up on the wrong side of the bed or maybe you got criticized at work. Preventing argument is never a smooth sail.
Wondering how to prevent arguments in a relationship?
There are many variables contributing to our mood and mental and emotional capacities that can cause us to not choose or be able to use our tools during arguments. So, what is there to do when you are being human and slip up, causing an escalation in a discussion? There are a few handy tools to utilize when you are aiming at preventing argument.
One tool that my husband and I used in our first year of marriage when stress was high and we were learning how to work with each other's personalities and preventing argument, is the safe word. Now I must give credit where it is due and it was my hubby that came up with this brilliant idea.
It was used when our arguments would escalate to the point of no return. At that time in our lives, we were unable to de-escalate and needed a quick method to salvage the night and to not cause additional injury. Safe words for couples was our way to communicate with each other that it is time to stop the scene outright.
Decide on a 'safe word' that prevents escalation of arguments
The best way to develop and use this tool is to identify a negative pattern that has been difficult to break. Our negative pattern was escalating an argument until one of us was raising our voice or angrily walking away. Next, select a word together that isn't likely to cause a negative pattern to continue. Good safe words are an invaluable tool to deescalate an argument.
We used the safe word "balloons" for preventing arguments. It was important to my husband to use a neutral word that can't be taken in a negative way. Think about it, if some yells 'balloons' in an argument, no matter how he or she says it, it's difficult to take offense to it.
What does safe word mean? A safe word lets the other person know that it's time to take it easy or to stop when things get rough. What is a good safe word? A good safe word is a word or signal that lets the other person know the emotional state you are in and it draws a boundary before the other partner oversteps boundaries and things aggravate beyond repair.
Looking for some safe word suggestions? Some safe word ideas are saying out "red" since it denotes danger, or is more indicative of stopping. One of the safe word examples is to use something simple like a country name. Or alternately, you could snap your fingers or use non-threatening hand gestures. Some common safe words that work like magic are fruit names like, watermelon, banana or even kiwi!
A mutually agreed upon safe word helps the partner to understand it's time to stop!
Establish a meaning behind the safe word
Now that you have a word in mind for preventing arguments, the next step is to develop the meaning behind it. For us, the word 'balloons' meant "we need to stop until we have both calmed down." Lastly, discuss the rules behind it. Our rules were whoever states 'balloons', it's the other person who has to initiate the conversation later.
A later time could not be more than a day later unless brought to the attention of the partner. With these rules being followed, we felt like our needs were addressed and the original argument could be resolved. So, to review negative pattern, word, the meaning of word and rules for its use.
Using this tool needs practice
This tool did not come easy in the beginning.
It took practice and emotional restraint to follow through with it for preventing argument. As we gradually improved our communication skills with this tool, we now have not even had to use it for a long time and our marriage satisfaction improved considerably. As you develop this for your own relationships, know that you can come up with multiple safe words for different scenarios and negative patterns that help in preventing argument. Try creating one tonight (before the argument).
Share this article on
Want to have a happier, healthier marriage?
If you feel disconnected or frustrated about the state of your marriage but want to avoid separation and/or divorce, the marriage.com course meant for married couples is an excellent resource to help you overcome the most challenging aspects of being married.
More On This Topic
You May Also Like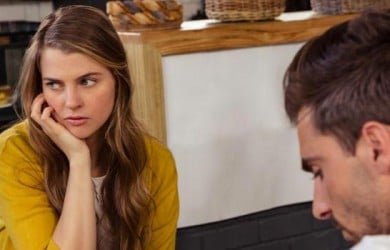 Popular Topics On Married Life