How to Get Over Your Ex : 25 Ways to Move On
"They might not have broken your heart
They might not have been the ones to leave you
They might not have been your last
They might not have been your soulmate
But, you loved them, and therefore, they mattered."
Usually, relationships are given worth and value if and only if they are 'THE ONE' in your life. This phenomenon is incorrect.
No matter what relationship status you shared, the point is that the person mattered because you cared about them. And moving away from someone you cared about, someone you thought was the world to you, is now not the same; that realization hurts.
If you are fresh out of a relationship and are thinking while wallowing in grief, how to get over an ex? Then know that you need to realize and come to terms with the fact that your relationship is over and done with.
No matter if you saw it coming from miles ahead, or it was just a bucket of ice-cold water dumped on your head, it happened. You are not together anymore.
Now, you may find yourself googling, 'how to get over an ex?' First of all, it is all going to be okay, not now, not in a week or probably a month or even a year, but eventually.
Knowing fully that it hurts to get over an ex, remember, there is no shortcut to it and no way that you can find an answer to 'how to get over your ex fast?' on the World Wide Web.
Following are a handful of things you should and shouldn't do after you have been unfortunate enough to go through a break-up.
Related Reading: 

How to Get Over a Guy
Why is it so hard to get over your ex?
When you get attached to someone, they tend to impact your life and your mind. If you have been in a long-term relationship, moving from an ex becomes difficult.
You share so many similar things, and with time you develop a taste for their music, food, fashion, etc.
When you get attached to someone and build a strong bond, it takes time to grieve and let go.
Whether people want to admit it or not, searching for how to get over a guy or how to get over a girl or even looking for how to not think about your ex will not make anything better.
Until you recover from the grief of your past relationship, you will continue to think – how to get over someone you love?
Related Reading: 

Ways on How to Get Over a Girl

 
25 Ways to get over your ex
No timeline dictates how much time it will take to stop loving your ex and move on, but here are some healthy ways on how to get over your ex.
1. Add a handful of sad music to your playlist
As corny as it sounds, listening to sad music can be highly therapeutic.
Now you may ask, 'how will it help me get over my ex?' The thing is that we, as human beings, have a bucket load of emotions going through our bodies, but very few of us can express them. Singers and songwriters are amongst those few.
When we listen to those lyrics, it is as if they are speaking to us. They are giving words to every unspoken pain and emotion, and we feel elated. We feel as if others have been through what we are going through, and we are not alone in this abyss.
After all, Shakespeare very famously wrote –
'If music is the food of love, play on.'
Related Reading: 

Ultimate List of 30 Best Breakup Songs of All Time
2. Give yourself time to mourn the relationship
No matter how you both grew apart, no matter how messy and unsophisticated the break-up was. No matter how you two came to that point where you could not stay together, and no matter how much you despise that person right now, the truth is that you loved that person at one point in time.
Just like one needs to mourn a loved one after passing away, a break-up is like a passing away of a future, a future that you thought you would have.
Mourning is the next step when it comes to how to get over an ex. Lock yourself in your house, eat buckets of ice cream, cry yourself to sleep, stay in bed all week long, watch your old pictures and videos, be angry. Do all of this and more if you need to.
Please do not care about how long it takes to get over an ex. Just vent out your anger, frustration, pain, and be ready for the next step.
3. Get off social media
Stalking your crush or watching all the other couples being lovey-dovey is not going to help answer your question, 'how to get over an ex?'
Take a well-deserved break from social media, and rest. Instagram and Facebook can be a haven for all the millennials when it comes to pass the time or just for pure entertainment; however, it can be a living hell if you are fresh out of a relationship and have not quite come to terms with it yet.
4. Cleanse your house
This is another important step when it comes to how to get over an ex.
Remember! Nothing good can come from hoarding your ex's clothes, gifts, pictures, or other memorabilia. You may need them to mourn your loss, but now that portion of the process is done with, collect everything (be it yours, but it reminds you of your ex) and donate them to goodwill.
Burning or throwing them away is not healthy.
You have to overcome your grief by working on it, not by destroying things you once loved and cherished. Just think of it this way; it brought you joy once; now, it will bring joy to someone else.
5. Challenge yourself with something new
If you have been in a loving relationship for quite a while, you are comfortable with the way you look, you start to slack off, and you do not appreciate yourself anymore.
In such cases, a break-up is a wake-up call.
When you are done with steps 2 and 3, start working on yourself. Change a couple of things in your wardrobe, get a haircut, start going out, and enjoy the nightlife.
The best way to get over someone is to do things that you were apprehensive about while you were with your ex.
Going on a vacation, a change of scenery can be highly therapeutic, and you never know what mysteries the world has in store for you. It can make you forget your ex.
6. Think about all the nonsense you don't have to put up with now
If it's an early break-up, you may be reminiscing about your ex and the fantastic time your both had together.
But if you want to forget your ex, take a pen and notepad and write down all the nonsense you were dealing with.
Write down what annoyed you, things that weren't right between you two, and most of all, write all the things (even the little ones) that drove you crazy.
You might start to believe that moving on from an ex is easy.
7. Think about what kind of relationship you want
Many people attract people under false assumptions and end up screwing their relationship. Be clear in your head about what you want from a relationship in your life.
Do all the soul searching that you can and learn everything about yourself to attract the kind of person you need to be with and someone who deserves you.
Also Try: What Kind of Relationship Do I Want Quiz
8. Start meditation
Your past love life can drag you down if you don't keep your emotions in check. You may keep hating your ex, but getting over an ex will get more challenging if you can't control your thoughts about them.
After love leaves you with loneliness, it becomes strange and frightening. Keeping your thoughts aligned and focused on the future can help you forget your ex.
9. Examine your boundaries
Do you think that people hurt you a lot, and then they leave you? Have you always been too nice, a giver, a caretaker, a sacrificial partner? Ask all these questions.
Analyze yourself and find out what's going inside your head. Once you are done, then take a stroll back to the memory lane and examine your boundaries.
If you find them accidentally crossed, don't stress. Just reorganize them in your mind. Sometimes people don't realize that not having boundaries can drain a relationship. If you have made this mistake in the past, don't repeat it after getting over your ex.
Related Reading: 

10 Personal Boundaries You Need in Your Relationship
10. Change the look of your apartment
If your ex has been inside your apartment enough times that some sweet-sour memories are being jogged up by your mind every now and then, redecorate!
Changing a little furniture or decor or the color of the walls can help you. After upgrading your apartment, it won't look the same as where you have created memories with your ex, and that's precisely what you need to stop thinking about your ex.
11. Get a break-up coach
If your suffering is not too intense and your best friend or someone close to you can guide you through after break-up stages.
If you think you have no one to share your pain and loneliness with, hire a break-up coach. It will help you get answers to deep-rooted questions and help you understand why it doesn't work out.
A break-up coach is the best way to get over someone.
Related Reading: 

The 7 Stages of a Breakup and Tips to Heal Faster
12. Think about your future without them
After a point, couples start to think of everything as "we," and when you do that and end up falling apart, you find it hard to cope up with the change in life and your thoughts.
It may seem impossible but thinking about your future without your previous partner is one of the best tips to get over your ex.
13. Don't contact them
It should be the first and foremost rule when you are looking for an answer to how to get over an ex – never contact them again.
If you do it, you are digging your own grave. Whenever you call back an ex, you open a window to get back and get hurt again. If you are thinking about forgetting your ex, do not call or message them.
Accepting that things are over for good is how you get over your ex.
Related Reading: 

How Do Men Get Over a Breakup?
14. Focus on some self-love
There must be many things that you couldn't do when you were in a relationship. Now that you are single and have plenty of time on your hands, why not use it for your happiness.
Bake a cake, learn a new skill, go out and date, take bubble baths, get yourself a spa day, take yourself out on a dinner at your favorite restaurant, etc.
There are so many things you can do to stop thinking about your ex.
Related Reading: 

10 Steps to Practice Self-love
Here is a video on self-love:
15. Understand that you being angry is just the phase
You have finally realized that your ex-partner wasn't suitable for you, and now you are mad. It will be helpful if you understand that being angry at your ex will not do any good to you.
You might feel the need to hurt them and tell them that what they did was wrong. You know now that you deserve better. No matter how many times you ask people how to get over your ex until you move past that anger, you will keep thinking about them.
16. Do not bargain your self-respect for something that is lost
If you are trying to move on, stop getting back to where you find yourself hoping for a reunion. If you think all is not lost after months of your break-up, you are clearly in denial.
Please understand that the chapter with your ex is over, and you have to stop living in the universe of "what ifs."
Getting over an ex is already so complicated. Do not hurt yourself over and over again by trying to save something that has already been lost.
17. Keep your mental health in check
When you try to get over an ex, sadness is a familiar feeling. Letting go of your emotions for a person once you loved is hard.
You can feel lonely and find it hard to feel even an ounce of happiness. Most people do not realize when they slip through the cracks and get surrounded by depression.
Make sure that you are keeping tabs on your mental health if you think you are mentally restless or have any signs of depression. Consult with a professional.
Also Try: Signs You Are in Depression Quiz
18. Do not lean on rebound relationships
You are already clueless about how to get over your ex. Looking for a rebound relationship will not bring any peace to your mind.
When you are not completely over your ex, a rebound can destroy your mental health to a level that you can completely lose control of your emotions.
The solution to getting over an ex is not to get involved with another partner. Take your time and heal your heart.

19. Stop waiting to get over your ex
Some people keep going back to memory lane repeatedly and still complain that they cannot get over their ex. They keep complaining about how much longer it will take to move on from an ex.
You need to understand that if you keep watching the clock, the time will pass slowly. When you try to move on, try to forget about your ex rather than thinking about them.
20. Let go of blame
It's one of the most important tricks to get over your ex. Try and understand if they hadn't done what they did wrong, you would have been in that toxic relationship.
Whatever they did gave you clarity in life and revealed that they weren't the one. So, stop blaming them and start thinking about how amazing your life will be without them.
Related Reading: 

Why Blaming Your Partner Won't Help
21. Don't get lazy
People don't try to forget their exes actively. Some people believe in feeling all the pain before they move on from an ex. Take your time but don't slack off. Don't get lazy and drown in the pool of sadness.
When you are moving on from an ex, make sure you stay busy. Laziness increases the feeling of misery and despair, and you should never let any of those feelings near you.
22. Establish a regular routine
Staying up late at night or getting up in the middle of an afternoon can extend the period of getting over an ex. It's better to follow a routine and distribute your time consistently to be busy with something.
A lousy routine can affect your health. Following a routine will keep you healthy mentally and physically.
23. Stop talking about your relationship with anyone
When your anger levels, you feel frustrated and need to vent it out now and then.
Just remember that when you talk about your relationship with so much frustration, you tend to talk about all the bad things you have experienced with your ex.
Reliving all those bad moments can lead you to think more about your ex. If you don't stop talking about your past relationship or your ex, you will never stop thinking about your ex.
24. Closure may or may not be the answer
Some people feel difficulties when they try to find how to move on from an ex because they didn't get closure.
Please understand that closure or no closure, the journey from mourning the relationship to moving on without regrets, is entirely yours.
The best way to get over someone is to forget about the closure and focus on your life. If you keep waiting to get closure, there may be a chance that you try to be friends with your ex, and that never ends well.
25. Acceptance should be your motto
You can search for many ways to get over your ex, but nothing will work out until you have decided to go through the phase and come out as a winner.
It would help if you made peace with the fact that something was there, and now it isn't. The day you don't get disturbed by the thought of your ex will be the day you can finally move on from your ex.
Related Reading: 

How to Get Over a Breakup and Grow as a Person
Conclusion
Getting over an ex can be time taking and emotionally exhausting. Please make sure that you take your time and understand there is no one worthy enough to cry over all your life.
The soon you turn your break-up emotions into something positive, the sooner you will know how to get over your ex.
Share this article on
Want to have a happier, healthier marriage?
If you feel disconnected or frustrated about the state of your marriage but want to avoid separation and/or divorce, the marriage.com course meant for married couples is an excellent resource to help you overcome the most challenging aspects of being married.
More On This Topic
You May Also Like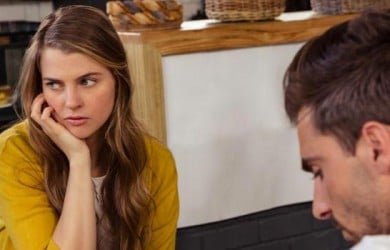 Popular Topics On Married Life