6 Effective Ways to Stop Thinking About Someone
Do you always feel that you are doing all the work in your relationship? Are you always walking on eggshells and doing the things they want?
Do your texts go unanswered, and you get calls only when they need you? If your answer to these questions is 'yes,' then, there is a good chance that you might be in a 'one-sided' relationship.
Hold on a minute! Don't panic.
The most important thing to realize is that you have already put in massive amounts of effort, into making something work for you two. At this point, you need to understand your happiness matters too.
Perhaps, they have been mean to you and forced you to think that their happiness is the only important thing in the world. But, obviously, that's not true.
You don't need a magic formula to fix your situation. It is time to drop that unhealthy baggage and take a step towards your happiness.
How to stop thinking about 'someone'
Once you have made up your mind for it, the glaring question that arises is, how to stop thinking about someone?
You ought to be harrowed by questions like 'how to get someone off your mind,' and 'how to forget someone you love.'
Even before you begin the process of getting over your failed relationship, you might simply blurt out that you can't stop thinking about that person. The process of getting over someone might seem to be nerve-racking at the inception.
But, remember that it's not impossible to stop thinking about someone you like, especially when that 'someone' is the reason you are suffering in the first place!
Here are given six easy and practical ways to stop missing 'someone' and getting your life back on track.
After all, constantly thinking about 'someone' is a dead loss. And, there are a lot of better things in life that you are already missing out!
Related Reading: How to Get Over Someone You Love
1. Acceptance and grief
How to stop thinking about someone?
You must realize, that there is nothing special between you two, and it would never be so; unless they share the same sentiments, you host for them.
Ask yourself- if someone is on your mind are you on theirs?
If the answer is no, accept whatever has happened until now. You must have been hurt you a lot, but remember that it is not your fault at all.
It is time for you to move on. But, make sure you grieve. You just lost someone, who you thought was important.
Heartache needs time to heal, cry a little, laugh some more, and vent it all out.
2. The talk
It is considered healthy to have a conversation about your feelings and clearing up your position.
After you have accepted the status of your relationship, you need to tell the person – 'no more'.
There is a possibility, that this could be an awkward conversation to have, but, it is simply a way, to reassure yourself of your importance.
But, if you need to stop thinking about someone, you have to take some bold steps.
3. Choose your battles
Talking about the emotional upheaval you face, can be excruciating. So, make sure you focus on one problem at a time.
Start by asking yourself, why you feel what you feel, and take it on from there.
But remember, the key is to choose what you decide to tackle. Make sure you don't bring in past fights while discussing your current hurt and pain.
Try to not ruminate over 'how to stop thinking about someone' and focus on one problem at a time.
4. Put on your armor
How to stop thinking about someone?
Well, make sure you have a support system and a sense of belief in yourself!
You need to understand that, whatever has happened, is not your wrongdoing. Yet, people tend to be hurtful, when they don't want to admit they are wrong.
Hence, they will do a lot of hurtful things, after you decide to cut them out of your life.
Take all of it head-on, with a level head and smile. It doesn't hurt to have a friend.
5. Distance and strategy
Make sure you keep an adequate amount of space between you and the person, socially. This will create a barrier, keeping you away from unwanted complications.
You gave away, a lot of attention and effort for that person. Now, there's no reason to fret over the question 'how to stop thinking about someone.'
All you need to do is, divert the same attention into constructive things. This will keep you engaged and away from thinking about them, way too much.
6. This is the war you simply cannot lose
'How to stop thinking about someone' is undeniably a distressing thought. It is not going to be easy.
But, that does not mean you should give up. It's your life!
You deserve to be happy. There will be a lot of emotions coming your way. Make sure you take them head-on.
This is the war you simply cannot lose. Appreciate every single person that keeps your company in this difficult time.
Every time you feel depressed, talk to someone, maybe from the family or a close friend. Do something that makes you smile.
Focus on other meaningful relationships of your life. More importantly, focus on yourself!
Bit by bit, all the hurt will chip away, and you'll emerge out of this mess, as a new person, a better person; your war will be won.
Also Watch:
Share this article on
Want to have a happier, healthier marriage?
If you feel disconnected or frustrated about the state of your marriage but want to avoid separation and/or divorce, the marriage.com course meant for married couples is an excellent resource to help you overcome the most challenging aspects of being married.
More On This Topic
Recent Articles
You May Also Like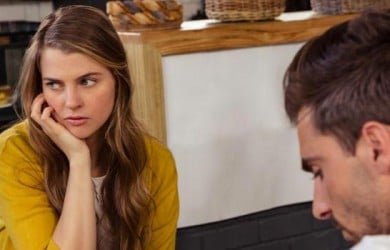 Popular Topics On Married Life