How to Get Over a Guy: 25 Ways to Move On
Have you been through a breakup recently? Had enough of mooning over some guy who doesn't feel the same way about you?
We hear you! If you are wondering how to get over a guy, you have come to the right place.
Whether you are in the aftermath of a breakup, or you just want to get over a guy who doesn't love you like you love him, here is some top-level advice to help you heal.
How do you get over a guy you loved?
We've all been there. When love goes, it hurts. It hurts your soul, your body, your mind, your heart, and your ego.
Wouldn't it be great if you could just speed through the recovery process and get back to your happy self?
Unfortunately, there is no shortcut to getting over a guy, but we do have some tried and true methods for easing your pathway from hurting to healing.
Related Reading: 

Ways on How to Get Over a Girl
How long will it take to get over a guy?
If only there were a reliable timeframe for getting over a guy! The truth is, getting over a guy takes the time it takes.
However, there are so many things you can do so you do not dwell on the situation. There are ways to move on from a guy and start feeling better about yourself.
While you may be thinking that you will never get over this guy right now, rest assured: one day, you will indeed stop caring, and you will find yourself with an open heart, ready to move on to the next life and love chapter.
Related Reading: 

How to Get Over a Breakup and Grow as a Person
25 Ways to get over a guy
Would you like to know how to get over a guy as soon as possible?
There is no single way out of that pain but you can try these ways to get over a guy you like or had a relationship with:
1. Integrate the fact that the relationship is no longer viable
If you have been through a breakup, recognize that your story is now over, and there is no returning to what once was.
Love is a two-way street, and if one of you has pulled out of the relationship, there is no relationship.
If you wonder how to get over a guy who doesn't like you back, the same tip applies. It would help if you accepted the truth: there is no relationship there.
2. Give yourself space and time to heal
Yeah, we know it doesn't feel great, but you must first remain right here and absorb the feelings to heal. Let them in.
Be gentle as you acknowledge their presence.
"I hurt, and it is normal I hurt. I have lost someone I loved and cared about."
Remind yourself how beautifully human you are to be feeling all of these emotions.
3. Reach out to your friends
Part of your "getting over the guy" toolkit is your good friends. Allow them to sit with you as you grieve.
Accept their invitations to come over for an evening of bad TV shows and wine.
Let them organize activities that will help you get over this guy. Your friends are going to carry you through this time, just as you would do for them.
4. Build structure into your days
The structure will be helpful in your recovery path. You don't want to have nothing to wake up to, or you will stay in bed, crying over the loss of him. So have a plan for your days, especially the weekends.
Get up, do some exercise, shower, put on makeup. Set up lunches or dinners (or both!) with friends. Check-in with your parents. Keep your days busy by structuring them carefully.
5. Replace negative thinking with positive thinking
To stop caring about a guy, it is helpful to trust that this breakup happened for a reason.
Believe that the universe has something better in store for you.
Let go of every negative feeling, practice forgiveness and move on.
Watch this video on forgiveness to know more:

6. Please make a list of everything he did that annoyed you
It is helpful to jot down all the things you can think of that did not bring you joy in the relationship.
Was he a control freak? Did he have an irritating laugh? Did he drink too much?
Write it all down and refer to it when you are missing him too much. It will help you get over him.
7. Be good to yourself
Part of how to get over a guy involves you being your own best friend. You may no longer be dating him, but you can date yourself.
What does this mean? It means doing nice things that make you feel good.
From buying a lovely scented candle to getting a fabulous haircut, carve out some time and room in your budget to spoil yourself. These are nice, self-indulgent ways to get over a guy.
8. Cut off all communication
It sounds harsh, but it indeed will help get over a guy.
You may have left things open, thinking you could check in with each other from time to time, but don't do it. It will put you back in pain and sadness.
No texts on his birthday, no jokes forwarded by email. A clean break is needed to stop having feelings for someone.
9. Concrete ways to get over a guy
Deleting them from all your shared social media accounts will be key.
You may think that you can look at his Instagram and Facebook updates' just in a friendly way," but the reality is that every time you see him update, it will renew your pain. Especially if he is putting up photos of him and a new girlfriend.
Delete and block, seriously!
Don't phone him. Don't text him. Delete him from any WhatsApp groups you may be in together.
10. Please stop talking about him
It is expected that in the post-breakup days, you will talk about him. Your friends will want to know the story. But once that is done, stop talking about him.
Every time you tell the breakup story, you re-traumatize yourself. You embed this pain even deeper into your brain. So once everybody knows the score, stop mentioning him.
Do not try to get information about him from common friends. Do not let his name pass your lips. It is over. Time to move on.
11. Get distance
Along with deleting him from your social media accounts, plan a trip out of town. See new places. Go hiking. Do some sightseeing, observe things that have nothing to do with the man you loved.
Start renewing yourself by putting distance between you and him; it will be instrumental in how to get over a guy.
Related Reading: 

How to Get Over Someone You Love
12. Get his photos off of your phone
To avoid inadvertently seeing his face, which will make you feel sad, delete all photos of him and you two together.
Put them on a flash drive and put that away. You will be able to look at these one day, but not now.
13. Box up anything that triggers painful memories
To aid in getting over a guy, you will want to remove visual reminders of him and your time together.
Get a box and load it up with his cards, tickets to that concert you went to together, any jewelry he gave you, his old college sweatshirt that you "borrowed."
One day you can take these out and think fondly of him, but that day is far in the future. Right now you need to get rid of those painful memories.
14. Clean your house
It sounds funny, doesn't it, but cleaning can be cathartic.
It will get your mind off of the guy, and you will have a sparkling, shiny nest to come home to!
So grab a trash bag, and pick up all those Kleenex, candy wrappers, takeaway boxes, and get cleaning!
15. Analyze what led to the breakup
Take some time to really look at the reason behind the breakup. Were you slipping into a dull routine together? Did you have issues that never seemed to be resolved? Did they leave for someone else?
Looking at these things helps you get over a guy because it forces you to admit that there were problems in the relationship; it was not perfect.
It also might bring to the forefront any part your behavior could have played in the breakup. Once identified, you can, if you choose, work on this to avoid repeating it.
16. Get active
We are talking about the movement here. Daily exercise.
You may have turned to chocolate and ice cream during the initial days to help you get over the guy, but now it is time to do good things for yourself!
Exercise will boost your feel-good hormones and get you into shape!
Commit to an exercise program, one that gets you out of your house, and let it be your anchor as you move towards recovery.
17. Get your food clean
Another anchor point as you move through this challenging period: clean and healthy food.
You don't want to end up with extra poundage once you are ready to hit the dating scene, so use this time to get into the shape you feel your best at.
You don't need to be waking up in the morning regretting what you ate last night.
18. Get out there
Even if you aren't feeling ready to officially date just yet, get out there in the world.
Go to concerts, take dance classes, hit the clubs. Anything that gives you connection with others and makes you feel alive.
19. Learn something new
As part of your healing, start a new passion, which has no connection to the guy you are getting over. Enroll in a foreign language class (and make a plan to take a trip to that country so you can use your new skills!).
Join a running club. Start writing your autobiography. Anything that engages your mind and gives you something other than that guy to think about.
20. Date
There is no calendar for when you should start dating again. Ignore those that tell you not to date "too soon." Start dating when you feel like you want to. That can be two month's post-breakup or six months.
You don't need to marry the next guy you date, but why not have a little fun, boost your self-esteem, and show off that incredible body and soul of yours to a new man?
Related Reading: 

How to Deal With Heartbreak
21. Reinvent yourself
What would you do if you did not feel fear? We hold ourselves back quite a bit because we are fearful.
Drop the fear and try what you've always wanted to do: a skydiving lesson, a solo trip snorkeling in the tropics, changing your job.
Being released from the relationship allows you to reinvent yourself. Be bold.
22. Carve out some "me" time
It may be challenging to be alone right now, but do spend some time with yourself.
Set up a pleasant environment, with candles, the music you like, and a great book. Learning how to be happy alone is vital to understanding how to re-couple healthily.
23. Make exciting plans
Give yourself something to look forward to a yoga retreat, a weekend drive up the coast, a trip to see your old college roommate.
24. Remember your worth
Reminding yourself that you are worthy, intelligent, beautiful, and attractive helps get over a guy.
Often our feelings of self-worth are low after a breakup or when rejected by someone. Tell yourself that this rejection has everything to do with him and nothing to do with you. You are a great human being!
25. Don't stress where you are in the breakup timeline
Healing is never linear. You may have days you feel like you are over him, and other days, you find yourself crying and missing your old life. All is normal. Remember: this too shall pass.
Time heals all wounds, even the love wounds. As you move through these difficult life moments, remind yourself that with each passing day, you are healing.
One day, you may even fall in love again with someone so perfectly suitable for you. You will look back at this relationship and wonder what you were even thinking? You may even thank this guy for breaking up with you because it led you to The Right One.
Want to check in on where you are with your recovery? Take the Are You Over Him Quiz now!
Conclusion
Getting over someone may seem the most challenging thing ever, but it is achievable. For some people, it takes months for some, longer than that, but time does heal everything.
So, if you are worried about how to get over a guy you fell head over heels for, don't sweat. Things will turn out to be better.
Share this article on
Want to have a happier, healthier marriage?
If you feel disconnected or frustrated about the state of your marriage but want to avoid separation and/or divorce, the marriage.com course meant for married couples is an excellent resource to help you overcome the most challenging aspects of being married.
More On This Topic
You May Also Like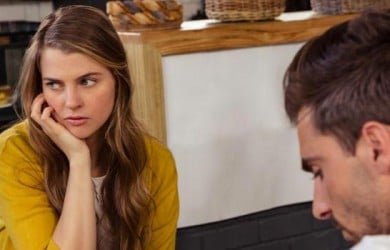 Popular Topics On Married Life