10 Signs It's Time to Break up & Get Over a 5-Year Relationship
Regardless of the circumstances, breaking up after 5 years is a significant loss. Partners will generally experience a blend of emotions, including loneliness, sadness, anger, relief, betrayal, periods of grief.
Often, an ex trying to discern how to get over a 5-year relationship will jump into another partnership immediately before fully coping with the emotions from the previous one. Ultimately, this creates more damage for you and the individual unaware of what they're getting involved with.
When you take the opportunity to live as a singleton for a while, taking the time to get to know who you are after these 5 years and allowing yourself to heal, there's a healthy person to bring back to the dating world when you're ready.
In the meantime, you can reacquaint yourself with old friends, enjoy new interests, and spend time with family, an incredible source of support during the healing phase. Check out this research on the growth potential following the dissolution of a relationship of poor quality.
How to get over a breakup
Coping with the breaking up after a long relationship looks different for each person. Some people have been contemplating ending 5-year relationship for some time, meaning they've had time to work through the tough emotions leaving them relieved.
Others are caught unaware, creating a long, arduous journey. Let's look at a few tips for how to get over a breakup.
How long does it take to get over a 5-year relationship?
The longer the partnership lasts and the greater the commitment, the more challenging it is to cope with ending a 5-year relationship. There are so many variables that come into play. It really depends on the couple, the circumstances surrounding the decision, and how it leaves the individuals.
Many experts have varying opinions from 3 months to 18 months, but one study attempts to put some perspective on the subject. The primary factor to consider is that you shouldn't put a timeframe on your healing process.
It's important to feel the myriad of emotions until you can work through each one. When you find yourself accepting your new situation, then you'll be ready to move forward.
Why do couples break up after 5 years?
In the beginning, many couples enjoy what can almost be described as a fairytale known as the honeymoon phase. In this stage, a partner seems virtually perfect, and time together is spent in infatuation with each other, gushing over the positive being somewhat blind to the possibility of fault or negative aspects to the relationship.
By the time reality begins to set in and they begin to weather even minor storms, they're not sure how to do that as a "team" effort because they haven't taken the time to establish a sustainable bond. Not to mention they're contending with the fact that the intense passion has now calmed to a comfortable familiarity.
As time passes and the realization sets in that there's a lot of work to establish and move forward with a healthy, functional bond, some couples hunker down and take the challenge together while others let the partnership die after the first few years.
You'll find the book by Daphne Rose Kingma, "Coming Apart: Why Relationships End and How to Live Through the Ending of Yours," a most worthwhile read.
Some of the more common reasons seen for failed connections at this point included:
1. Finances
Finances are a common problem among couples, especially when one person takes control and the other is irresponsible with the household money. It can lead to major upheaval in the partnership culminating in a 5-year relationship breakup.
Related Reading: How To Avoid Financial Problems in Your Marriage
Check out this video for useful advice to understand how you can let finances not come in the way of your relationship:
2. Failure to communicate
It's essential to discuss problems as they happen and work through them as a couple. When one person has a concern and chooses to internalize the issue instead of having a conversation, it leaves their partner confused and helpless, with unresolved conflicts stacking up to destroy the partnership.
Related Reading: 20 Ways to Improve Communication in a Relationship
3. Unrealistic expectations for marriage
When you believe that a relationship or even marriage will be the fairytale that dating was in the very beginning stages, you're setting yourself up to fail. The honeymoon phase is not a sustainable path for a partnership.
Eventually, life comes in, forcing you to look at your couplehood with realism. The goal is to determine if you're willing to work through the bad that will come with the good.
Related Reading: Managing Expectations in Your Marriage
4. In-law issues
Extended family can be brutal. Generally, one or two individuals are not fond of the new person in their relative's life.
These family members are typically not shy about making their opinions known, wreaking havoc on partners stuck between their partner and their family. Sometimes inlaws won't let up, resulting in ending a long-term relationship.
5. Life plans change
There are times when life plans differ in a partnership. Perhaps you were on the same page when you were dating, or maybe, unfortunately, you didn't discuss long-term issues, including religion, kids, a financial future, or other serious topics.
If you find you vastly differ in these circumstances, you might be finding yourself figuring out how to get over a 5-year relationship since it will likely not be a success.
When should you break up and end a long-term relationship?
When trying to determine how to break up with someone after 5 years, it can be an emotionally heavy decision since it won't only alter your life, but it will drastically affect your partner's life and emotional well-being also.
In that same breath, if the union is not healthy, eventually, you will both be better for it and get over a five-year relationship primarily unscathed. Let's look at signs telling you it's time to call it quits.
1. You're behaving out of character
One way you'll find how to get over a 5-year relationship is you'll be free to be who you are. Sometimes it's easy to lose yourself in certain partnerships depending on the circumstance.
If your partner is someone you feel in any way uncomfortable expressing yourself or you censor the context of how you speak or act around them, perhaps you feel the need to apologize frequently since their standards are exceptionally high; you might be in a controlling situation or one where there is a power play.
This is toxic and unhealthy, making it a situation where you need to figure out how to end a 5-year relationship. Then you'll need to discern how to get over a 5-year breakup, so you don't attempt to go back into that situation or one like it.
2. Your partner keeps you away from family and friends
If you've been with someone for five years and they are still keeping you hidden from family and friends, that's a clear indication they're not emotionally invested in the partnership.
After a certain period, most partners find it essential to bring their partner into their inner circle to grow the relationship. Not having this inclusion would make it somewhat easy when deciding on leaving and getting over a 5-year relationship.
3. You're in a constant state of anxiety
When anxiety shrouds the partnership, whether you fear the union is merely not strong enough to withstand the test of time or continually doubt the love of your partner, it can become detrimental, eventually bringing a partner to wonder how to end a long relationship.
There will always be a question in the back of someone's mind, that's normal here and there, but when you can't let it go to the point it starts to genuinely hinder your couplehood, you'll likely find yourself trying to figure out how to get over a 5-year relationship.
4. Appreciation and respect are lacking
Appreciation and respect are non-negotiable elements in a partnership. If your union has grown to the level where you no longer appreciate the other person's efforts nor they yours, there's little left of the couplehood to hold onto.
Everyone wants to feel needed and valuable for their significant other, not as those they can toss them away without another thought – kind of like with a wave of their hand they just ended a 5-year relationship, and you're left to figure out how to deal with a breakup after 5 years.
5. Lack of intimacy
After some time, many couples start to lose their desire to have sex. That's because they often develop a rut to the point they designate a specific night and go through the motions instead of putting in the effort to keep the spice in this area of their relationship.
It's a common problem for many couples, but it does not need to cause a breakup. It merely takes effort to put the passion back. All partners have ideas on how to do that; they need not be afraid to explore those in order to save what's important to them.
Related Reading: Top 5 Most Common Reasons Why Couples Stop Having Sex
6. Taking a break has become a habit
It's good to occasionally take a break from couplehood. That allows you to return refreshed and ready to work on things together. Problems arise when you find yourself looking for a break constantly but over the same issues, showing no signs of resolution after receiving the requested space.
Sometimes, it's wise to face the problem head-on, discern if it is fixable and then move towards a healthy resolution which might very well be to break up the partnership and then figure out individually how to get over a 5-year relationship.
7. There are fleeting thoughts of cheating
When you begin to think about other people and what it would mean if you just spent one night with them, a betrayal is a betrayal.
Many healthy couples have found ways to work through affairs because they had a solid partnership, to begin with. If you're already struggling, taking this step would probably mean the end of your 5-year relationship.
8. A clingy or needy partner is stifling
Whether you're needy or your partner is, that can be exceptionally draining on another person. Everyone hopes their partner has individual interests and a level of independence outside of the relationship.
Codependence infringes on a partner's personal space making it, so life revolves solely around the partnership. It can become controlling, and that's toxic. It's a situation needing to be addressed and brought under control, or each of you will be finding out how to get over a 5-year relationship.
9. Trust has become an issue
Trust is the foundation of a healthy bond. If that has been broken, there's no way to move forward comfortably. Rebuilding trust is incredibly difficult. Even if you believe you've reestablished it, it's genuinely not always the case. When something happens to test it, you'll find the doubt and questioning reappears.
10. Speak with a trusted mentor
When you find yourself feeling unhappy more than joyful concerning the partnership, considering how life would feel if you were free of the burden of the relationship, but you're unsure if a break up is the right thing after such a long time, reach out to an impartial, trusted mentor for an opinion.
With such a vital life circumstance, a mentor will look at all the variables nonjudgmentally without sugarcoating the facts with their feedback.
Relationships are easy to walk away from. That's always the simplest answer. Figuring out how to stay and make it work takes effort and commitment.
What you need to determine is if your partner is worth that. A mentor is an ideal resource to help you do that.
Final thought
Going beyond the five-year point with a relationship would involve a great deal of work, especially if serious issues make doing so challenging. Some problems are insurmountable with no recourse except to break up, especially when trust is broken.
Sometimes it's essential to look at the underlying cause for a problem to see what went wrong and work on the root of that issue in order to grow and move forward healthfully. For instance, why did your partner betray your trust? Did they feel they were backed in a corner by a set of circumstances?
That's why communication is so essential. Problems are not always as cut and dry as they might appear on the surface. It doesn't take much effort to turn and walk away from a situation.
Taking a moment to see if there's a way to work through the chaos is sometimes worth the effort; partners can prove worthy depending on the circumstances.
Again, a mentor or even a professional counselor can help you work through that decision when it's one you're having difficulties making on your own. An impartial thought process enables us to see what we otherwise might miss.
Share this article on
Want to have a happier, healthier marriage?
If you feel disconnected or frustrated about the state of your marriage but want to avoid separation and/or divorce, the marriage.com course meant for married couples is an excellent resource to help you overcome the most challenging aspects of being married.
You May Also Like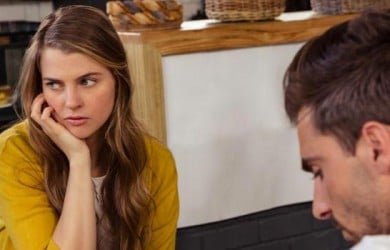 Popular Topics On Married Life