6 Signs You Are in a Negative Relationship
Most of us would agree that engaging in healthy relationships is an integral part of a fulfilled life. Being in a relationship is one of the necessary elements of flourishing and prosperous living.
Relationships enrich our lives and add to our enjoyment of being alive, but we all know that no relationship is perfect. Although humans are capable of relating to others in a positive and enhancing way, unfortunately, this isn't always the case.
Sometimes, we allow the wrong kind of people to enter our life. Our relationship with them isn't positive, isn't healthy, isn't edifying, and mostly, it isn't fruitful- it is known as a negative relationship.
These negative relationships can cause discomfort and disturb the sanctity of your mind, spirit, emotion, and body.
Now, what makes a negative relationship?
To identify if you are in a relationship with a negative person, here are some signs of a negative relationship. If you are able to relate to any of these characteristics of a negative relationship, you need to introspect your relationship further.
1. Negative energy
While you are engaged in a negative relationship, you are tense, angry, and furious around your partner most of the time. It could be for any number of reasons.
However, this kind of negative relationship can build up to harmful energy in your body or escalate to alienation and antipathy for each other.
Negativity in marriage or negativity in close relationships can drain you in other aspects of your life.
Negative energy in relationships drains you mentally, physically, academically, spiritually, and emotionally. We're forced to deal with this gloom instead of your relationship being a reprieve from that type of stress.
2. You are not happy being in the relationship
One of the vital signs of a negative relationship is that you are not happy to be in it anymore. We all know it is not possible to be comfortable in every moment of your relationship, but as a whole, being with your partner should be adding to your happiness
Your partner should make you feel supported, engaged, joyous, and capable of doing whatever you want to do.
Once you don't feel happy around your partner, it is a warning sign that you are in a negative relationship.
3. You don't trust your partner
If you don't trust your partner anymore, it is a clear indicator of negativity in a relationship. You are in a negative relationship once you start doubting the words and actions of your partner.
If your partner often flips the facts or changes the truth when they don't like the way a conversation is going, it is an indicator you are engaged in a relationship with a partner who is not trustworthy.
When your partner shifts the blame for their actions to someone else or to the situation, it shows you are in a negative relationship with a person not willing to own up to their actions.
4. You don't communicate effectively
Just like communication is the very life of a healthy and positive relationship, the lack of it can lead the relationship to become harmful, unhealthy, and toxic. If communication is not improved, it can lead to the end of the relationship.
You don't talk to each other face to face, even if you are around each other. You prefer to use signs and texts instead of verbal communication.
There is no effective communication, and you just use minimum possible words as an obligation. These are undoubtedly the negative aspects of a relationship.
If you are not able to communicate effectively in a relationship, it indicates that either you or your partner are being negative in the relationship.
When something comes up in life, whether that's an accomplishment, event, or an incident, and your partner isn't the first person you're sharing it with- this can indicate communication problems and lead to the development of a negative relationship.
5. You don't feel connected to each other
Once you don't enjoy being in the company of your partner, it is an indicator that you are in an unhealthy or toxic relationship.
When you notice for a substantial period of time that you are together physically but not together on the emotional tangent, it's a clear indicator of a negative and incompatible relationship.
You can be in the same room, but one of you is reading on the laptop or the phone. You don't feel connected to another even if you still sleep together on the same bed.
Moreover, you don't mind this situation, and neither of you is trying to change it. These are the apparent negative relationship traits.
6. You feel insecure
Once you start to feel insecure in a relationship, and you don't know your stance in a relationship, it can indicate you are in a negative relationship.
You may feel you don't know where you stand or belong to a relationship. You may feel uncomfortable, uncertain, or anxious about where the relationship is heading.
When you start feeling doubtful about a relationship, talk to your partner, and ask where the relationship between the two of you is heading.
If they are unable to give you a convincing response, it provides information about how they see the future for you two, yet it might not mean the end of the relationship. You can come back to this conversation at some time after they had some distance to think about it.
These are some of the typical negative relationship characteristics. If you notice any of these lasting for some time in your relationship, you must focus your attention on your relationship and introspect where it is heading.
Also, if you feel that your relationship is not harmful per se and yet falling apart for no apparent reasons, watch the following video.
Perhaps you could be missing out on some critical reasons. At first, focus on the effort to save your relationship and put your marriage back on track.
But, if you find no headway with the situation or feel too overwhelmed to tackle it all yourself, you can seek help from your close friends or family members whom you trust.
Seeking professional help from a counselor or a licensed therapist can also help you better analyze your situation and come to the right conclusion.
Share this article on
Want to have a happier, healthier marriage?
If you feel disconnected or frustrated about the state of your marriage but want to avoid separation and/or divorce, the marriage.com course meant for married couples is an excellent resource to help you overcome the most challenging aspects of being married.
More On This Topic
You May Also Like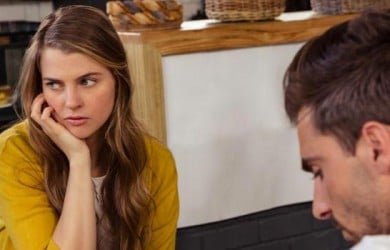 Popular Topics On Married Life