11 Clear Signs You Are in a Negative Relationship
Most of us would agree that engaging in healthy relationships is an integral part of a fulfilled life. Being in a relationship is one of the necessary elements of flourishing and prosperous living.
Relationships enrich our lives and add to our enjoyment of being alive, but we all know that no relationship is perfect. Although humans are capable of relating to others in a positive and enhancing way, unfortunately, this isn't always the case.
Sometimes, we allow the wrong kind of people to enter our life. Our relationship with them isn't positive, isn't healthy, isn't edifying, and mostly, it isn't fruitful- it is known as a negative relationship.
These negative relationships can cause discomfort and disturb the sanctity of your mind, spirit, emotion, and body.
What is a negative relationship?
A negative relationship refers to a correlation or association between two variables in which an increase in one variable is accompanied by a decrease in the other variable. It indicates an inverse relationship or an opposite trend between the two factors.
The negative relationship definition implies that as one variable goes up, the other goes down, and vice versa. The negative relationship is characterized by a negative correlation coefficient, indicating that the variables move in opposite directions.
11 clear signs you are in a negative relationship
To identify if you are in a relationship with a negative person, here are some signs of a negative relationship. If you are able to relate to any of these characteristics of a negative relationship, you need to introspect your relationship further.
1. Negative energy
While you are engaged in a negative relationship, you are tense, angry, and furious around your partner most of the time. It could be for any number of reasons.
However, this kind of negative relationship can build up harmful energy in your body or escalate to alienation and antipathy for each other.
Negativity in marriage or negativity in close relationships can drain you in other aspects of your life.
Negative energy in relationships drains you mentally, physically, academically, spiritually, and emotionally. We're forced to deal with this gloom instead of our relationship being a reprieve from that type of stress.
2. You are unhappy being in the relationship
One of the vital signs of a negative relationship is that you are not happy to be in it anymore. We all know it is not possible to be comfortable in every moment of your relationship, but as a whole, being with your partner should add to your happiness
Your partner should make you feel supported, engaged, joyous, and capable of doing whatever you want to do.
Once you don't feel happy around your partner, it is a warning sign that you are in a negative relationship.
3. You don't trust your partner
If you don't trust your partner anymore, it is a clear indicator of negativity in a relationship. You are in a negative relationship once you start doubting the words and actions of your partner.
If your partner often flips the facts or changes the truth when they don't like the way a conversation is going, it is an indicator you are engaged in a relationship with a partner who is not trustworthy.
When your partner shifts the blame for their actions to someone else or to the situation, it shows you are in a negative relationship with a person not willing to own up to their actions.
4. You don't communicate effectively
Just like communication is the very life of a healthy and positive relationship, the lack of it can lead the relationship to become harmful, unhealthy, and toxic. If communication is not improved, it can lead to the end of the relationship.
Negative traits in a relationship can mean that you don't talk to each other face to face, even if you are around each other. You may prefer to use signs and texts instead of verbal communication.
If you are not able to communicate effectively in a relationship, it indicates that either you or your partner are being negative in the relationship.
When something comes up in life, whether that's an accomplishment, event, or an incident, and your partner isn't the first person you're sharing it with- this can indicate communication problems and lead to the development of a negative relationship.
5. You don't feel connected to each other
Once you don't enjoy being in the company of your partner, it is an indicator that you are in an unhealthy or toxic relationship.
When you notice for a substantial period of time that you are together physically but not together on an emotional tangent, it's a clear indicator of a negative and incompatible relationship.
You can be in the same room, but one of you is reading on the laptop or the phone. You don't feel connected to one another even if you still sleep together on the same bed.
Moreover, you don't mind this situation, and neither of you is trying to change it. These are the apparent negative relationship traits.
6. You feel insecure
Once you start to feel insecure in a relationship, and you don't know your stance in a relationship, it can indicate you are in a negative relationship.
You may feel you don't know where you stand or belong in a relationship. You may feel uncomfortable, uncertain, or anxious about where the relationship is heading.
When you start feeling doubtful about a relationship, talk to your partner, and ask where the relationship between the two of you is heading.
If they are unable to give you a convincing response, it provides information about how they see the future for you two, yet it might not mean the end of the relationship. You can come back to this conversation at some time after they have had some distance to think about it.
7. Frequent criticism and belittlement
Partners in a negative relationship may engage in a pattern of criticism and belittlement towards one another.
If there is negativity in relationships, partners may constantly nitpick, insult, or demean each other, intentionally or unintentionally. This behavior erodes self-esteem, damages self-worth, and creates a hostile atmosphere where both individuals feel diminished.
8. Controlling behavior
Negative relationships often involve controlling behavior, where one partner seeks to exert power and control over the other. This can manifest as monitoring their activities, restricting their independence, isolating them from friends and family, or making decisions without their consent.
Controlling behavior undermines the autonomy and freedom of the other person, fostering an unhealthy dynamic.
9. Dishonesty and deceit
Honesty is a cornerstone of healthy relationships and helps to strengthen the bond that two people share.
In negative relationships, partners may engage in deceitful behaviors such as lying, hiding information, or manipulating facts to serve their own interests. This lack of transparency erodes trust and creates an atmosphere of suspicion, making it difficult to build a genuine and authentic connection.
10. Unresolved conflicts
In a negative relationship, conflicts tend to arise frequently, but they are often left unresolved.
Partners may avoid addressing the underlying issues, leading to a cycle of repetitive arguments or complete avoidance of conflict altogether. This pattern of unresolved conflicts indicates a lack of effective communication and a reluctance to work through problems together.
11. Lack of growth and fulfillment
Instead of supporting personal growth and fulfillment, a negative relationship becomes a barrier to individual progress.
Partners may discourage each other's ambitions, dismiss their dreams, or show a general disinterest in their partner's personal development. This lack of support stifles individuality, resulting in a stagnant and unfulfilling relationship where both partners feel trapped and limited in their potential.
5 effects of being in a negative relationship
Being in a negative relationship can have profound effects on an individual's well-being and overall life satisfaction. Here are five common effects of being in a negative relationship:
1. Emotional distress
Negative relationships often lead to emotional distress. Constant arguments, criticism, and belittlement can cause feelings of sadness, anger, anxiety, and low self-esteem. Emotional turmoil can affect one's mental health, leading to symptoms of depression or anxiety disorders.
2. Isolation and decreased social connections
Negative relationships can isolate individuals from their support networks.
Partners may discourage or prevent contact with friends and family, leaving the person feeling isolated and cut off from social connections. This can further exacerbate feelings of loneliness and increase dependency on the negative relationship.
3. Decline in physical health
The stress and strain of a negative relationship can take a toll on physical health. Constant arguments and conflicts can lead to chronic stress, which may contribute to a weakened immune system, high blood pressure, insomnia, and other physical health problems.
Neglecting self-care and engaging in unhealthy coping mechanisms, such as substance abuse, can further compound these issues.
4. Lack of personal growth and fulfillment
Negative relationships hinder personal growth and limit individual fulfillment. Partners may discourage or undermine each other's goals, dreams, or aspirations, causing a sense of stagnation and frustration. This lack of support stifles personal development and can lead to a loss of identity and purpose.
5. Reduced quality of life
Ultimately, being in a negative relationship can significantly impact one's overall quality of life. The constant negativity, emotional distress, and lack of fulfillment seep into other areas, such as work, friendships, and hobbies.
It becomes difficult to find joy, experience genuine happiness, or maintain a healthy work-life balance. The negative relationship becomes a significant source of unhappiness and dissatisfaction, affecting multiple facets of life.
It's important to recognize these effects and prioritize one's well-being. Seeking support from trusted friends, family, or professionals can provide guidance and assistance in navigating out of a negative relationship and towards a healthier, more fulfilling life.
7 things to do if you are in a negative relationship
If you find yourself in a negative relationship, it's crucial to prioritize your well-being and take steps to address the situation. Here are seven things you can do if you are in a negative relationship:
1. Reflect on the relationship
Take time to reflect on the dynamics of the relationship and assess how it is affecting your emotional, mental, and physical well-being. Be honest with yourself about the negative aspects and the toll it's taking on you.
2. Seek support
Reach out to trusted friends, family members, or a therapist who can provide support and guidance. Share your feelings and concerns with someone who can offer an outside perspective and help you navigate the challenges you're facing.
3. Set boundaries
Establish clear boundaries within the relationship. Communicate your needs and expectations to your partner, expressing what is and isn't acceptable in terms of behavior, communication, and treatment. Be prepared to enforce these boundaries if they are repeatedly crossed.
4. Communicate openly
Engage in open and honest communication with your partner about your concerns and feelings. Express your needs, desires, and boundaries, and actively listen to their perspective as well. Open dialogue can provide an opportunity for understanding and potentially lead to positive changes.
5. Consider couples therapy
If both you and your partner are willing, couples therapy can be a valuable resource. A trained therapist can facilitate productive conversations, help identify and address underlying issues, and provide tools to improve communication and relationship dynamics.
6. Prioritize self-care
Focus on self-care practices that promote your well-being. Engage in activities that bring you joy, practice self-compassion, maintain a healthy lifestyle, and prioritize your physical and emotional health. Taking care of yourself is crucial in navigating a negative relationship and maintaining your overall well-being.
Watch this video to learn more about what self-care really means:
7. Consider ending the relationship
Remember, it's essential to prioritize your own well-being and happiness. Every situation is unique, so trust yourself and make choices that align with your values and what you believe is best for your future.
Some commonly asked questions
Here are the answers to some pressing questions that might cross your mind when thinking about negativity in relationships:
Can you turn a negative relationship into a positive one?
While it is technically possible to turn a negative relationship into a positive one, it depends on several factors, such as the willingness and commitment of both partners to change, seek therapy, and actively work on improving communication, trust, and overall relationship dynamics.
However, transforming a negative relationship requires significant effort, time, and cooperation from both individuals involved. It is important to assess the severity of the negativity and seek professional guidance to determine the feasibility of creating a positive and healthy relationship.
What happens if your partner is too negative?
If your partner is consistently negative, it's important to address the issue.
Communicate your concerns openly and honestly, expressing how their negativity impacts you and the relationship. Encourage them to seek support, such as therapy or counseling, to explore the underlying causes of their negativity.
However, if their negative behavior persists and affects your well-being, it may be necessary to reassess the compatibility and health of the relationship. Prioritize your own emotional well-being and make choices that are in your best interest.
Final thoughts
These are some of the typical negative relationship characteristics. If you notice any of these lasting for some time in your relationship, you must focus your attention on your relationship and introspect where it is heading.
Perhaps you could be missing out on some critical reasons. First, focus on the effort to save your relationship and put your marriage back on track.
But, if you find no headway with the situation or feel too overwhelmed to tackle it all yourself, you can seek help from your close friends or family members whom you trust.
Seeking professional help from a counselor or a licensed therapist can also help you better analyze your situation and come to the right conclusion.
Share this article on
Want to have a happier, healthier marriage?
If you feel disconnected or frustrated about the state of your marriage but want to avoid separation and/or divorce, the marriage.com course meant for married couples is an excellent resource to help you overcome the most challenging aspects of being married.
Learn More On This Topic
You May Also Like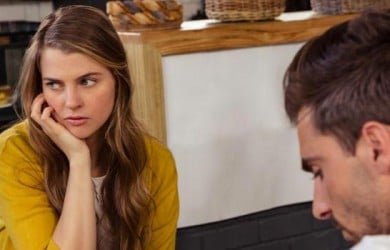 Popular Topics On Married Life