28 Funny Marriage Memes to Make Your Day
A lot of people, especially men, fear marriage. They fear the very idea of being chained to one woman and having a big responsibility that may interfere with their goals.
Here are some fantastic marriage memes to help alleviate the fear of marriage.
"A perfect wedding meme!"
That is one of the root causes of why couples break up. A lot of women tend to misunderstand what a man wants in a relationship. A lot of times, they want a trophy partner or just sex. Of course, the man is at fault for leading them on, and it's the woman's fault for falling for it.
In this day and age of weak men and strong women, that is no longer the norm. Things go both ways these days.
Related Reading: 100+ Funny Wedding Wishes, Messages and Quotes
Especially if you look at married memes like one.
The modern woman and the feminist movement sure have progressed a lot. Then again, most of it is because a lot of men really are weak.
So you can't blame women for wanting to change. Especially since the stigma of an old maid still hangs over their heads.
I guess stigmas don't go away overnight. But then again, a lot of women grow up thinking they are a Princess and Prince Charming will come to sweep them off their feet.
Glad someone finally tried to fix that with a funny marriage meme. or not…
Related Reading: Funny Pieces of Advice for the Bride-to-Be
Why is Marriage So Complicated?
Marriage, relationship, love… it's so simple that it's complicated. That's why some of the dumbest things people ever did are related to any one of those reasons. Sigmund Freud did say that craziness stems from sexual frustration.
Then again, marriage itself is crazy…
The truth is, it's all about perspective. This married life meme pretty much sums it up.
The reason why it's complicated because it means a lot of different things depending on an individual's point of view. But in reality, marriage is simple, because it is what you believe it is.
It can be your whole world…
It can be your greatest treasure…
Your most important relationship…
A life goal…
or life itself…
Or a curse…
So is marriage complicated or simple? It is both. That's why it's so damn funny.
Related Reading: Funny Wedding Advice For The Groom
Looking at the Brightside of the Marriage Deal
There are things in this world that in spite of your best efforts, will still happen, like a Republican President or a Democrat Congress. The comedy that will come out from something like that makes comedians jobs easier.
The same can be said about married couples. Especially if the wife is mad.
Here are a couple of tips.
Because in reality…
So just leave it be. Those couple memes merely reflect what every married man has to go through every day of their life.
But don't worry, there's always a bright side to everything. You just have to figure it out.
Don't worry about it, you will be able to figure out. You just need to do what husbands throughout history have done to fix it.
Didn't I just say that marriage is simple? It's one of the perfect marriage memes for him to remind men there's a bright side to everything, marriages included. They can live happily ever after.
It's the stuff fairy tales are made of…
Related Reading: Best Love Memes for Her
Having Your Marriage Cake and Eating It Too
It sounds like every marriage meme out there says that life is all peachy for the wife, and the husband lives in hell. That may be true for the most part, but it's most likely because men make better memes than women.
Don't worry about it, there are still women out there that can keep their shit together.
But remain vigilant…
These memes about marriage are little tidbits of knowledge that will allow you to sleep soundly at night, so you won't wake up and see junior amputated.
Or decide to do something else other than sleep.
So here's another tidbit for you. "Don't get caught."
and in case you do, "Destroy the evidence!"
or you would end up like this…
Related Reading: 100 Inspirational and Funny Wedding Toast Quotes to Make Your Speech a Hit
Couple memes about marriage are like a compilation of life lessons that can guide a person towards a peaceful and desirable outcome. Like Max Ehrmann's Desiderata, it is beautiful and timeless.
Here are other examples of beautiful and timeless stories from marriage memes that may end up as a lifelong lesson for men.
Here's a couple more…
To be fair, it's not always the wife's fault when things are crazy sometimes. I mean there are a fair amount of marriages memes that also help women have a better marriage.
Here's an example.
Here's a few more…
See, it's not so hard. There are ways for women to laugh at the hardships of marriage too. It is sexist to think that only men are having a hard time in a marital institution.
It goes both ways, there are a lot of times when women get the short end of the stick, especially if they have to be loyal to that short stick until the end of their lives. It can lead to a very unfulfilled marriage.
Don't forget what Freud said about sexual frustrations.
But marriage is not as bad as this post would like to let you believe. The funny marriage memes collected here just puts a comedic spin in the daily lives of married people.
If you prefer something like this, that would be fine.
There are good marriages and bad marriages. There are also good divorces and terrible ones. All of them are serious business and funny in their own way. It might be offensive to some people, but those who look at the lighter side of things won't have wrinkles by the time they are 24.
Related Reading: Best Love Memes for Him
A little laughter goes a long way. Funny memes about marriage help with that. After all, a good marriage is filled with fun, laughter, and lots of love. This marriage meme describes it perfectly.
Share this article on
Want to have a happier, healthier marriage?
If you feel disconnected or frustrated about the state of your marriage but want to avoid separation and/or divorce, the marriage.com course meant for married couples is an excellent resource to help you overcome the most challenging aspects of being married.
More On This Topic
You May Also Like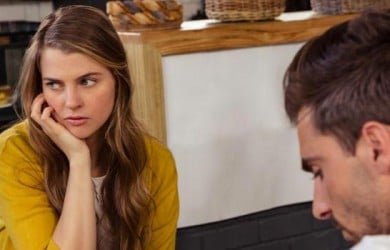 Popular Topics On Married Life